"I think we can win it."
Win what? Hockey East? Further than that?
"Further than that."
— Brian Gionta, Oct. 17, 1997
---
On the face of it, Gionta's prediction, made with a grin and a sparkle in the eye after the first game of the season, appeared so outlandish as to be laughable.
Win it? Further than that? Put two and two together and the freshman was predicting a national championship.
Didn't this kid know that the last winning season at Boston College had been seven years ago? Didn't he know that despite perennially-great teams in past decades, the Eagles' only national championship had come 49 years ago in 1949, the second year of the NCAA tournament?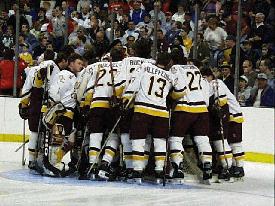 Was he blind to a roster dominated by freshmen and sophomores, with the notable exception of Marty Reasoner? When was the last time that a team won something further than that with a freshman goaltender and three rookie defensemen?
Of course, no one expects an athlete to announce, "We're gonna stink this year." It's just not part of the beast. To become a top collegiate hockey player you have to possess an innate self-confidence in yourself and your teammates that borders on cocky arrogance.
But "further than that?"
Perhaps a Hockey East championship was within reach. For the first time since 1991, BC possessed the talent to compete with anyone in the league, thanks to a third straight crop of stellar freshmen.
When coach Jerry York had returned to his alma mater on June 15, 1994, his top priority was to overhaul the recruiting machine that had somehow broken down in the early nineties, but in the past had attracted the likes of Brian Leetch, Craig Janney, Kevin Stevens and Bill Guerin.
York bootstrapped that machine in his first recruiting season by attracting Reasoner to an 11-22-2 team, giving him the challenge of "leading the parade" instead of being "part of the parade" with a 30-8-1 Michigan team destined to win a national championship one year later.
And Reasoner did indeed lead a parade of blue-chippers to Chestnut Hill. Following him one year later were Mike Mottau, Jeff Farkas and Blake Bellefeuille. This past offseason, the procession grew even longer and more impressive with six potential All-Rookie candidates headed by Gionta.
But national championships don't grow on trees, much less saplings. They're supposed to be the domain of teams filled with senior leadership and experience. BC, however, had only two, Jamie O'Leary and Ken Hemenway.
"We all talk as coaches about how you have to have a lot of seniors to win," said York, "but if you've got good players, no matter what class they're in, and if you've got a good game plan and the kids work together, you can win with freshmen. But they've got to be good players. I'm not sure how many seniors I'd swap Brian Gionta for."
By the end of the year, Gionta, Mottau and Reasoner — a freshman, sophomore and junior, respectively — would be named All-Americans, Gionta would take the Hockey East Rookie of the Year award and he would be joined on the league's All-Rookie team by defensemen Bobby Allen and Rob Scuderi along with goaltender Scott Clemmensen. Two other freshmen, Marty Hughes and Mike Lephart, could also make credible claims for the berths.
As a team, what had been shaping up as a very good breakthrough year became a further than that one when the Eagles embarked on a 14-game unbeaten streak following its most bitter defeat of the season. After a 5-4 overtime loss to Harvard in the Beanpot first round — a defeat so painful that BC loyalists still wince at its mention — the team took off, going undefeated until the national championship game against Michigan.
Reasoner and Gionta became an unstoppable duo, combining for 61 points in the final 14 games.
"Brian has pushed Marty to raise the level of his game," said York. "Marty has been our very best player [the last couple years]. As we've brought more players like him into the program, his skills have gotten better because he can move pucks to players comparable to his skill level. Brian has added a whole level of energy to Marty's game."
Reasoner, for his part, echoed the praise.
"The second half of the season, he's probably been the best player in the country by far," he said, ignoring his own claim to that title. "He makes so many things happen and opens up so much room for everyone out there. He just goes 100 miles an hour all the time."
Meanwhile, Mottau was the team's most reliable defender while leading the nation's blueliners in scoring with 13 goals and 34 assists.
"That adds such a dimension to your team when you can add an offensive threat from the blue line," said York. "And he's so solid. I think he's the best defenseman in the country."
Depth, a weakness during the previous two rebuilding years, became a strength. All 18 regularly-dressing skaters broke double figures in points and 11 topped the 20-point threshold.
"That's what you need to be successful," said York. "You're not going to be successful at this level with just a half dozen good players. You have to have a tremendous number of good players throughout your squad."
Talented teams, however, have been known to disintegrate under the collective weight of their component egos. Sometimes, having "a tremendous number of good players" becomes a negative. The cast of young BC blue-chippers, however, sacrificed their egos for the common good.
"It's a credit to the older guys on the team," said Reasoner. "They brought the younger guys in, showed them the ropes and showed them that you don't win hockey games by trying to do it by yourself. You only win hockey games by playing a team game and getting along.
"It's also a credit to the coaching staff. They've gone out and recruited character kids who are good people and aren't going to be just out for themselves. Every kid they've brought in has been a great guy. We all get along so well."
Reasoner led by example in shelving the ego when he didn't let his omission from the slate of Hobey Baker Award finalists become a distraction.
"No one really cares 15 years from now who won the Hobey Baker," he said. "They care who won the national championship. Hockey is a team game and winning a championship is a lot more important than winning an individual award."
And so, the Eagles roared into the postseason, swept Providence in the Hockey East quarterfinals, defeated Merrimack 7-2 in the league semifinal game and then rallied behind Reasoner and Gionta to edge Maine 3-2 in the finals.
Having earned an opening-round bye in the NCAA tournament, the Eagles then throttled Colorado College 6-1 in the East Regional to advance to the Final Four, where Reasoner and Gionta dominated the third period against Ohio State, turning a 2-2 tie into a 5-2 berth in the title game against Michigan.
In the end, however, the Eagles came up one goal short. Seven minutes away from a 2-1 win to take the title, BC surrendered a game-tying goal on a rebound. In overtime, they clanged iron twice before falling at 17:51.
"Right now, it's hard to take," said Reasoner after the game. "A week or two from now, we'll sit back and realize what a great run we had."
A great run, indeed.
In retrospect, further than that made a lot of sense.