For Jason Krog, the road to the Hobey Baker Award and an appearance in the NCAA title game was a long one, literally as well as figuratively.
Born in Fernie, British Columbia, the senior co-captain for the New Hampshire Wildcats and this year's recipient of college hockey's highest honor, was cut twice from junior teams before he was 18 because of his size — he's 5 feet, 11 inches, 190 pounds — and tallied just four goals and 16 assists his rookie year in Durham.
At the Hobey presentation, UNH head coach Dick Umile confessed to all assembled that he had doubts about Krog in the early going.
"Brian McCloskey, one of the coaches that I coach with … found Jason Krog. I remember him telling me that he [Krog] is going to be special. Maybe the first three or four weeks, I was kind of questioning that, I've got to be honest."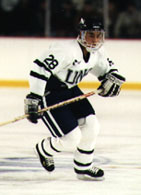 Jason's father, Lanny — proprietor of Lanny's Towing and Repair — admits that he and Jason's mother Bonnie are a bit surprised by the success of their son.
"We were overwhelmed when he got a college scholarship," says Lanny. "That was unbelievable to start with, and then for him to do so well in college. Schoolwork has never been a problem — he's always done really well and it's always come easy to him. But as far as achieving the top level in whatever he goes after, he seems to come by it somewhere.
"I always thought some day that he would do good, but not quite this good. This hasn't sunk in yet totally, I guess. Really, I don't know what to say."
Given Jason's seeming meander toward success, perhaps it's understandable that he himself is a little flabbergasted by all of the attention he's receiving.
"I still can't believe it, to tell you the truth. I feel like I'm in a dream right now. It's unbelievable."
Like many accomplished people, Jason Krog brushes the accolades aside and credits those around him for his own success. Unlike many celebrated people, when Jason says he owes a debt to those around him for his own success, he means it — and you believe him.
"I don't think it was a goal of mine to win the Hobey Baker," says Jason. "I don't think you can set goals like that. These awards come from achieving team goals, and that's what happened here."
First in the nation in total points, goals, assists, points per game, goals per game, and assists per game, Jason ran away with the Hockey East scoring title, registering 33 goals and 33 assists. He's the first player to break the 50-point mark in Hockey East since Paul Kariya.
For his volunteer work and community service, Jason was also nominated for college hockey's Humanitarian Award, given to the game's finest citizen. He maintains a 3.34 GPA New Hampshire's Whittemore School of Business, where he is also a peer-advisor.
But according to Jason Krog, he's done none of this alone.
In his brief acceptance speech, Jason thanked the Hobey Baker Award Committee, then KOHO, a sponsor of the Hobey Award. Then he congratulated the other nominees, then thanked his teammates, then his linemates Darren Haydar and Mike Souza, then his coaches, then the University of New Hampshire, then the Whittemore School of Business, then the hockey team's sports information director Steve Jones, then the UNH fans, then his family.
And that's all he said.
"He's very humble," says Haydar. "He doesn't squawk about himself at all. He doesn't show off at all. He's definitely a leader — the perfect leader, as well."
"Everything he does, he does it in an unassuming way," says Umile. "He truly respects the game and respects others who play against him. He has led our team by example. He doesn't do it in a very boisterous way, he just does it on the ice, in the classroom, in the weight room, wherever he is Jason does things first class with a great amount of effort."
Lanny says that Jason's always exhibited an understated kind of confidence.
"Even when he was small, he always strived to be better. He's never a showboat or anything; he just picked something and decided he was going to do it. Whenever he was challenged, he usually ended up on top. He's never been much of a show-off type person.
"He always has been very quiet. He's very self-focused. He just seems to do it on his own. Once he best described himself as determined, and when he focuses on something, he just seems to do it. He just raises his level. And I don't know where it comes from."
From an early age, Jason has had to be determined, has had to raise the bar, because as a small player, he says, he's always had to prove himself.
"I guess that I didn't make some teams because I didn't really stick out as being one of the fastest guys or one of the biggest guys or the top scorer or something like that."
After struggling to get noticed playing junior hockey, Jason signed on with the Chilliwack Chiefs of the BCJHL, a move that proved to be a big step on the road to Durham and Hobey.
"One of the big turning points for me was when I went to Chilliwack and I played under Harvey Smyl. He helped bring a part of myself as a player out of me that I never really knew I had. I think he brings it out of all his players. He just pushes you to the limit, brings out the determined person. He expects a lot out of you and makes you expect a lot out of yourself."
What Smyl brought out of Jason was a 128-point season, the 1994-95 season during which Jason tallied 47 goals and 81 assists in 60 games.
When Jason followed Chilliwack with a 20-point rookie season for UNH, he was determined to make a bigger difference during his second season for the Wildcats.
"My sophomore year I felt great coming in, and I played with some great players like [Mark] Mowers and [Tom] Nolan and [Derek] Bekar, and they really helped me step up my game to another level."
Jason's proven that the 20-point season was an anomaly in a stellar collegiate career, but after that first year, he says he questioned his abilities — but just a little.
"I guess there was always a little bit of doubt, just because it was a disappointing season for me that didn't go as well as I'd planned, but I'm a pretty optimistic person. I have high expectations of myself. I think just worked that much harder that [following] summer to come back and be in top shape and be able to make an impact the next year."
In addition to crediting his former and current teammates, his Chilliwack coach, and everyone associated with New Hampshire hockey, it's completely in character for Jason to point to Umile's coaching as a major component of his own development. "He's just helped me to progress, worked on all my weaknesses throughout the years and got me to where I am now."
Umile is quick to return the favor. "For me it's a very special honor — and I know I speak for my coaching staff — to have the opportunity to have coached Jason Krog and spend four years with him.
"It's not by accident what Jason Krog has accomplished at his four years at UNH. I believe he truly typifies what the character is of Hobey Baker. He competes at a very, very high level. He's the first one to never put himself above the team."
Haydar can't praise Krog enough, and he's adamant about wanting everyone to understand that Jason deserves every glowing word.
"Anybody would be happy to play on his line. He sees the ice, he's got a great shot, and he definitely makes everybody on the team better players. He has that ability, just by the way he sees the ice, reading the plays, his coaching ability to let everybody know where to be, when to be there.
"He brings leadership. That's the first thing that comes to mind whenever anyone asks about Jason. His work ethic is tremendous. He just makes everybody step up, makes everybody really comfortable. He makes everybody a better person on and off the ice.
"He's great to have on our team, and I'll definitely be watching wherever he goes next year."
With the NCAA title game against Hockey East rival Maine less than 24 hours away, Jason says that he can't even begin to think about next year.
"This is the biggest opportunity of my life tomorrow. I'm really looking forward to it. It would be a dream come true.
"This is very unbelievable. It's a great honor and a great achievement. It's very nice to enjoy right now, but I really have to focus on the game later on tonight, just get back and get focused."
And when Jason Krog finally gets the chance to look forward to that inevitable career in professional hockey, he won't be thinking about the junior teams that cut him, the people who dismissed him because of his size.
"I'm just grateful that people have given me a chance. I'm not going to dwell on the people that haven't, but I'm just grateful for the people who have given me a chance along the way."