It's not your typical Cinderella story. First of all, there's no glass slipper. Twenty or so pairs of skates, yes, but not a slipper in the bunch.
And make no mistake: there's no rags-to-riches theme here. And there is no Prince Charming.
Two dozen Princes Charmed, absolutely.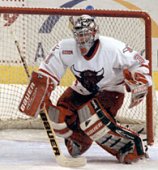 In fact, while Nebraska-Omaha's inaugural CCHA season is certainly remarkable and seems storybook, it is not a tale of up from under, unless you give credence to preseason polls. Nor is it a tale of adversity overcome, unless poverty equals attendance of more than 8,000 at each home game.
The story of the Nebraska-Omaha Mavericks does have, however, elements of the underdog, the new kid on the block making good, the warm and fuzziness of a Hoosier-esque team from the Heartland making it to the Big Time.
OK, so there are only three Mavericks from Illinois (that is the Heartland, isn't it?), five from Minnesota, two from North Dakota, and one from Texas (Texas!)–and a bunch of kids from a place decidedly north of the American Midwest, not to mention a Rhode Islander–and the whole lot of them are coached by a guy with a college hockey pedigree longer than some other CCHA coaches who are not in the first year of their contracts.
But there is something about this team that grips you, an "aw, shucks, they're from Nebraska after all, and they have to face Michigan in the semifinals" aspect that makes you want to stand up and cheer, or at the very least go out and rent Rudy.
"We entered the league this year really uncertain of how we would compete on a nightly basis," says UNO head coach Mike Kemp. "Opening up with Michigan State coming in here, giving us some lessons that first weekend on what it was going to be like to compete in the league, what we had to do to play at the level and the pace that it was going to be played at every night–that taught us a lot."
The Mavs learned enough to take at least a point from every opponent in the league this season, to beat Northern Michigan two out of three games in Marquette in the first round of the CCHA playoffs, and to beat Bowling Green at home, in their beloved Bullpen, to earn a trip to Joe Louis Arena and the CCHA championship tournament.
Even if this weren't UNO's first season, the accomplishment would be more than just admirable. The Mavericks were picked 11th in both the media and coaches' preseason polls.
"When you think about the expectations coming into the season, most of us thought that Omaha would struggle playing a 100 percent Division I schedule, particularly in this league and with the travel," says Michigan head coach Red Berenson.
"As the season wore on, they just got better. Obviously, there's a lot of momentum and excitement…and that's probably as important as the talent on the team."
But Division I hockey…in Omaha? It's a story 60 years in the making.
The Detroit Red Wings had a farm club in Omaha from 1939-51. The Omaha Knights were the first professional team for a number of players who went on to become legends of the game–Gordie Howe, Terry Sawchuk, and Johnny Mowers.
Scotty Bowman began his professional coaching career in Omaha in 1963, when the team fed Montreal. In 1971, Fred Shero led the Knights to a championship before joining the Philadelphia Flyers.
Nebraska-Omaha had club hockey teams coached by ex-Knights in the late 1940s. "It goes way back, and it's been an on-and-off process," says Gary Anderson of Nebraska-Omaha's sports information. "There was a club team in the '40s, and there was a push back then to make it a varsity sport."
The sport was in and out of favor at the Omaha campus for years, and was considered for varsity status again in the 1970s, but funding wasn't available. "Ironically," says Anderson, "Mike Kemp was the coach of that club team."
Finally in the mid-'90s, the sport was given serious varsity consideration again. Anderson says, "Behind closed doors, it had been considered numerous times, and Del thought it was time to do it."
"Del" is Del Weber, a chancellor at the university.
"We just weren't going to get any more state money for sports," says Anderson, "so we started getting a community committee together to look for backing and funding."
On May 1, 1996, the program was announced and season tickets went on sale. "We didn't even know where we were going to play," says Anderson. "We asked people to give us a $25 nonrefundable deposit, and we didn't have a place to play. The only facility available at the time was an existing 6,000-seat arena with ice. The Civic Center didn't have ice."
In spite of the uncertainty of the venue, Anderson says the Mavericks sold 1,500 season tickets that very first day. "People were plunking down money, and then more money the next day, and the next."
The next step, says Anderson, was lobbying the Omaha City Council, which had originally voted 4-3 against putting ice in the existing Civic Center. After an intense campaign, on May 14 the Council changed its mind and voted 6-1 to ice the place and give the Mavs a home.
"We closed off [season ticket] sales at 6,389 on May 16. That's about as many as we thought we could comfortably commit to. We tried to stop it. We felt we had to hold some back for corporate sponsors, for game-day sales, for students…and you need to cultivate new fans."
The Civic Center holds 8,314. The Mavs have between 7,200 and 7,300 season-ticket holders.
As a Division II school, Nebraska-Omaha doesn't charge students admission to sporting events. Anderson says that the money for most Maverick sports comes from student activity fees and the university.
Not so for Maverick hockey. UNO's brand-new program is completely privately funded, from the $6.5 million in donations that made the program possible to ticket sales.
And the beauty of this unusual setup is that hockey isn't the only beneficiary.
"With the money from hockey," says Anderson, "we fund women's swimming and diving, women's soccer, women's tennis and women's golf."
So, it isn't exactly a story of pauper turned prince, but it has been an extraordinary ride. "The noise in the play-in game was unbelievable," says Anderson. "The only thing in athletics I've ever seen that even approached that was an NHL playoff game in Minnesota. Game seven, 1971, against Montreal. The winner went to the Stanley Cup [finals]."
The Joe isn't the Stanley Cup, but it is the gateway to the NCAA tournament, as well as a means to an end in its own right.
"We just wanted to make the playoffs, that was our goal," says Kemp. "It's a privilege to be in this tournament."
For a young program with a seasoned coach, a talented underclass, and a Bullpen packed with season-ticket holders, it won't take long for the Mavericks to write a few new chapters in the college hockey storybooks.