Rick Comley is a happy man. He's no longer Athletic Director at Northern Michigan University.
"It's like a rebirth for me–25th year of the program, silver anniversary, and I'm back to being a full-time coach again. I can't tell you how much that means to me, how much better I feel.
"It's great to go in in the morning and have all day to work on hockey and not deal with problems all sports have. I'm not sure my assistants like it too much, because they used to come in and have peace, and now I'm waiting for them to get there so we can get going."
Comley is the only coach in the 25-year history of the Northern Michigan hockey program. His record at NMU is 494-404-59, and he's only the 12th college hockey coach to win 450 games at one school.
For those of you out there who dismiss the Wildcats because Roger Trudeau and J.P. Vigier are gone and because there 10 rookies on this year's squad, think again.
Rick Comley's on the job, full time.
Starring…
Trudeau and Vigier were responsible for 39 Wildcat goals last season. While that would be a significant portion of any team's offense, losing 39 goals would be devastating to more offensively conservative clubs like last year's Buckeyes, Nanooks, or RedHawks.
Given that Northern Michigan tallied 129 goals in overall play last season, there are bound to be a few guys left who can put the puck in the net.
"I think our team will be typical of Wildcat hockey—good defensively, we'll play hard, we'll hit, we'll do what we have to do—so I think we'll be tough to play against."
— Northen Michigan head coach Rick Comley
The top returning scorer is Chris Gobert (18-15–33), last year's CCHA Rookie of the Year and a solid two-way forward. Chad Theuer (11-16–27) is the only other returning Wildcat to top ten goals.
That leaves a whole mess of other players–hardly stars, yet–who contributed to the NMU offense, including sophomore defenseman Jimmy Jackson (8-10–18, +21) who may develop into a real play-maker.
Defending the Tribe
Everyone successfully defended the Wildcats last season. Everyone. There was no one on the Northern Michigan team on the wrong side of the plus/minus ratio.
In addition to Jackson, a pair of Seans–Connolly and Owens–help anchor the Wildcat blueline this season. On the indisputable hardest-working team in college hockey, it's no surprise that Connolly (2-14–16, +11) toughed out most of last season with a broken hand. Owens (1-8– 9, +9) dealt with his own physical pain, a shoulder injury that plagued him most of the season.
It's no wonder these guys played hurt. Have you seen the Wildcats hit?
Dan Ragusett (2.06 GAA, .913 SV% CCHA) returns to defend the net. Ragusett's hot glove was a major contributor to his five shutouts last season.
"I think we'll be pretty good defensively," says Comley. "We return six defenseman [and] Danny Ragusett in goal. Craig Kowalski, a freshman from the Detroit area–I think he's going to be an outstanding college goaltender."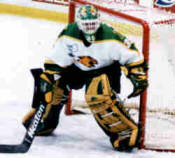 Lifeline? We Don't Need No Stinkin' Lifeline!
"I think our team will be typical of Wildcat hockey–good defensively, we'll play hard, we'll hit, we'll do what we have to do–so I think we'll be tough to play against."
Oh, the coach knows his team! And he ain't just blowin' air, either.
While it's true that Northern Michigan is young team, the veterans who are returning are some of the players who helped the Wildcats to a third-place league finish, a conference offense second only to Michigan (3.32 goals per game), a conference team defense second only to Michigan State (2.29 goals allowed per game), and special teams that were… that were… .
Oh. Yeah. Special teams.
In spite of that killer offense, the Wildcats were only 9th in the league on the power play, converting at just 15.8%. The penalty kill was little better, successful 82.2% of the time for 8th in the league.
And then there were the playoffs… .
"I'm very disappointed in the playoffs, although it was a great playoff," says Comley. "Mike and I battled heads went to a third game, a very very tough loss for us and a great win for them, but that's what makes this league special and college hockey great."
"Mike" is Mike Kemp, head coach of the Nebraska Omaha Mavericks, the first-year, seventh- place team with a below-.500 conference record that ended Northern's season prematurely in three games in Marquette last March.
Don't think that isn't motivation.
Is That Your Final Answer?
"We have a lot of question marks," says Comley. "I look at the two polls–eighth in one, fourth in the other–and all of us picked Michigan and Michigan State one and two, but then I think it's going to be a dog fight. We will really arrive as a league when eleven can beat one, twelve can beat three, and that's what makes races exciting. And I know that for our program, very seldom are you in a game anymore when you can win 6-1.
"You play every minute to win a hockey game and it doesn't matter where you are; every game is a battle."