"There's not much new in Michigan," says head coach Red Berenson.
Wouldn't every team in the league love to have Berenson's brand of same old, same old?
The Wolverines, ranked No. 2 in the preseason USCHO.com poll behind defending national champion North Dakota, return a tremendous senior class and a stellar goaltender, with minor losses to graduation and a less-than-minor loss to greener pastures. Mike Comrie (24-35–59) opted out, but as Berenson says, "On a good note, we really only lost a small senior class and have a small freshman class coming in."
Starring…
"We think we'll have more depth and balance up front with our senior class of five forwards," says Berenson. More balanced?
Mark Kosick (18-16–34) returns as the squad's top scorer, complimented by classmates Scott Matzka (15-15–30), Geoff Koch (12-16–28) and Josh Langfeld (9-21–30), who, Berenson hopes, "will rebound from an off year last year to his high-level production of his first two seasons."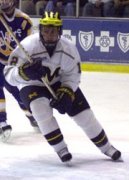 Berenson also says that "we'll have a good sophomore class," led by Andy Hilbert (17-16–33) and Mike Cammalleri (13-13–26). Take away Comrie's 15 league goals, and the Wolverines still have more than any opponent with 97.
Defending the Tribe
"We'll be solid in goal this year if Josh Blackburn stays healthy," says Berenson. Blackburn (2.38 GAA, .905 SV%) missed 17 games last season with an off-ice foot injury. In 16 conference games, Blackburn's save percentage was even more impressive at .913.
The junior goalie has the luxury of a great defense to front him, blueliners who are often overshadowed by Michigan's powerful scoring abilities. Led by junior Jeff Jillson (8-26–34, +10), senior Dave Huntzicker (2-11–13, +27), and junior Jay Vancik (3-5–8, +29), the Wolverines held league opponents to 65 goals last season (104 overall).
"We think we'll be stronger on defense with two incoming freshmen adding depth to our defense," says Berenson. Those rookies are Mike Komisarek from the US National Team Development Program, and Andy Burnes from the Compuware Ambassadors.
"Overall, we hope to be in every game, but there are some areas we're concerned about obviously."
— Michigan head coach Red Berenson
I'd Like a Lifeline, Please
"Overall," says Berenson, "we hope to be in every game, but there are some areas we're concerned about obviously."
OK, if scoring, defending, and goaltending are strong, what areas of concern will the Wolverines address? Special teams and hot heads.
Last season, as strong as Michigan was, the Wolverine power play was fifth in conference play (.184) and second overall (.196), while the penalty kill was third against league opponents (.856), fifth overall (.840).
These would be great numbers for most teams, but most teams didn't spend 26.46 minutes per conference game in the box.
Which brings us back to Mike Comrie. While the Wolverines may miss Comrie up front, they won't miss the time he spent in the box–95 minutes.
Hmmm…one strong team minus a little guy with a huge ego who drew as much negative attention as positive to his squad equals what, one wonders, in the locker room?
Is That Your Final Answer?
On Sept. 20, Berenson told the media, "As a coach, when you have a big returning team, you think you know exactly who's going to play with who and what your lines of defense pairs are, but as coaches we don't know one line today and one pair of defensemen.
"Even though we're an experienced team, there's going to be a period of experiment."
Experiment? The variables are minimal.