Buddy Powers has a way with words.
"I feel overall in the league…goaltending, staying healthy, and getting a break here and there is going to determine an awful lot of the final standings. Depending on those three categories, [especially] who stays healthy, and who gets the hot guy in the net."
If those are the criteria for success, the Falcons begin the season behind the 8-ball. Senior defenseman and captain Doug Schueller (2-5–7, +6) had knee surgery at the end of last season, and will be out until at least December. "His loss will be felt," says Powers, "He's a tough physical defense, and a real presence in our locker room. Making up for his loss is going to be a little bit tough early on."
Getting the hot guy in net is the other part of Powers' equation. Neither Shawn Timm (2.30 GAA, .915 SV% CCHA) or starter Tyler Masters (2.91 GAA, .898 SV% CCHA) performed consistently between the pipes.
Throw into the mix a team that can score but which has no aversion to the penalty box, and your guess may be as good as anyone's as to where the Falcons will finish this season.
Starring…
There's no question that Bowling Green boasts its share of talented players.
" I see the coaches poll and the media poll, and I think there will be a few surprises along the way."
— Bowling Green head coach Buddy Powers
Powers thinks that Greg Day (13-16–29), the team's top returning scorer is "ready to break out in this league." Powers says that sophomore Ryan Fultz (17-10–27) had a "tremendous" rookie year. "We're looking for him to continue in that vein, as well as Ryan Murphy to return to the form of his sophomore year." Murphy had nine goals and 10 assists last season.
Then there's defender Grady Moore (7-19–26), who had five power-play goals.
"We want a lot of guys to pitch in and make us real competitive in the league and do battle for a home ice playoff spot," says Powers.
Defending the Tribe
Both Timm and Masters have what it takes to play and play well in this league. Timm has a ton of raw talent but has seen little time in net since his rookie year, when he surprised everyone mid-way through the season.
His collegiate career began mid-way through his rookie season because he came to Bowling Green too out of shape to play. Perhaps the amount of time he rides the bench says something about his work habits.
Masters, on the other hand, is a capable goalie who had a roller-coaster season. Powers has a good deal of confidence in this sophomore netminder.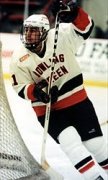 The Falcon team defense–led by Schueller, Moore, Louis Mass, and Marc Barlow–also saw its share of ups and downs last year. Finishing 7th in the league while allowing 3.14 goals per game, ironically Bowling Green was decent on the penalty kill, finishing 4th (.851).
A Lifeline, Please
The Falcons like to mix it up. Spending on average 24.04 minutes in the box per league game, this team had Powers lamenting about "stupid penalties" all season long last year.
But this is another team that does everything by committee–including sit in the box. A dozen players had 30 or more minutes in the clink in conference play, but the biggest offender, B.J. Adams, is gone.
As they break the rules by committee, so do the Falcons score by committee. A dozen players had double-digit points in overall play last year, and the team finished -13 overall, +2 in CCHA action. This was a squad that finished 3rd offensively in league games, averaging 3.21 goals per game, right behind the powerhouses of Michigan and Northern Michigan.
If the Falcons can get their collective act together–stay out of the box, play better defensively, and get their "break here and there"–they may surprise a few people this season.
Final Answer?
In fact, Buddy Powers is counting on the unexpected this year.
"I think it's going to be a tough battle. It's an awful tough league to play in, night in night out. The competition between the teams is intense and pretty close. I see the coaches poll and the media poll, and I think there will be a few surprises along the way."