On the face of it, the Warriors lost a lot of players at key positions. No doubt that led to their distant dead-last position in the Hockey East Coaches' Preseason Poll. Nonetheless, there's still room for optimism.
Countering a lack of experience — particularly on defense — will be an upgrade in team speed as coach Chris Serino continues to shape the personnel to his desired style of play.
"We want guys here who can skate," says Serino. "I think that we're a lot quicker this year. Up front, we're as quick as we were last year, maybe a little bit quicker, and we're much quicker on defense this year. We have some young kids on defense and we'll continue to get quicker there over the next couple of years.
"One of the things we did over [my] first two years is that we got a little bit smaller as we got quicker, but I think we've addressed that. We've got a couple of freshmen — [Marco Rosa, 6-1, 175, and Lou Eyster, 6-1, 190 ] — who are very quick with some good size, too."
The emphasis on speed is most apparent on defense. Not only was that a major factor in recruiting this year's freshmen, but returnees Stephen Moon and Brad Mills have opted for less bulk in the pursuit of improved speed. Moon, who played last year at 250 pounds, is down to 230. Mills dropped from 225 to 200.
"People are going to be shocked at what they see from that kid this year. He will be as good as any player in the league."
— Merrimack head coach Chris Serino on sophomore Anthony Aquino
"In the style we play, quickness is more important than how bulky you are," says Serino. "[Moon and Mills] realized that and made the commitment to be better."
That improved foot speed will have to overcome a significant loss of experience on the blue line. That said, Serino contends that many may be overestimating the youth of his defensive corps.
"We lost four senior defensemen, but we also have four defensemen coming back who played quite a bit for us," he says. "Stephen Moon is back, he's completely healthy and ready to go. I expect him to be very good this year. Nick Cammarata, with a year under his belt, is going to be a very good defenseman. Tim Foster and Brad Mills have played for us for two years. So we've got four experienced guys back there.
"We've got five freshman defensemen here that all are capable of playing. The nice thing is that I don't have to throw five of them out there at once. I have four returning guys with plenty of experience, so the other guys can [work into the lineup] at the pace that they need to be broken in at."
In goal, Tom Welby will be looking to take back the number-one spot that he lost last year to Cris Classen. While he'll presumably start the season ahead of junior Jason Wolfe on the depth chart, the same may not be true for Joe Exter. Exter had to sit out last year, and the first two games of this season as well, because of playing in major junior hockey. However, he impressed many during practices last season and could become a major contributor.
"Tommy will obviously start out as our number-one guy," says Serino. "But I think he's going to be pushed very hard by Joe Exter and Jason Wolfe. I can foresee that our goaltending situation will probably be best if I can play one guy one night and the other one the next night.
"In our situation, we have to look for consistency. I've had this discussion with Tommy many times. You can't make 40 saves and let in two soft goals. We can't afford that. You're better if you can make the saves you're supposed to make. What we're looking for from all our guys is to make all the saves he's supposed to make and maybe steal one or two goals. If he does that, then our chances of winning are very good."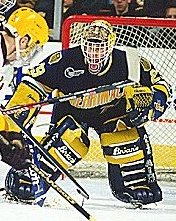 Although the Warriors only lost three forwards, the early departure of Greg Classen to the pros really hurt. A measure of just how good a player he is can be found in his presence on the Nashville Predators' opening-day roster. Thoughts of him playing on a line with Anthony Aquino for several years had to put a twinkle in Serino's eyes.
With Classen gone, a number of forwards will need to step up to fill the void. Aquino, who entered the league last year as not only a 17-year old but a young one at that, moves to the head of that class.
"He's twice as good as he was last year," says Serino. "Last year, he was just a kid trying to feel his way through. He did a pretty good job at it, but now he's a take-charge type player. People are going to be shocked at what they see from that kid this year. I think he will be as good as any player in the league. I'll be shocked if he isn't taken in the first or second round of the NHL draft this year."
Serino also expects big contributions from several other players.
"Nick Parillo is much better than he was last year," says Serino. "Ryan Kiley is a kid who could have a huge year for us. He's got potential to do it. Alex Sikatchev is very skilled. We've got some seniors who I think will have a good seasons for us. Marco Rosa and Lou Eyster are a couple of young kids who I think are going to help us immediately.
"Up front we're probably the deepest that we've been since I've been here. I think we've got more 10-15 goal scorers than we've ever had. I don't know if they'll do it, but they've got the potential."
Despite the doubters, Serino is confident that the Warriors can have a successful season.
"We were in most of our games last year," he says. "When we beat BC or tied Maine, we weren't doing that while being outshot, 40-10. We were right there. It wasn't like it was lucky for us to win the game. If we get some balanced scoring, I think that could be the difference for us."