The Friars displayed pronounced schizo tendencies last year. They opened with only two wins in their first eight games, then won nine out of 10. They followed that hot streak with a 1-6-1 stretch only to turn things around yet again and win six of eight.
"It was a roller coaster year for us emotionally," says coach Paul Pooley. "When we were on, we were on, but when we were off, we couldn't find a way to win."
Providence then lost 10 players, including top scorers Doug Sheppard and Fernando Pisani, and all but three defensemen. Perhaps the toughest loss was that of defenseman Mike Farrell, who turned pro early and added yet more attrition to a blue line that was already being decimated by graduation.
"Our biggest strong suit over the last couple years was supposed to be defense and it turned out that it wasn't. We had to score a lot of goals."
— Providence coach Paul Pooley
Senior co-captains Jay Leach and Matt Libby form the nucleus of the returning defensive corps and are joined by sophomore Shawn Weiman. Supplementing those three will be freshmen Stephen Wood, Jason Platt, Regan Kelly and Dominic Torretti.
"Obviously, Libby and Leach are our leaders," says Pooley. "They're our co-captains and they both play well defensively.
"We'll have three freshmen playing, no question. Kelly and Platt will most certainly be asked to contribute. Stephen Wood looked good in all the off-ice work we've done. Torretti may be more of a role player, making use of his intensity.

"Our defense will be young, but I think we're going to come along pretty quickly. It might be one of our stronger suits as the year goes along because of the type of kids that we have."
"Our biggest strong suit over the last couple years was supposed to be defense and it turned out that it wasn't. We had to score a lot of goals. Last year it really wasn't a strong point for us for the most part.
"Now we've got a young group in here and we're going to expect an awful lot out of them and teach them to get up on the gap and do the things that we want to do. I think they're going to be a very good group."
Goaltenders Boyd Ballard and Nolan Schaefer will have to keep the puck out of the net while the freshman blueliners learn the collegiate ropes.
"Boyd had a great February for us last year," says Pooley. "He went 6-2 and played well in Maine. Nolan showed signs of playing very well also, but injuries late in the year put him out of action.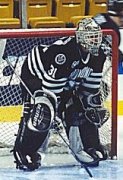 "I think they're going to rotate. From a coach's point of view, it's nice to have two goalies who can play. They get to feed off each other. They need to be competitors and want to be in the net. But I look at it as having two goalies who can play and if somebody emerges and takes the reins, then so be it."
The brightest spot among the younger talent last year came up front. In their first season as Friars, Peter Fregoe and John DiSalvatore both came close to cracking the 30-point barrier. Another freshman, Devin Rask, topped the 20-point mark.
"Our young guys came along last year, playing a lot in February," says Pooley. "I think that's going to bode well for us this year. At the end of the year, DiSalvatore was our best player. Obviously, his hunger and his drive will help us.
"Fregoe was on the all-rookie team. Rask came into the spotlight when he was moved up onto a line with Fregoe and DiSalvatore in February. He has some intangibles that he can contribute, too.
"Drew Omicioli really played well for us the second half of the year, mostly in February. He's really made strides and should be an offensive player for us as well as one of our PK [Penalty Kill] players."
Pooley also sees a perhaps less visible, but still vital contribution from senior Adam Lee.
"He's certainly going to be a big player for us up front in key situations," says Pooley. "Whether it's as an offensive player has yet to be determined, but in terms of being a key player on the ice defensively in key situations, he certainly will have a big impact."
Of the five freshmen forwards, Cody Loughlean would seem to be a shoo-in to make the biggest initial impact. The 5-foot-9-inch, 185-pounder earned Player of the Year honors after a stellar season in Canadian juniors.
"We're looking for him to be able to come in and play right away," says Pooley.
In general, though, Pooley is looking more to his upperclassmen for results than the rookies.
"Our seniors, juniors and sophomores have to make it tough for the freshmen to play in order for us to get better," he says. "If [the freshmen] do beat people out, that's good for our program because people are competitive and we're bringing good players in."
Despite what looks like a rebuilding year, Pooley remains optimistic.
"I know we'll be a lot faster than we were last year and we'll be a lot deeper, too," he says. "I think we're going to surprise a lot of teams who think we lost a lot. We did, but we have a lot coming back.
"The things that always make a good team a lot better and great are the intangibles of leadership and character. Those are the things that we have to have happen for us. Some people have to emerge as the year goes along, but I think that will happen.
"We're a young team in many regards, but the qualities we have in our older people are the qualities that are very important in being a successful team. We're just going to go out and show what we can do, be hungry and aggressive and be in peoples' faces and have the attitude that we're going to be a top team."