Is the glass half empty or half full?
Do BC fans torture themselves with woulda-coulda-shoulda possibilities involving national championships the last three years? Or do they draw pride and satisfaction in the fact that during that stretch their team is the only one in the country to have reached the Frozen Four each time?
Do they bemoan the loss of three collegiate stars in Mike Mottau, Jeff Farkas and Blake Bellefeuille? Or do they revel in watching another two: Brian Gionta and Bobby Allen?
Glass-half-full'ers at Chestnut Hill should be in for a treat this year. Once again, the Eagles look to be as talented as any other team in the league and perhaps the nation. Whether they finish on top of the First to Fourth Lottery or not, a fourth consecutive trip to the Frozen Four and maybe even that elusive national championship would not be a surprise.
"I think they're in that ballpark."
— BC head coach Jerry York, comparing his freshman class to the Mottau-Farkas-Bellefeuille group of four years ago
The reasons for optimism begin with another great senior class. Gionta and Allen are but the leading members of a group that also features Scott Clemmensen, Marty Hughes, Rob Scuderi and Mike Lephart.
"The present senior class has really brought quantity and terrific quality to our program," says coach Jerry York. "They've been to three straight Frozen Fours and have really been the core of our club."
York also considers this year's freshmen among the best of his recruiting classes, right up there with the Marty Reasoner class, the Mottau-Farkas-Bellefeuille one and this year's seniors.
"I think they're in that ballpark," says York. "I really do. I like the makeup of the class. The three forwards — [Ben] Eaves, [Chuck] Kobasew and [Tony] Voce — are really national-level players. They skate very well, are creative and can score goals. They'll have to go through an adjustment period, but they're going to be dynamic players for us as they get older.
"In [defenseman] J.D. Forrest, I think we've got a player certainly capable of being a really major force in Boston College hockey."
If there is one area of concern, it's at forward. The departure of Farkas and Bellefeuille means a loss of over 50 goals and 100 points. If the Eagles are to repeat as the league's top-scoring team, a number of players will need to shoulder some of that load.
"We're maybe going to be a little more balanced this year," says York. "I'm not sure which combinations we're going to put together, but Brian Gionta and Mike Lephart are going to be our senior leadership-type players. Marty Hughes, a converted defenseman/forward, is certainly right there, too.
"Ales Dolinar and Jeff Giuliano really came on hard last year. We think Krys Kolanos is going to be a major, major player at the collegiate level this year. And then we look at the freshmen coming in. It's a good mix."
The power forward role filled by Kevin Caulfield and Tony Hutchins over the past four years will be assumed by Justin Dziama, a 6-3, 200-pound freshman.
"He's a big, strong kid who fills that role for us," says York. "We certainly need someone like that, [even though] it's asking a lot of a freshman."
Despite the loss of Mottau, the defense should once again be among the best in the league.
"We certainly feel that from the blue line back, we're going to have the core strength of our club," says York. "Four of the defensemen who played in our five-man rotation return. We've got some terrific experience, skill and poise there.
"The two seniors, Bobby [Allen] and Rob Scuderi, have each played a lot of contests and big games over their career. I think they'll be leaders for us there. Brooks Orpik coming back is going to be a very, very strong force for us. And I think Billy Cass improved as much as anyone last year."
Forrest is the one sure-fire addition to that mix. Two other freshmen, Joe Schuman and Brett Peterson, are also possibilities. Schuman will unfortunately miss the opening month of the season after tearing cartilage in one knee.
Peterson, a defense-forward swingman, will at least open the season on the blue line as a result of Schuman's injury. Sophomore Anthony D'Arpino, who was a rarely used sixth defenseman last year after Hughes was moved to forward, is also in the mix.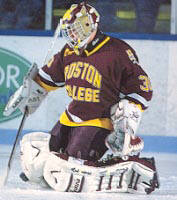 Although Mottau last year often logged Ray Bourque-ian minutes, York wants to avoid that temptation with Allen.
"Early in the season we'd like to use six defensemen," says York. "The game will dictate because of special teams, but we'd like to get to six. It's a long, tough year. We have some good depth on defense, unlike last year. We'll have to watch how [the freshmen] adjust."
Goaltenders Scott Clemmensen, a senior, and Tim Kelleher, a sophomore, both contributed strong performances. Early in the season Kelleher seemed to have the upper hand, but as he has done throughout his collegiate career, Clemmensen played his best down the stretch.
"Scott and Timmy both bring a real good, positive feeling from their experiences last year," says York. "Certainly we feel that it's as good of a tandem as we've seen in college hockey. We feel very good about Scott and Tim joining that defense in front of them."
Although Clemmensen eventually earned all the postseason playing time, York expects to open the season with a 50-50 rotation.
"We'll do that early for sure," he says. "They're both excellent goaltenders. If one jumps out at us, significantly widening the gap, we'll have to look at that. But we feel good about having two good goaltenders."
Arguably, BC again enters the season without any particular weakness and with hopes high.
"We feel good about our club, but we know there are other great teams," says York. "It'll be a great battle this year again."