Hockey East's only new coach, Don Cahoon, arrives from Princeton, where he took a difficult recruiting situation and brought that program to heights never before achieved. (Among other notable accomplishments, Princeton won its first-ever ECAC title and made its inaugural NCAA tournament appearance in 1997-98.) UMass-Amherst fans are hoping that Cahoon can work that same magic at their school.
Cahoon has already made his mark by changing many of the little things associated with the program, ranging from uniforms to locker rooms to even swapping the team benches at home so that the Minutemen will be in front of the student section.
"College coaches in general try to focus on these things because that's their identity with their program," says Cahoon. "We're trying to create a culture around our team and the culture sometimes is most affected by some of the littlest things.
"We're trying to create a culture around our team and the culture sometimes is most affected by some of the littlest things."
— UMass-Amherst head coach Don Cahoon
"So the type of uniform we put on these kids will represent my personality and what I think I want the program to represent. It's going to be a classic, very conservative type of look. We're doing things with the locker room to create a new look.
"We're changing our benches, flip-flopping the sides of the ice that we're going to sit on. There are a lot of reasons why we're doing that. One would be just to do it differently. Another one would be to create a fan base with the student body, to make a connection with our program and the student body so that they're working for us and not necessarily just against the other team.
"And hopefully it will create more of an environment that's conducive to bringing kids and families and all the people in the Pioneer Valley throughout the Springfield area and the Amherst area to UMass hockey games."
Cahoon inherits a team that achieved some success in past years by playing a predominantly trapping style. At Princeton, Cahoon's teams were known for playing a more wide-open, skating game.
"We're trying to develop skill," says Cahoon. "In order for me to promote skill, we've got to maybe open it up a little bit. At the same time, [UMass's] ability to be able to play some very good teams last year close and, in a couple of instances, have some success against those teams was due in part to their strong commitment to the trap and some of the things related to the trap.
"We're going to try to use a little bit of both schemes. We're going to open it up from time to time. We're going to be a skating team, maybe a bumping team and try to be able to be an effective special teams type of team. We'll look to have a positive net result in special teams.
"So there could be two periods of high tempo or there could be two periods of slowing it down and then we can go at someone on more of a high-tempo basis. I think that's going to play in our favor because we're going to be a little bit more unpredictable."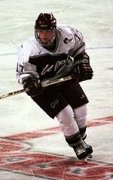 TIM TURNER