If the Tin Man only had a heart… if the Scarecrow only had a brain… if the Cowardly Lion only had courage…
And if Ricky DiPietro had only stayed at BU for one more year.
It was a proud moment for college hockey when DiPietro became the first goaltender and the first collegian to be selected first in the NHL draft. But for BU supporters, it was a bittersweet moment.
With the flashy netminder back in the Terrier crease, the team would have been the clear favorite in Hockey East and a very strong contender for the national title. Instead, there are many strengths and one big question mark.
"I think we're going to have a real good club," says coach Jack Parker. "We're stronger on defense than we've been in a long time as far as quality of players and number of players. I certainly think that we've got more depth up front and more skill up front than we've had in a while.
"The only things that keep you wondering are: everything is relative, so how good is everybody else, and how do we replace Rick DiPietro? Goaltending is a big question mark for us."
Jason Tapp, a junior, and Sean Fields, a freshman, will seek to answer that question with exclamation points.
"We're pretty happy with our depth [in goal]," says Parker. "We're pretty happy with our talent there. We just won't have the best goalie in the nation like we did last year and like we would have if Ricky returned."
Tapp's potential Waterloo came in late October when the Terriers outplayed Vermont in every way, outshooting the Catamounts, 48-20, only to lose when the netminder surrendered seven goals. With DiPietro playing brilliantly, many a coach would have relegated Tapp to door-opening duty for the rest of the season, but Parker and goaltender coach Mike Geragosian stuck with their beleaguered goaltender and were rewarded for their patience.
"He played extremely well the second half of the year and actually won two huge games for us," says Parker. "We pulled Ricky in one and [Tapp] went out, stonewalled Providence and gave us a chance to come back and beat them. A week later, he beat Northeastern at Northeastern to win us the Hockey East championship.
"He had a real solid second half of the year after struggling a little bit in the beginning of the year. Even at the beginning, he had a couple of great games, but he also had a couple of bad games. We're looking for him to be consistent. I think the monkey is off his back as far as knowing that he's going to be playing."
When DiPietro made his decision to turn pro in May, the assumption in most circles was that it was too late for BU to recruit any goaltender of significance. Presumably all the blue-chippers had already committed to other schools. In the eyes of the Terrier coaching staff, however, Fields was anything but a second-rate talent.
In 1998-99, he had earned Goalie of the Year honors in a lower-level Alberta, Canada, junior league. He then graduated to the British Columbia Hockey League where he was named BCHL Rookie of the Year this past season.
"Had Ricky stayed, [Fields] would have been on our radar screen for the number-one goalie recruit the following year," says Parker. "He already had something like nine scholarship offers for the following year.
"We told him, 'We really like you, but we want you to come now.'"
After a visit to the school, Fields accepted the offer and the Terriers had dodged a bullet.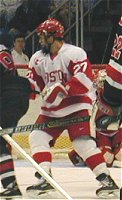 "We were really fortunate that he was available," says Parker. "We were ecstatic to get him as late as we got him. I think that everybody would like to have a guy who's a little older, whether it's a defenseman or a goalie or a forward. But we think he's a talented kid and we think we got ourselves a good one in a very, very difficult situation."
How the playing time in the Terrier crease shakes out is anyone's guess.
"We might alternate them for a while," says Parker. "Or we might let Jason be the starter for a while and see how Sean comes along. But we're pretty confident that we'll get solid goaltending."
Fortunately, Tapp and Fields will have an exceptional defense in front of them. Exceptional, that is, as long as Freddie Meyer is fully recovered from offseason back surgery. At present, he is expected back three weeks into the season, when BU begins its Hockey East games.
Meyer, a Hockey East All-Rookie Team selection in just half a season of play, is joined on the blue line by two other award winners: Second-Team All-American Chris Dyment and Second-Team All-Hockey East selection Pat Aufiero. Keith Emery, John Cronin, Mike Bussoli and Colin Sheen round out the deep and talented group. Sheen returns from a season in which he missed all but eight games with a broken wrist.
"If Freddy is available to us, we're going to have as good defensemen as we've had since probably 1991, and we believe he's going to be available," says Parker. "We're fortunate that we have seven proven defensemen. While Freddy's out, we'll have six proven guys. When he's back, there'll be more competition to see who's playing and who isn't. By that time, we'll probably have another injury."
Up front, the Terriers did lose top scorers Tommi Degerman and Chris Heron, but still return a deep lineup. Carl Corazzini led the team with 22 goals, Dan Cavanaugh was the top playmaker with 25 assists and Jack Baker also topped the 30-point mark.
"Corazzini will be the go-to guy in a lot of ways," says Parker. "He had a great second half of the year for us. Jackie had a great second half of the year, too.
"The only things that keep you wondering are: everything is relative, so how good is everybody else, and how do we replace Rick DiPietro? Goaltending is a big question mark for us."
— Boston University head coach Jack Parker
"The sophomores — Baker, Cavanaugh and Pandolfo — all made big jumps last year. We're looking for those guys to continue to improve, but I think we're also looking for the two important sophomores, Brian Collins and John Sabo, to make a big jump as well this year. They both played very, very well last year, but I think they're in the 15-20 goal bracket this year for us."
Parker is also looking for immediate contributions from some of the five new faces up front.
"I think we've got a bunch of freshmen that will be playing on the first couple of lines," he says. "I don't think it's going to be that freshmen are going to have to wait their turn and play on the fourth line and see if they get some ice time.
"We're very, very high on Gregg Johnson, who's a real top-notch center ice-man and is gonna be a real strong player in this league. Ken Magowan is a six-foot, three-inch left wing who we think is going to be able to contribute right off the bat. [Frantisk] Skladany, the boy from Slovakia, is a very clever player. All of our freshmen will be contributing and contributing a lot.
"We lost a lot at the top end by losing Degerman and Heron, but we didn't lose a lot of scoring in [Bobby] Hanson, [Greg] Quebec and Juha Vuori. I think the five we're replacing them with overall are a better group, especially Johnson and Magowan, who will step in and give us a lot of oomph, I think."
All of which gives reason for lots of optimism, tempered by one factor.
"The thing that's scary," says Parker, "is that I think we're going to be a better team, and yet this league is going to be even better than it was last year from top to bottom."