Even though UMass-Lowell finished in the cellar last year, it was only by a single point. It won't take much to make a significant move in the standings.
"We recognize Hockey East is the strongest league in the country right now," says coach Tim Whitehead. "For anyone that finished in the bottom half last year, something special has to happen to get into that top half of the league.
"We believe that something special can happen this year. Whether or not that happens, we just have to wait and see. That's why we play the games, obviously. We believe that it can, but we know the challenge that's in front of us."
One key to moving up in the standings will be improving the offensive output. The River Hawks went through stages last year during which they struggled to bury the puck. They'll also have to replace leading scorer Chris Bell.
"We're expecting everybody to increase their offensive production," says Whitehead. "Do we have another [Greg] Koehler or [Greg] Bullock point-wise on the horizon? We'd like to think we do, [but] it's too early to say that.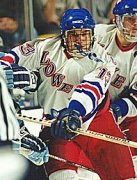 KYLE KIDNEY