You can't have a bigger matchup. Not in October, anyway.
Friday night at Chestnut Hill, it's not the NCAA title on the line. That tussle, as you can see from the persistent reminder near the top of the USCHO.com frontpage, is still many moons away.
In fact, the teams on the ice won't be playing for titles of any kind — no tournament championship, no conference hardware goes to the winning side.
No, the only thing either Wisconsin or Boston College comes out of Friday's game with is this: the right, for one night at least, to call itself the best college hockey team in the nation.
The Badgers and Eagles currently occupy the top spots in the USCHO.com poll, with No. 1 Wisconsin sporting a perfect 6-0 record and No. 2 BC not far behind at 4-0.
Ten games. Ten wins. You can't do any better — although in the case of the Badgers, some might whisper about the strength of the competition: UMass-Amherst, Michigan Tech and Minnesota State-Mankato. None of those teams was projected in the preseason to finish in the top half of its conference.
But as Kansas State football coach Bill Snyder likes to point out, you can only beat the teams you play. (In Kansas State's case, of course, that means scoring 184 points against Southwest Micronesia College and Grill while complaining about not getting any respect from the pollsters.) And the Badgers have looked pretty good, compiling a total scoring margin of 28-13, though both wins against Mankato were of the one-goal variety.
The Eagles, meanwhile, have played a better caliber of opponent with similar success. BC claimed the Omaha Cup with victories over Notre Dame and current No. 13 Nebraska-Omaha, then took consecutive 3-2 wins on the road over Denver, where they left an impression on Pioneer head coach George Gwozdecky.
"I can't believe there's a better blueline corps in the country than what Boston College has," the DU bench leader said.
And remember, that statement refers to a team which no longer enjoys the services of Hobey Baker winner Mike Mottau. No easy act to follow, that, but the presence of blueline general Bobby Allen helps make the Eagle defense a formidable barrier.
Wisconsin coach Jeff Sauer, however, isn't looking at the defenses. The Badger head man expects a wide-open game, saying, "It'll be a fast-skating series…I don't expect [clutch-and-grab hockey] to happen."
That's a reasonable possibility, given the firepower that will be on the ice. For starters, the state of Wisconsin breathed a collective sigh of relief when Dany Heatley — last season's gimme pick as WCHA Rookie of the Year — spurned the National Hockey League to return to the Badgers.
"It's good for all of college hockey, not only for Wisconsin," Sauer said of Heatley's return. "To have a player of [Heatley's] caliber come back to our game and not sign a pro contract is a real plus."
With Hobey Baker finalist Steve Reinprecht gone, Heatley is complemented by David Hukalo and Brad Winchester on offense. The trio has been good for 22 points in UW's six games, led by Heatley's line of 4-7–11.
Lest we forget, Wisconsin can also play a little defense, the blueliners anchored by fifth-year seniors Alex Brooks and Jeff Dessner. Both are former prize recruits capable of being two-way threats on the ice.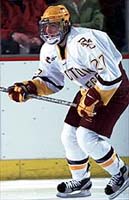 BC, meanwhile, lost Jeff Farkas and Blake Bellefeuille from last year's group of forwards, leading to at least some concern about this season's offense. Hobey Baker candidate Brian Gionta is tied for the team lead in scoring with 1-4–5, matching fellow senior Mike Lephart and sophomore Krys Kolanos' point totals. Freshman Ben Eaves, one of head coach Jerry York's touted class of rookies, has also made his mark with four points.
Of course, if you're only going to give up 1.5 goals per game, as the Eagles have done so far, you don't really need much offense. The aforementioned Allen is making an impact at both ends of the ice, and is complemented by Rob Scuderi on the BC 'D.' The Eagles return four of their five regulars to the blue line this year; although Mottau was a huge loss, he was more or less the only one.
The battle in nets also promises to be worth watching. At one end of the ice will be Badger Graham Melanson. The noted ironman is at it again this year, as the senior has played all but five minutes in Wisconsin's six games, compiling a .930 save percentage and a 2.16 goals against average.
Hard as those numbers are to top, BC's Scott Clemmensen is doing just that in the early going. After battling perhaps-unrealistic expectations most of his collegiate career, Clemmensen has matured into a steady presence between the pipes. He's been the goalie of record in three of Boston College's four wins, posting a sparkling .955 save percentage and a 1.33 goals against average in those games.
And if, somehow, some way, all of that's not enough to pique your interest — well, you might remember last season's West Regional. On a certain Saturday at Minnesota's Mariucci Arena, two teams battled to a surprisingly-lopsided 4-1 finish that sent the winners into their third straight Frozen Four, and the losers home to circle Friday, October 27, 2000, on their calendars.
Those teams, of course, were Boston College and Wisconsin.
'Nuff said.
---
Thanks to Todd D. Milewski and Dave Hendrickson for their contributions.
---