The success of St. Cloud State, which currently finds itself in first place in the WCHA headed into the weekend, can be attributed to numerous contributions from each part of the roster. Great goaltending, solid blue line play and offensive firepower have launched SCSU into one of its best seasons on record.
Along those lines, a big reason for the Huskies' rise to No. 4 in the latest USCHO.com poll, is the inspired play of sophomore center Jon Cullen, a 5-foot-10-inch, 170-pounder out of nearby Alexandria, Minn., and the cousin of former Husky and current NHL forward Matt Cullen.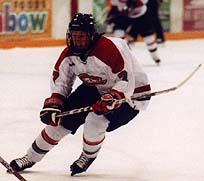 "Jon is one of our smartest players," said St. Cloud coach Craig Dahl. "He works extremely hard in practice and during the games. He sees the ice well and has great hockey skills."
Cullen has returned from an injury-filled freshman season at SCSU in 1999-00, and has established himself as one of the Huskies' top offensive guns. The owner of a 10-game scoring streak, which ended on Jan. 12, Cullen has eight goals and 10 assists this winter. He also has a team-leading three game-winning goals. "Jon is a bit more confident this season and that has really helped his game," St. Cloud assistant coach Doc DelCastillo said. "He's the type of player who will just keep getting better and better as long as he stays healthy."
Cullen echoed his coach's words in explaining why he has been able to become a larger offensive force this season.
"I'm more comfortable with the speed of play at the college level. The experience has really helped me this season," Cullen said.
Cullen didn't score at the same pace last year, but he still produced impressive first-year numbers with the Huskies (5-11-16) before an injury forced him to miss the final games of the season. Cullen tries not to worry about the past injuries and has instead focused on the task at hand this season.
"We have a very solid team with great coaches," Cullen said. "The nice thing about this team is that we get along so well … there is a great atmosphere in the locker room. We are really starting to jell as a team and I think we have the ability to play with any team in the nation."
On the subject of atmosphere and confidence, Cullen and his fellow linemates –senior Keith Anderson and junior Nate DiCasmirro — are certainly comfortable on the ice. The trio, and defender Brian Gaffaney (a fellow Alexandria resident), were all members of the same junior team at North Iowa in addition to their work together last winter at SCSU.

"The chemistry on our lines is very important," Cullen said. "Knowing those guys when I got here last year really helped me."
A standout junior player, Cullen was a playoff MVP for North Iowa. Prior to his stint in Iowa, Cullen scored over 150 points as a prep player at Alexandria's Jefferson High School. A three-time letterwinner in hockey and a four-time letterwinner in golf, Cullen helped guide Alexandria to the MSHSL tournament in 1996.
As a resident of Central Minnesota, Cullen was more than familiar with the success of SCSU's program. His family ties to the program through Matt Cullen furthered the connection.
"I live about 60 miles from St. Cloud, so I was able to watch and follow the Huskies as a kid," said Cullen. "I was very comfortable with the school and the NHC is an awesome place to play hockey. It is the best atmosphere in the WCHA."
DelCastillo said, "Jon is just a great kid, who shows up to play everyday. You never have to worry about getting him ready to play in a game or in practice. The guys just love him."
The Huskies still have plenty more to prove, with the top of the WCHA standings so tight and a lot of hockey left to play. But with the improvement of players like Cullen, they are in as strong a position as ever.