At first glance, it's easy to mistake UMass-Amherst sophomore defenseman Samuli Jalkanen for something that he's not — a forward. Standing only 5-foot-10 and weighing 187 pounds, the Helsinki, Finland, native does not exactly fit the prototypical mold of a blueliner.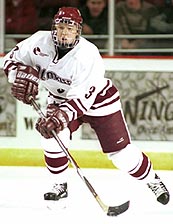 Yet despite his diminutive stature as far as defensemen are concerned, the Minutemen coaching staff probably wouldn't mind a few more Jalkanen clones on their roster. After all, what Jalkanen lacks in size he makes up in hard work, dedication and consistency out on the ice.
Sophomores aren't usually looked upon to fill a leadership role, especially on a team such as UMass, which has seven seniors on its roster. But that's not the case with Jalkanen, who has ascended into the role of an assistant captain in such a short time because of his outlook and approach to the game of hockey.
"He's definitely the hardest-working player on our team," UMass-Amherst head coach Don Cahoon said. "We could measure our work ethic by his any day of the week."
As the Minutemen enter the stretch run, Jalkanen is one of the main reasons why they are in the middle of the pack in the Hockey East standings. His marked improvement from last season to the present one has earned him the admiration of his fellow players and coaches, as well as opponents throughout the league. Needless to say, the leading scorer among UMA blueliners should also have a say in where the Minutemen finish before the regular season closes in the first weekend of March.
Picking up the slack
If hockey players were paid by the minute, Jalkanen would have already tucked away a hefty sum this season. Night after night, the former Jokerit standout logs in excess of 25 minutes and yet is still as fresh in the game's final moments as he was at the outset.
When fellow Finn Toni Soderholm went down in early November with a knee injury, Jalkanen was forced into even more ice time. Whether it was even strength, power play or shorthanded situations, there was the sophomore making sure that someone picked up the slack.
"I knew that it was going to hurt us because Toni played a lot and because he is a good defenseman," Jalkanen said. "As a team, it was like, 'Now we have to go without Toni,' and I knew that I had to step it up a little. Everyone had to realize that we couldn't just wait until Toni got back."
Added Soderholm: "I really did believe he would step up. He's one of those players who has the ability to step up into a leadership role by taking a lot of ice time and playing at such a high level. And because he never goes through slumps, you can always count on him being there."
"The thing with Sami is that he's so extremely consistent and he works harder than anyone else on the team," continued Soderholm. "He's been top-notch all season long. He's settled in nicely and done a terrific job, and it's all because of his hard work."
In Soderholm's absence, Jalkanen's ice time sometimes jumped to over 30 minutes per contest, and his offensive production increased dramatically. After scoring only six points in his freshman campaign, the second-year defenseman tallied eight points in the 10 games that Soderholm missed.
Ironically, a season ago, it was the rest of the Minutemen who had to find someone to take his place in the lineup. After playing in the first 30 games of the year, Jalkanen broke a bone in his left arm during a February practice. He missed the final six games of the season, yet was determined to build off a promising rookie season.
"Last year, it was kind of exciting to go to all of the new places and play the new teams," Jalkanen said. "But after a couple of games I got used to the fast tempo. This year, even though you know where you're going – whether it's a big rink or a small rink — you've still got to be mentally ready to play from the first whistle."
Sami [Jalkanen] has grown so much as a player … He plays with a great passion, and his teammates feel that.
— UMass head coach Don Cahoon
And sure enough, Jalkanen has responded on both ends of the ice for the Minutemen. He has excelled in all facets of the game. His 13 points [one goal, 12 assists] leads all defensemen and places him fourth overall on the team in that department.
"I've gotten a lot of ice time from the coaches," Jalkanen said. "I've been pretty confident the whole time, but that has given me extra confidence. Because of all of that ice time, it's easier for me to get into the game."
Said UMass assistant coach Bill Gilligan, who originally recruited Jalkanen: "He was good last year too, as good as anyone on our team at times. But it wasn't throughout every game and every shift like it has been this season. He's making fewer mistakes — by trying to do less, [rather] than more — but he's been very consistent and has also produced more."
Bigger isn't necessarily better
Defensemen tend to embrace the physical part of the game, and Jalkanen is no different. He's just as likely to battle in the corner as a 6-foot-2 blueliner.
However, the fact that Jalkanen is often giving up a few inches and some extra weight to the opposition puts the target on his back at times.
"For me, being smaller than the other defensemen, I've got to do what I do best," Jalkanen said. "I never thought that size could be a thing that you needed to use to prove how you play. But for a defenseman, it never hurts to have a little size."
One teammate who has formed his own analysis of Jalkanen's physical element over the past few years is the 6-foot-2 Soderholm.
"From my experience going against teams with smaller players, you don't realize that even though they are smaller than you, they are usually tougher than you are," Soderholm said. "They expect to get hit. A 6-foot-3, 240-pound defenseman expects to give it out, and not get hit."
"Sami doesn't get rattled when he gets hit, and he also avoids a lot of checks because he expects to get hit. His development from a young age is why he is smaller, but that's why he always works harder than the bigger guys."
That relentless work ethic has helped Jalkanen distinguish himself as one of the top defensemen in the league. And, with two more years of eligibility left following this season, there is no reason why he shouldn't continue to improve.
"Sami has grown so much as a player," Cahoon said. "Even though I wasn't here last year, from what I hear, he's made great progress. He seems to be a little more comfortable with the puck and is still solid defensively. He plays with a great passion, and his teammates feel that."
"He's a very good college hockey player and he keeps getting better and better."