North Dakota freshman David Lundbohm was quick with an answer when asked what the best part about playing with his brother Bryan Lundbohm was.
"Thursday night steaks at Bryan's house aren't too bad," David quipped.
"That's maybe one of the nice things about having an older brother off campus, you can get a break from dorm food," Bryan Lundbohm, a junior winger on the Sioux, said.
"I think having an older brother here for comfort, and helping you learn the lay of the land, so to speak, helps you out coming in here."
— UND assistant coach Dave Hakstol
At the University of North Dakota, hockey has always been a family affair. Fighting Sioux players play in the shadow of the great hockey tradition that has become a major part of life in Grand Forks, N.D. Kids grow up playing hockey at the many outdoor rinks, and imagine that they are their favorite NHL or UND stars, which, for many, can be the same player.
The family atmosphere is also palpable at UND's 6,067 seat Ralph Engelstad Arena. One can find fans aged three to 93 enjoying the hockey tradition that has become such a part of this town.
This atmosphere is also present in UND's locker room, where a string of brother combinations have carried the tradition, including two pairs on the current roster. Having brothers playing on the same team is nothing new in college hockey, but to have as many standout brothers as UND has had in recent years is a little more noteworthy, especially considering the success of the program over the last four seasons. The Fighting Sioux have captured three WCHA crowns, and two NCAA National Division I titles in that span, and just clinched at least a share of another WCHA regular-season title.
UND's current roster includes David and Bryan Lundbohm from Roseau, Minn., as well as David and Ryan Hale from Colorado Springs, Colo. These family connections are key elements of the Sioux success this season.
As of this past weekend, Bryan Lundbohm was fifth in the nation in points with 54, and was tied for first in goals with Boston College's Brian Gionta. A successful Lundbohm on the UND roster has happened before; Bryan's father Michael played for the Sioux from 1969-1972. But there will be a Lundbohm presence after Bryan exits, as well, as younger brother David has become a major player for UND this season. The 6-foot, 180-pound center has established himself as a leader on the Sioux's third line, playing in 21 games.
What's similar in all the brother combinations is how appreciated the younger players have been of the trail the older players have blazed.
"[Bryan] helps out, and shows me the ropes a little. It's somebody that you can always talk to, there's always close family there," David said.
Said Bryan, "It's kind of nice to have [David] here. I can see how he is developing into a player, and give him a few pointers here and there. It's also kind of neat for me to learn from some things that he does well too."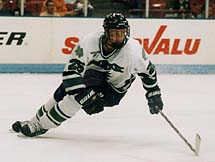 UND's other current brother combination, the Hales, have both contributed to the success of the Fighting Sioux the past two seasons. As a freshman, Ryan was a member of the 2000 National Championship team when he scored 15 points in 40 games. Unfortunately, he is currently not playing because of a shoulder injury early in the season during a game against Denver. He underwent arthroscopic surgery on his left shoulder, and will likely miss the remainder of the season.
Still, Ryan notes how winning the National Championship has driven David to achieve.
"He has said that is one of the things he wants to experience before he leaves," Ryan said. "He was able to see what it was like for me, and share in that a little bit."
David is on a track to possibly win another championship with the Sioux. A freshman defenseman, he helps anchor UND's second line defense along with junior Aaron Schneekloth. David has played in 33 games this season for the Sioux, tallying seven points. More impressive is his physical presence. Never one to back down from a physical opponent, David leads the Sioux in penalties with 26 for a total of 55 minutes. This kind of play hasn't gone unnoticed; David was drafted by the New Jersey Devils despite being an older freshman.
Having a brother at the same school also seems to be a driving force. Any competitiveness that exists between the brothers fosters a level of intensity that has been a major contributor to the Sioux in the past few seasons.
"We kind of feed off of each other with our work ethics, and that just helps us get in better and better shape," David Hale said.
The connection that brothers have with one another is a resource that can be a factor on and off of the ice. For UND assistant coach Dave Hakstol, the family connection has helped in many ways.
"I think having an older brother here for comfort, and helping you learn the lay of the land, so to speak, helps you out coming in here," Hakstol said.
Hakstol said the "brother effect" has helped the Sioux in recent years.
"It's gotta add something," Hakstol said. "It's a thrill playing college hockey with your brother, and maybe that brings a little added passion into the locker room. That carries through the rest of the team, and out onto the ice."
"I'd much rather have him [David Hale] on my team than to play against him, that's for sure," Ryan Hale said, echoing other players' sentiments.
For the coaching staff, having brothers on the team doesn't significantly change recruiting strategies. Players often have a different style than the other brother, and develop independently. The Hales are a good example, with Ryan at forward and David on defense. Still, it never hurts to have a brother to put in a good word.
"Anytime you have a player in your program, you get to know the family, and that includes the siblings, so you can kind of watch them," Hakstol said.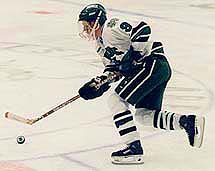 While UND is currently blessed with two brother pairs, there have been other notable combinations. The 1997 National Championship team is especially noteworthy, with two other prominent brother combinations.
The Hoogsteen brothers, Kevin and David, were both standout players. Kevin played from 1993-97, and scored 110 points over his career. David played from 1995-99, netting 157 points.
David led the Sioux during their drive to the National Championship in 1997, both in points and goals scored. Kevin was a grittier player, with a career penalty total of 70 for 175 minutes.
Jason and Jeff Ulmer from Wilcox, Sask. are the other pair from the 1997 Championship team. Jeff, a 5-11, 190-pound forward, played from 1995-99, registering 39 goals and 46 assists for 85 points, along with 132 penalty minutes in 135 games. In his final season at North Dakota, he ranked seventh on the team's scoring list, posting career bests in all offensive categories with 16 goals and 20 assists for 36 points. Jeff recently was called up by the New York Rangers from their minor league team in Hartford, and has two goals in five games played.
Brother Jason Ulmer also had a great career record with the Sioux. Playing from 1996-00, the forward netted 33 goals and 69 assists for 102 points, playing in 146 games.
And it doesn't end there.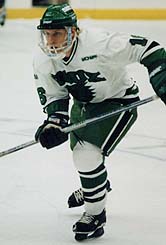 The 1997 team also featured Jay Panzer, current NCAA scoring leader Jeff Panzer's older brother. The Panzers are more than just a brother story, however, having grown up in Grand Forks watching many powerful Sioux teams over the years. Jay Panzer was a quality all-around hockey player, and played a notably different game than his speed-demon brother.
The appreciation that the brothers have for each other is very evident. All of the current combinations were quick to express an appreciation for the once-in-a-lifetime opportunity to play at the collegiate level with a member of the family.
The siblings seem to provide a network of support for one another, and an ability to play together that cannot be taught. It seems that the family connection is just one of the ingredients that the Sioux have used to cook up their success this season.
Sioux fans just hope the Lundbohms invite more players over for steak night.