Mike Sertich just took a little time to himself.
He did some fishing, let his hair grow long, grew a beard. In other words, he did all the things last summer that he couldn't do in 18 years at Minnesota-Duluth.
Sertich also did some thinking. He allowed himself to absorb what had happened in the last few years.
He didn't particularly care for much of it.
His reign as the top man at Duluth came to an end last season. Officially he resigned, though there's little question the school's administration had at least one hand on his back on his way out the door.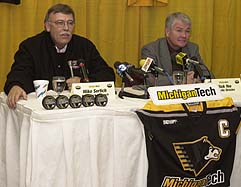 He wasn't sure if he'd ever step foot in a rink for a college game again. He worried about the questions he'd be asked about what happened in Duluth if he ever applied for another job, and maybe about what answers he would give.
He started thinking about what it meant to be a coach. He experienced a kind of burnout in his last years at Duluth, and knew he had neglected the things that were truly important to him.
Once he realized all these things, he went about changing them.
It all started to make sense again for Sertich, and that's when Rick Yeo called. The Michigan Tech athletics director had just seen Tim Watters resign as coach. Being friends with Sertich for many years, he knew that was a way he could turn for help.
All of a sudden, Sertich had to apply all of his newfound wisdom as to what was really important to coaching again.
"I have a picture of a lone wolf. When I went to Houghton, I put it up," Sertich said. "That was the only thing I had in my apartment. I took a magic marker and I put under there, 'Just be yourself.' That was going to be my credo and God help me if I get away from that."
As far as anyone can tell, he's still on track.
He's taken hockey to a new level at Michigan Tech, and that's not even considering a step up in the number of wins.
At the end of the WCHA's regular season, he was 7-12-2 at Tech — not a great figure, but not too bad for coming to the team on short notice.
He's helped the team that set a NCAA record for most losses in a season last year realize there's more than one way to go through a season. Sertich has brought the fun back to the game.
Imagine this: rumor has it that at practice one day, Sertich showed up wearing a bandana and earrings, just to liven things up.
"One night [the players] came for practice and [Sertich] said, 'We're not going to have practice,'" legendary Tech radio voice Bob Olson said. "They went out to one of the outdoor rinks in Houghton and played shinny [a form of pickup hockey], just to have fun.
"He's spent probably more time with the players off the ice than he has on the ice, just building up their confidence. I know the confidence factor is a big thing."
The Renaissance
Sertich hasn't been in Houghton long. He was hired on an interim basis on Nov. 8 and was hired full time on Jan. 17 (his contract runs through the 2004-2005 season). But it's no secret he's been having a ball.
"Oh, hell, this is the best thing that's ever happened to me," he said. "It's a complete and total renaissance."
It probably took a complete makeover to get Sertich back into the game. The way his term at Duluth ended left a bit of a bad taste in his mouth.
"I know he appreciates being able to be back in the game because he didn't want to get out of it at the time he did, and under those circumstances," said Wisconsin coach Jeff Sauer, who called Sertich his closest friend in hockey.
Sertich's last year in Duluth was riddled with rumors of his imminent departure. Message boards were filled with calls for his head.
He announced his resignation before the season ended and threw in a few jabs at the lack of an on-campus arena at the news conference.
So maybe the half-season out of hockey was exactly what Sertich needed. He needed some time to step away from the game and look at himself.
He became more philosophical in his outlook toward life and how hockey fit into it.
"I think I have [become more philosophical], but only because I had the time to be introspective," Sertich said. "I took time away from the daily game and the hubbub of daily life and spent it in the woods, kind of got back to the basics of life.
"I had lost sight of a lot of things; a lot of things that I thought were important weren't. Your family comes first, any way you look at it. And your friends, and your health. When you look at all the guys that suffer from coaching burnout, run from the ghosts of the past and all the things which they can't control, it's little wonder why guys don't stay in the game long anymore and why the turnover is so great."
Sertich wasn't sure if he would ever associate burnout with college hockey. There was a time not too long ago that the game at the college level was considered small-time nationally. It wasn't much of a revenue producer, so attendance and victories weren't paramount.
They are now.
"Hockey used to be insulated from that, but now with bigger buildings and fancier buildings, expectations rise," Sertich said. "It's hard to fulfill the expectations of fans, it's hard to fulfill the expectations of your boss and the program. But the only thing that matters is fulfilling your own expectations. That other stuff, it'll take care of itself in time. I lost sight of that."
The Second Chance
Sertich has called this his second chance. But he knows he paid a big price to get where he is today.
He said he suffered through a lot of humiliation and embarrassment in his years at Duluth, leading to his own personal burnout.
"You're walking and you see the mountains ahead and you're worrying about the mountains. But realistically, what tires you out is that rock in your shoe … In a lot of my colleagues, I see that and I hear that. I've been fortunate to have a second chance, but a second chance that was kind of costly."
— Mike Sertich
"I was fighting some mystical and mythical gremlins, you might say, that really, perhaps weren't even there," said Sertich, who was 15-22 in his last season at UMD, 1999-2000. "It's funny. Fans have probably never had more of an opportunity to place indictments on the programs than they do now, with talk radio, Web sites, chat rooms, message boards. It's pretty condemning. It's pretty damning. It's pretty negative.
"In all my years, I've never seen a coach yet that really went out there and tried to lose or wanted to lose. Now with all these avenues to come down on these guys … it's subtle, but it's always there. You're walking and you see the mountains ahead and you're worrying about the mountains. But realistically, what tires you out is that rock in your shoe. You're gassed before you even get to the mountain, and that's what happens.
"In a lot of my colleagues, I see that and I hear that. I've been fortunate to have a second chance, but a second chance that was kind of costly."
The Teacher
But Sertich knows the good he can do in his second chance. A teacher by trade, he's carried that experience into the coaching ranks.
In a game late this season at Wisconsin, he called timeout to talk strategy. In that situation, most coaches will talk to just the players who are going to be on the ice.
Sertich sat up on the boards in front of the players, clipboard in hand, to diagram plays. The entire team crowded around him.
"I don't think there's anything that's more gratifying than to see someone grab an idea and improve upon it," he said. "When you give them a concept and they execute it, and you start to see them have success — and it doesn't always come in wins. The wins will come, but I think what happens is the understanding comes first. Once I think you reach that point of understanding, then it takes off.
"I think in order for them to be successful, the whole environment has to be positive. I look back at my career, I didn't like when my parents yelled at me. I didn't like that. I didn't like to be yelled at at school, I didn't like to be yelled at by coaches. I don't think kids like to be yelled at either. If you keep it positive, you can learn."
Said Sauer: "There's not one coach in hockey that feels better about his kids than [Sertich] does."
He'll have another new challenge next year, as he continues to mold the Huskies into a team of his own. It started in his first game with the team, in which observers saw an emphasis on forechecking and a new breakout pattern.
The success in the win column may not materialize soon. That, however, may not be too troubling to Sertich.
"Every year's a new challenge. That's the essence of coaching," he said. "It's still teaching, it's still keeping the environment positive, where kids want to come to the rink. It's a game; it's supposed to be fun, but there's times you have to work hard.
"You don't have to hate coming to the rink. I think any time you get caught in that as an athlete or a coach, you're a time bomb."
Knowing What's Important
In his time away from the game, Sertich realized there's a fine line between putting your all into the game and putting your all into the game while disassociating yourself from everything else.
He knows his health and his family well being suffered when he was focusing solely on hockey.
"If you don't prioritize things, don't take time for yourself, you get married to the game, you lose your health," he said. "You don't need to do that. You don't need to lose your health in order to be a master of the game. It's not all X's and O's, it's managing people. I think that once you learn that, you get a totally different perspective on the game.
"I understand how important winning is and ticket sales is, but a lot of that stuff I can't do anything about. I just have to go and take care of the kids and help them. If I get away from that, I'm in trouble."
He hasn't strayed from that yet. He's renewed the enthusiasm in the Michigan Tech hockey program, the city of Houghton and, perhaps most importantly, himself.
"I'm Mike Sertich, who moved to Houghton, Mich," he said. "I'm no different than any other guy who goes to work every Monday morning, loves his weekends, looks forward to the recreational parts of it. My life is very simple. I'm not going to get caught up in trying to be someone, someplace. I'm going to be me, and that's the way I'm going to be.
"That's what I learned."