It was potentially the final game of his collegiate career. In his four years, he'd never been a marquee name. In fact, he'd scored only four goals at Providence, none in the last two years.
If you wanted headlines, you'd think of forwards Devin Rask, Peter Fregoe and Drew Omicioli. Or co-captain defensemen Matt Libby and Jay Leach. Or goaltenders Nolan Schaefer and Boyd Ballard.
Not fourth-liner Cole Gendreau. Headlines were for other guys. Gendreau was one of those unsung heroes who labor in relative anonymity, vital to a team's success, but rarely recognized for their efforts.
"He's a tremendous role player for us," said PC coach Paul Pooley after the Friars' double-overtime victory over Boston University to advance to the Hockey East semifinals. "He's a tremendous team guy who works hard.
"I never, ever question Cole's work ethic or his desire. He's always there and is always positive. He always does his job. He gives us size and strength."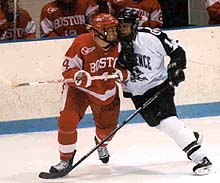 Gendreau gave his team a little more than size and strength on this night. In what would have been the last game of his collegiate career if the Friars lost, he scored on his first shift of the game.
It wasn't the game-winner. As an early goal, it would likely be overlooked in this marathon that lasted over 96 minutes, the longest Hockey East game of all time and the eighth longest in NCAA history.
But to win in overtime, you have to get to overtime. And since BU goaltender Sean Fields had stopped 37 of 38 shots the night before, putting one past him early was a major contribution for a player primarily expected to use his 6-2, 220 pound body to make big hits.
"It was a tremendous goal for him to score on his first shift," said Pooley. "I'm very, very happy for him."
Gendreau was pretty happy about it, too.
"For me, goals don't come too easily," he said. "I'm usually out there and if I make the big hit, I get our goalscorers to get going and that's fine. But it was fun being able to pop one in there. It definitely felt good."
Gendreau grew up in Bismarck, North Dakota, and like any other kid in hailing distance of Grand Forks wanted to wear the Fighting Sioux jersey.
"It was definitely my dream ever since I was little to be a member of the Fighting Sioux," he said. "It was always my goal."
"If I didn't have hockey, I'd probably have more time to do things that I shouldn't do. Hockey is a great thing for me. It makes me prioritize a lot of things."
— Cole Gendreau
Gendreau had even more reason than most. His older brother Brett, 11 years his senior, had been one of North Dakota's better scorers in his day.
"My brother was quite the [contrast] to me," said the junior Gendreau with a laugh. "He was a smaller kid, who had unbelievable hands. He was just a goalscorer who could play the game.
"He grew up in Canada and actually came to North Dakota as a young high school player. He was just an unreal player."
Cole, however, developed in a less advanced arena than his older brother and wasn't ready for Division I hockey after graduating from St. Mary's high school.
"I didn't really get recruited out of high school at all," he said. "Our high school hockey [in North Dakota] really isn't up to par as compared to Minnesota or Massachusetts prep schools. I knew that if I was going to play Division I, I had to go through juniors."
The lifelong Fighting Sioux fan went to an appropriate team in the United States Hockey League: the Sioux City Musketeers. He played there for two years, but attracted the most interest from Providence, not North Dakota.
Gendreau headed East and for four years has been a solid role player for the Friars. He's also been the classic model citizen, being named an Academic All-Star each year.
"If I didn't have hockey, I'd probably have more time to do things that I shouldn't do," he said with a laugh. "Hockey is a great thing for me. It makes me prioritize a lot of things."
As for being an unsung hero and Academic All-Star for Providence instead of North Dakota, Gendreau has no regrets.
"I wouldn't change this for the world," he said with a big smile. "I love this place and I love everyone associated with it. It's been a great four years. I couldn't ask for more."