Senior forward Keith Aucoin of Norwich was announced today as the College Division Player of the Year by the American Hockey Coaches Association (AHCA).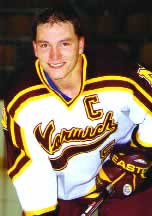 Aucoin scored 114 goals and 122 assists in his four-year career at Norwich. During the 2000-2001 season, Aucoin notched 26 goals and 30 assists.
"Keith Aucoin has been one of the most dominant players in Division III for the past four years. What is most special about Keith is how his personality and work ethic has carried over to the other members of the team," said Norwich head coach Mike McShane.
Among the Division III All-Americans, also announced today, Aucoin was the lone repeater on the East First Team. Senior goalie Bryan Howard of Concordia was the lone repeater on the West First Team.
NCAA Division III semifinalists accounted for more than half of this year's JOFA Division III Hockey All-Americans.
RIT, which is hosting the NCAA Division III "Frozen Four" this weekend, led the way with four East First Team selections.
Wisconsin-Superior, another semifinalist, also had four honorees, two on the West First Team and two on the West Second Team.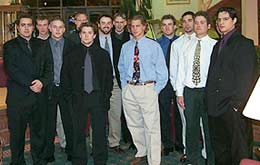 All-Americans are chosen by members of the AHCA. Two six man teams are chosen in the East and two in the West. Of the 24 players earning Division III All-American status this year, 15 are seniors, five are juniors, and four are sophomores.
Six different schools are represented on the East squads and six schools provide the 12 West All-Americans.
2000-2001 JOFA COLLEGE DIVISION ALL-AMERICAN TEAMS
First Team — East
G, Tyler Euverman, RIT, SO
D, Jerry Galway, RIT, JR
D, Jim Smith, Amherst, SR
F, Keith Aucoin, Norwich, SR
F, Peter Bournazakis, RIT, SR
F, Derek Hahn, RIT, JR
First Team — West
G, Brian Howard, Concordia, SR
D, Eliot Komar, Wis.-River Falls, SR
D, Adam Kragthorpe, Wis.-River Falls, SO
F, Jeff Glowa, Wis.-Superior, SR
F, Ivan Prokic, Wis.-Superior, SR
F, Adam Sedgwick, St. Norbert, SR
Second Team — East
G, Niklas Sundberg, Plattsburgh, JR
D, Matt Skoglund, Middlebury, SR
D, Bryan Murray, Plattsburgh, SR
F, Ralph Aiello, N.E. College, SR
F, Scott Goldman, Middlebury, SR
F, Brendon Hodge, Plattsburgh, SO
Second Team — West
G, Nathan Ziemski, Wis.-Superior, SO
D, Mike McMahon, St. Thomas, SR
D, Milan Thomaska, Wis.-Superior, JR
F, Jeff Bernard, Wis.-River Fals, SR
F, Jared Gustafson, Bethel, SR
F, Tony Lawrence, St. Thomas, JR