This year's East Regional has a distinctly split personality.
Heading up the field is top-seeded Boston College, the Hockey East and Beanpot champion, one of the nation's most consistent teams and a perpetual top-three finisher in the USCHO.com poll this season. The Eagles are heavily favored to reach their fourth consecutive Frozen Four this year, and a national championship this time around would move BC into dynasty territory.
However, a good deal of the buzz in the East relates to the teams below the Eagles. Partly thanks to a rule change which permitted teams to receive byes outside of their geographic region this year, the next three seeds are all occupied by Western clubs — specifically WCHA teams: North Dakota, Colorado College and Minnesota.
CC's positioning as the third seed is especially interesting, since it means that a victory over ECAC champion St. Lawrence would force an intraconference matchup with UND in the quarterfinals. In past seasons, the tournament selection committee has tried to avoid such confrontations, but with the WCHA placing a record five teams in the 2001 tournament, apparently something had to give.
Maine is the second Hockey East team in the regional, and the Black Bears' presence as the fifth seed is a bit of a head-scratcher, setting up the chance of another in-conference tussle — with top-seeded BC — should Maine beat Minnesota in the first round. And speaking of St. Lawrence, the Saints may be the only ECAC team in the field, but they're a dangerous one with Frozen Four experience.
Capsule profiles of each team's key personnel, qualifications, opponent(s) and schedule appear at right.
No. 1 Boston College
Boston College has been ranked among the top two or three teams in the country all season and for good reason. The Eagles have been amazingly consistent, never losing two games straight.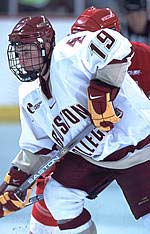 They've got a strong defense, led by Bobby Allen and Rob Scuderi. Goaltender Scott Clemmensen has posted strong numbers, but more importantly has displayed the best consistency of his career. He hasn't allowed many of the real soft goals that punctuated his previous seasons.
But what really catches the eye about this team is its offensive explosiveness. From senior Brian Gionta to freshman Chuck Kobasew, the Eagles can score unlike any other Eastern team. They have been able both to blow teams out in third periods with territorial domination and also win territorially even games with their superior finishing abilities.
BC coach Jerry York, however, looks at that explosiveness beyond the team's gaudy offensive firepower.
"We're explosive defensively," he says. "That really helps us during the 60 minutes of a hockey game. We pressure the puck and use our speed and our strength to regain possession of pucks, whether it's forechecking or neutral zone pressure or in our defensive zone.
"We've really emphasized bringing in quick athletes and strong athletes into our program. Everybody talks about it helping our offense and it certainly does, but from my perspective it really makes us a difficult team to play against because defensively we can take away time and space.
"I'm very excited about leading Hockey East in overall penalty kill percentage and our goals against average is second, so we've become a very solid defensive team. I think that work ethic carries over to the offense."
BC will be facing the winner of the Maine – Minnesota first-round game. While it would certainly be better for Hockey East if Maine had been placed in the other Eastern bracket to at least preserve the potential of three league teams advancing to the Frozen Four, York chooses to emphasize the positive.
"It's great to have three of us still alive here in the 12-team field," he says. "Sometimes we overlook how hard it is to be selected to this tournament. It's quite an honor for all of us."
York then looks at BC's bracket and sees one common trait.
"Our bracket certainly has three hockey schools," he says. "The tradition at Maine, Minnesota and BC is really something that all of us are proud of. It's a very, very strong bracket."
York has been impressed with what he's seen of the Golden Gophers.
"Minnesota historically has been a well-disciplined team, a very quick team and a team steeped in NCAA tradition from Herb Brooks to Doug Woog to now Don Lucia carving out his own niche there," says York. "We've watched them on tape and are very impressed not only with their players, but their overall team concept. They're very similar to ourselves in the makeup of their club."
If it's Maine that BC faces, York isn't under any illusion that a fourth win will easily follow the 7-2, 4-1 and 7-2 triumphs the Eagles have already posted over the Black Bears.
"Maine is a team that [coach] Shawn [Walsh] has done an incredible job with from the very beginning of the season to where they are now," says York. "They've improved.
"They're a team that is capable of winning a national title. I don't think there's any question of that. We have a good feel for them, a good read on them because they're in our league, but our league has helped them get better.
"They've improved as the year has gone along and they're going to be difficult to play against if they advance past Minnesota. It'll be a raucous building if we have Maine and BC there in the final."
Boston College will be looking to advance to its fourth straight Frozen Four. The last two years, the Eagles did so without the benefit of a bye, advancing through the West Regional. The year before that, however, they faced a similar circumstance to this season, with an Eastern bye in hand.
"Three years ago in Albany, we were the only bye team that advanced to the [Frozen Four at the] Fleet Center," says York. "So you have to be conscious of the fact that you have the bye, but you're going to play a team that has come off a real big win the night before. Their emotion is going to be fueled by their victory.
"In our bracket, both teams are very good teams going into it, so we're going to expect maybe a tired team, but certainly one that is going to fuel off the emotion of the win. The bye should be in our favor, but we have to be conscious of the fact that we're not at Albany yet. We have to win a hockey game on Saturday night."
No. 2 North Dakota
This is Jeff Panzer's last chance, and possibly his best one, to show voters he's deserving of the Hobey Baker Memorial Award.
Oh, and North Dakota's playing for another trip to the Frozen Four. Don't forget about that.
But the leading scorer for the Fighting Sioux, the second seed in the East Regional, has one game left before the votes are cast for college hockey's most prestigious individual award.
And he'll do it in front of the voters he needs to win over if he's going to get the trophy. The Sioux will play the winner of Friday's St. Lawrence-Colorado College game in Worcester, Mass.
By getting placed in the East, North Dakota will play in front of an audience that doesn't get to see the team too often. That includes any number of East Coast Hobey voters.
Chances are, though, that Panzer's not thinking too much about Hobey. When he was named the WCHA's player of the year, he called the honor secondary to that weekend's Final Five tournament.
So does North Dakota coach Dean Blais think the national scoring leader (77 points) has his mind on the individual award?
"Not if we don't talk about it," Blais joked.
A first-round bye was never really in jeopardy for North Dakota, the WCHA's regular-season champion. But the Sioux were perilously close to a monumental loss to St. Cloud State in the WCHA championship game last Saturday.
Had the Sioux lost 5-2 — they were down by that count with six minutes left — they might be looking at getting back to basics doing other drastic measures this week.
But UND pulled off a comeback for the ages, scoring three times in the last 5 minutes, 35 seconds to pull even. The tying goal came with 10.7 seconds showing on the clock.
That's as far as it got, though. The improbable come back was just that: only a comeback. The victory slipped away in overtime.
Still, the Sioux proved their character is as good as — or better than — recent years.
"Obviously, you'd like to win that game, but the biggest thing is we showed a lot of heart and character," Panzer said late Saturday night. "We came back, and it says a lot about the guys in the locker room. We battled hard, and a lot of people I'm sure counted us out. But the guys in the room knew we could do it. That's kind of what's going to stick with us for the rest of the season; we have a bunch of guys who aren't going to give up."
Said Blais: "It's always disappointing to lose a game before you go on to the national tournament, but I think we'll gain a lot of positives out of there by the way we lost the game. If we would have gotten beat 6 or 7-1, that doesn't show much character in a very important game."
The issue of character is part of the reason why Karl Goehring will start in goal on Saturday for the Sioux. He was in goal for the Sioux's Frozen Four appearance and national title last season, and has been the goalie Blais has turned to in critical situations.
Goehring was in net for the 2-1 WCHA semifinal victory over Colorado College last Friday. Andy Kollar gave up six goals in the title game.
Blais considered switching goaltenders on Saturday, "but right now we don't need to question our goaltenders," he said.
Goehring will get the start on Saturday "based on how well he's played in the last month," Blais said.
"He's been there. He knows what it takes."
The Sioux played St. Lawrence and Colorado College each twice in the regular season. They swept the Saints and split with the Tigers before the win in the playoffs.
Blais and the Sioux have been in the bye situation enough times — this is the fifth year in a row — that they know what's ahead.
They also know not to overprepare for either team.
"I don't think at this time of the year you can favor one team over another," Blais said. "Last year we were all set to play New Hampshire, and then Niagara beat them. Our whole week was spent preparing for New Hampshire.
"Now I think we have to look at it as, either St. Lawrence or Colorado College can win that first game on Friday. Then we'll hopefully be ready for one of them on Saturday."
The challenge for the Sioux on Saturday is to be ready. With nearly the entire team having some tournament experience, that is almost a given.
"I think everyone's mentally and physically ready to advance," Blais said. "They've all been there and they know what it takes. You saw that with the comeback against St. Cloud; the guys just didn't give up."
No. 3 Colorado College
When Mark Cullen takes the ice, it's hard not to notice him.
Maybe that's because the public address announcer is always saying his name.
For 26 straight games, the Colorado College junior forward has scored at least a point. But he alone can't take the Tigers where they're looking to go this weekend: to the Frozen Four.
For Cullen, it hasn't hurt having guys by the name of Peter Sejna and Justin Morrison on either side.
Cullen, a prime candidate for all-American status this season, has helped his line become one of the dominant trios in the WCHA down stretch.
In the WCHA Final Five last weekend, Cullen registered five points, while Sejna and Morrison each had four. What's more, Morrison scored the game-winning goal in both of the Tigers' victories, and Sejna had the go-ahead goal late in Thursday's play-in game win over Wisconsin.
But Cullen was the one getting all the praise at the end of the weekend, and with just cause. His point-scoring streak is a school record. He has failed to score in just one of his 29 games this season (he missed eight weeks because of injury), and has become one of the constants for a Tigers team that had its ups and downs in the second half.
"He can create opportunities out of nothing, and that's what makes him a special player," said Minnesota coach Don Lucia, who coached Cullen in his freshman season at CC.
But the bright lights of the playoffs have put the streak in the shadows for the assistant captain from Moorhead, Minn.
"It's definitely on the back burner right now. It's nice but a lot of things go into that," Cullen said. "I've been getting kind of lucky in some games. It's really not that important to me. It is nice to have, but I try not to think about it now, especially playoff time."
Cullen has been on a tear for the Tigers. But that statement requires a little more detail.
Mark has the incredible streak, but younger brother Joe made some noise at the Final Five. With the Tigers down 3-1 to Minnesota in the third-place game, he scored a pair of goals on a five-minute power play. That power play resulted from Mark being checked from behind.
It was really no surprise to CC coach Scott Owens that one Cullen stood up for the other.
"They're just unbelievable competitors in everything they do — in the weight room, in dry-land [training] and on the ice," Owens said. "It's just a joy to have kids in this day and age that have that approach. They stand up for each other. It's kind of an amazing family, to be honest with you."
The Tigers were the only team in the nation to play three games in three days last weekend. After winning the play-in game against Wisconsin on Thursday night, they turned around the next afternoon and played top-seeded North Dakota tough. Although the loss sent CC into the consolation game, the fact it was extremely competitive against the Sioux on tired legs could be a lesson the team carries over to this weekend.
CC plays St. Lawrence in the first round Friday in Worcester, Mass. The winner plays none other than North Dakota for a trip to Albany, N.Y.
"I think it's good for our club," Owens said at the Final Five. "We're learning how to deal with some adversity and some tiredness and juggling some people around. It'll make us a better team next weekend, and hopefully it'll make us a better team next season."
The luck of the draw — or the science of it, depending on your opinion — sent the Tigers out East. That also meant the Tigers flew to Worcester on Wednesday after getting back to Colorado Springs on Sunday.
No rest for the weary, indeed.
If the Tigers had been seeded in the West Regional, they would have had another day to stay home. The West Regional begins on Saturday.
The victory over Minnesota last Saturday gave the Tigers their fifth consecutive third-place finish at the WCHA Final Five and a little bit of a spark going into this weekend.
"Even though it's the third-place game, it still makes us feel pretty good about ourselves coming out of this weekend," Owens said. "Two wins and a 2-1 loss to North Dakota … we feel like we have some momentum going into next weekend."
No. 4 Minnesota
Don Lucia has never been shy about expressing his belief that his Minnesota team can go as far as goaltender Adam Hauser takes it.
Is that a good thing or a bad thing?
Lucia's intention is to show that the Gophers, making a return to the NCAA tournament for the first time since 1997, could make a serious run at the national championship. When Hauser has played at his best, the Gophers are tough to beat.
But the skeptic could say the Gophers' reliance on Hauser points to trouble ahead. And those skeptics have ammunition.
When Minnesota's goaltenders save 90 percent or more of the shots, the Gophers are a solid 20-1. Otherwise, they're just 7-11-2.
"He more than anybody else is going to ultimately control if we win or go home," Lucia said.
Talk about pressure. But it's nothing Hauser hasn't had to deal with since he joined the Gophers.
Three years ago, the Bovey, Minn., native was thrown into the WCHA fire. It's been much of the same ever since. He's been invaluable to the Gophers, especially considering the results when he's been gone.
When he was out with mononucleosis late last season, the Gophers slipped out of a home-ice spot for the WCHA playoffs.
But he needs to play at his best against the nation's best for Minnesota to have a chance.
That's the life of a goaltender.
"When you choose to become a goaltender, you have to be able to handle that pressure," Lucia said. I think the experience he got [in the WCHA semifinal against St. Cloud State last Friday], it's probably the biggest game he's played since he's been here."
And Hauser had an inauspicious start. The Huskies scored on both of their first two shots, and while Hauser settled down after, the damage was done.
Hauser told Lucia he was nervous early in the game. The nerves will undoubtedly be present again on Friday, when he plays Maine in his first NCAA tournament game against Maine in Worcester, Mass.
"He has to have a good start for us, not only for the team but for himself personally," Lucia said. "We certainly can't start with the first shot going in."
The start will be interesting for the entire Gophers team. The seniors on this year's team came to the program expecting this kind of experience to be the rule, not the exception.
Lucia hopes a trip to the national tournament every year is in the Gophers' future again. But this will be the Gophers seniors' only trip.
"Everyone's excited to play," senior captain Erik Westrum said. "You go out with the attitude that everyone's 0-0 going into the tournament. The top seed loses a game and they're out the door. I think it's fun, it's exciting, it's going to be high energy. We're looking forward to bringing the Gophers back to the NCAA tournament and making a run."
The team's goals this season were to finish in the top three in the WCHA and make the NCAAs. Those goals are both accomplished already, but coaches never have a problem with raising the bar as the season goes on.
It's been a rough ride of late, though. The Gophers are just 2-4 in their last six games, both wins coming over Michigan Tech in the first round of the WCHA playoffs.
A 3-0 loss to St. Cloud State in the semifinals last Friday night ended the their hopes for a WCHA title. It also put them into the third-place game, a thorn in the side of Lucia, who lobbied against it this spring and again at the Final Five.
The game was more of a battle not to get injured. The Gophers lost to Colorado College and got a scare when forward Aaron Miskovich went out with a concussion.
It was a winless weekend for the Gophers, unless you count the berth into the tournament. Still, that doesn't concern Lucia, who's two games away from taking his second team to a Frozen Four.
"What happened last weekend is irrelevant for everybody," he said. "It doesn't matter if you lost the previous 10 or won the previous 10, you have to win two games."
To do so, they'll have to beat two of the best teams from the East. The Maine-Minnesota winner plays Boston College.
"We're in a difficult bracket. It's going to be fun, though," Lucia said. "We're in a bracket with two college hockey powers, a very experienced team in Maine. It's always fun to go up against a team coached by Shawn Walsh because I don't think there's a better coach in college hockey."
No. 5 Maine
Maine fans had to be particularly displeased with the NCAA selection committee's decision to break with recent precedent and place the Black Bears in the same bracket with fellow Hockey East member Boston College.
"It's always fun to go up against a team coached by Shawn Walsh because I don't think there's a better coach in college hockey."
— Minnesota coach Don Lucia, assessing the Gophers' first-round opponent
After all, Hockey East put three teams in the Frozen Four two years ago and came within a clanged post of duplicating that feat last year. Why, then, put two of the three Hockey East teams in the same sub-bracket?
No one is saying that the league is as strong this year as the last two or that any special favors are deserved, but a straightforward swapping of teams in the other Eastern bracket would have avoided same-conference matchups in all cases except the unavoidable situation of the WCHA, which put five teams into the tournament. Past selection committees seemed to place a higher emphasis on that goal than this year's, which apparently was more focused on minimal altering of the seeds.
Of course, what's particularly bad about a Hockey East team in Maine's bracket is that it's BC, a foe that defeated the Black Bears 7-2, 4-1 and 7-2 this year.
Whatever he might be thinking privately about the matter, Maine coach Shawn Walsh just says, "You've got to play good teams no matter what."
Besides, after watching tape of Minnesota, he doesn't even want to talk about BC.
"I haven't even thought of that," he says. "I'm not even getting that far. One of my assistants has BC; one of my assistants and I have Minnesota. I wouldn't even [consider BC], I'm that respectful of Minnesota.
"They played a very good game against St. Cloud in the semifinals, a game where they outplayed St. Cloud and didn't deserve to lose. St. Cloud got two quick goals on its first two shots and [goaltender Scott] Meyer stood on his head.
"I'm really very impressed. They remind me of Boston College. They remind me of an extremely skilled, terrific special teams opponent like BC. They're third in the country on the power play, third in the country on the penalty kill and third in the country on scoring. They're remarkably similar statistically to Boston College.
"They might be a little faster than Boston College, if that's possible. They're fast! I'm really respectful and impressed with them. It's amazing to me that they've lost as many games as they have [12] because they are really a good team."
Minnesota fans looking for a list of Maine star players may have to do some harder looking than they expected. After all, only two Hockey East teams failed to place single member on either the first or second team all-league squad. One was last-place UMass-Amherst. The other was Maine. The Black Bears are a classic "the whole being greater than the sum of the parts" teams.
They struggled all year with scoring until Michael Schutte emerged as a defenseman-turned-sniper on the first line with Martin Kariya and Matthias Trattnig. Niko Dimitrakos has been banged up all year, but has been Mr. March the last two seasons. And there is impressive depth up front with at least one nine-goal scorer on all four lines.
Defense is the strength of the team, led by Peter Metcalf and Doug Janik. In goal, Matt Yeats hasn't been as consistent as last year when he backstopped the Black Bears to the Frozen Four, but has risen to the occasion in the past.
"Yeats is going to be tested in this one," says Walsh of the Minnesota matchup. "He's going to have to play his best game of the year."
While the Black Bears don't have the superstars of past years, they do have two things going for them in this clash.
First, they've got all the momentum on their side. Maine is 9-2-1 in their last 12 games. Minnesota, on the other hand, is 2-4 in its last six.
The other factor is Minnesota's lack of success this year on NHL-sized ice surfaces. All but three WCHA teams play on Olympic sheets, leaving only nine games for the Golden Gophers on smaller ones, which is what they'll see in Worcester.
They posted a very unimpressive 3-5-1 record on small sheets with the wins coming against weak opponents: Notre Dame (10-22-7), Bemidji State (4-26-4) and Minnesota-Duluth (7-28-4). They also lost a game at Duluth, lost and tied at North Dakota before then losing on St. Paul's NHL sheet to St. Cloud in the WCHA semifinal and Colorado College in the third-place game.
Minnesota's 0-4-1 record against winning teams on non-Olympic surfaces looms as a potential Achilles' heel. Those opponents are the iron of the WCHA, but 0-4-1?
Keys for Maine: 1) Utilize the Black Bears' own speed to emphasize the small ice surface. 2) Yeats must come up big. 3) If the top line doesn't produce, then it needs to be Niko Time.
No. 6 St. Lawrence
The ECAC will have only one representative this year in the NCAA Tournament, but that team is no stranger. The St. Lawrence Saints make their third straight appearance in the dance after taking home the ECAC tournament championship with a 3-1 win over Cornell this past weekend.
"It feels pretty good; it's a great tribute to the senior class, that's for sure, and they have provided all the leadership and materials to get it done," said coach Joe Marsh. "They've been great, and without question, this one will really stand out in terms of the five championships we've won since I have been here. It's the grittiest, gutsiest performance that I have seen. The celebration was pretty subdued given the fact that we were so exhausted and beat up … There wasn't much gas left in the tank."
The Saints won their second straight championship, the fifth in Marsh's tenure as head coach, putting him at the top of that ECAC list.
Throughout the season, the Saints have battled opinion, particularly in relation to goaltending. After Derek Gustafson left following his freshman year, people wondered if the Saints could make a difference with seniors Jeremy Symington and Sean Coakley in between the pipes. With one goal allowed in two games this past weekend at Lake Placid, Symington silenced the critics as he was named tourney Most Outstanding Player.
"It would have been great for Symie to get the two shutouts, and that's what we were shooting for," said Marsh.
All season long, it's been Symington and Coakley splitting time, and for them to come through with the championship is a shot in the collective arms of the Saints.
"Obviously they had to gain their confidence and work their way up to the level we thought they could be at," said Marsh. "They're great kids, there's no doubt, and they've worked real hard and I think people measure success in one's collegiate careers in minutes played and I don't know that's how one should look at it.
"The last three years they've done a great job. In their sophomore year they backed up [ECAC Player of the Year and All-American] Eric Heffler and then midway through last season, Derek Gustafson got red-hot. In fairness to them, they've been there and they've competed hard and they've given us pretty good depth.
"It just happens to be their senior year, and they've gotten better and better.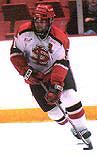 "Team chemistry has to be nurtured and it's the quality of the kids that provide that. I'm really proud of them and how they handled it. Not only when they were playing but when they weren't. They were team guys and how they responded in that respect."
Up front the Saints are led by the explosive first line of ECAC Player of the Year Erik Anderson (16-34–50), Mike Gellard (19-36–55) and Al Fyfe (16-24–40). But Marsh is quick to point out that this line is not all the Saints have to offer.
"It's a great team effort, there are clearly components there. You've got a Gellard and Anderson and their contributions are really extraordinary and the guys love them not only because they're putting up the points, but they're leading by example," he said. "The Marchettis and the Muirs, Daniels, Clarance and Carruthers, that's a pretty good supporting cast for them. They're all guys that play hard and are getting better. We really needed our bench staff the other night. As ecstatic as it was the other night, the guys were pretty spent, and that's a tribute to Cornell. Both teams left it on the ice."
Lately, while people may be looking at that first line, it has been the other scoring line for the Saints that's picked it up. In Lake Placid, the line of Russ Bartlett (17-24–41), Blair Clarance (11-8–19) and Robin Carruthers (6-12–18) accounted for four of the five St. Lawrence goals. The fifth SLU goal was an empty-netter.
"They had four of the five goals in Placid, so that pretty well sums it up," said Marsh. "They've played great over the last few weeks. Bartlett is a guy with experience, poise — a goalscorer, a point-getter — and I think he has improved defensively and he's playing really hard and focused and has been on a mission all year. There's a lot he has to play for personally.
"Clarance has benefited by his experience and Carruthers is just a perfect complement in that he's just an old time Canadian hockey player in the best sense of the word. He's a hard-nosed kid and plays with discipline and with honest toughness and he's certainly provided us with offense, particularly in big games, which he continues to do for us."
Carruthers scored the overtime goal against Boston University last season in the epic four-overtime quarterfinal.
With solid depth and experience from two previous seasons of NCAA tournament experience, how will the Saints take on Colorado College Friday?
"We try to get everyone to play to their strengths so that they know their roles and how important their role is. Everyone will play their game, and it's going to be real important against Colorado," said Marsh. "They're a real quick transition team, so it's a team we don't want to get into a lot of open-ice transition with. We've got to be real controlled and real conscious of having five guys on the defensive side of the puck.
"We've got to really be ready, and more importantly with a team with their speed, to be on our toes mentally. I think it's real important that we have to play a high-tempo defensive game. Get to our one-on-ones immediately, read situations quicker. There's a lot you have to do with a team of their speed in terms of preventative maintenance. You have to prevent mistakes from happening, and when they do happen you have to react quickly to that.
"Hopefully we can be in a good position to counter now and then and get some offense going. It's important for us not to think it's going to be wide open. We have to be real conscious of getting back. Right now I'm not so sure we're well equipped to play the wide-open style like they are, and I love the way they play. But, right now we have to play the best way we are suited to.
"We want to be as competitive as we can be and early on we want to keep them in check. I also don't want to give the illusion that we're going to go out there and tackle them. We want to play hockey. We want to play as high-tempo a game as we can, but we have to play it on the defensive side of the puck. We can't think it's all about offense, because that's the game that favors them."