Four years. Four trips to the Frozen Four. Three trips to the championship game, but still nothing to show — yet.
The story of the Boston College Eagles is old and replayed. Replayed so much that, literally, there was a buzz Friday around the Pepsi Arena, the site of Saturday night's NCAA championship game that will pit Boston College against North Dakota to give BC's seniors one last chance at the prize that has eluded them for so long.
The buzz was created by excitement. The buzz was created by anticipation.
"[The media] takes care of all the ironies and that stuff. We're just worried about playing."
— BC captain Brian Gionta
Whether it was fans having nothing better to do on the off Friday of the Frozen Four, so that they took in a BC practice — and, by the way, were treated to plenty of laughs by the lighthearted BC club itself. Or maybe it was the buzz created by the hordes of media who realize that the BC seniors are like hockey's Rodney Dangerfields — no matter how much they accomplish, it seems like they get no respect.
Regardless, the matchup, a rematch of last year's title tilt won by the Sioux, 4-2, has created possibly the most anticipated title game since 1993 — when the world watched future NHL superstar Paul Kariya dazzle crowds in bringing Maine its first-ever national title.
BC has plenty of reasons to feel the anticipation. Besides the fact that this is their third shot in four years at the title, each player has the chance to remove the ugly moniker of "1949," representing the last time a Boston College team captured the title. Add to that the fact that the Eagles could capture Boston's grand slam, comprised of the Beanpot championship, Hockey East regular season and tournament titles, and the national championship, and now you may feel the buzz yourself.
But BC is in no way alone. The team in the locker room 75 feet away will look to become the first team since Boston University in 1972 to capture back-to-back NCAA championships.
"North Dakota definitely deserves to be here," said senior defenseman Bobby Allen. "It's a quality program, one of the best in the country. We may be a sentimental favorite, but they're not going to hand the trophy to us. They want to win it back-to-back as much as we want to get the first one for our careers."
BC captain Brian Gionta won't even worry about the buzz. The hype is not for him.
"[The media] takes care of all the ironies and that stuff," Gionta laughed. "We're just worried about playing.
"We know the last time that BC won a national championship. But that's not our concern. For these guys, we know that's our last goal this season to accomplish. We have a chance to do that Saturday night. This team is great coming down the stretch in big games. Obviously it's nice to be back with a chance to avenge some things from last year."
To do that, though, the Eagles will have to control one of the country's top offensive lines in Bryan Lundbohm, Jeff Panzer and Ryan Bayda. That line has combined for 83 goals and 207 points this season alone, including a power-play tally in Thursday's 2-0 semifinal win over No. 1 Michigan State.
BC head coach Jerry York, though, doesn't want to focus on that single line. He believes that the Sioux are deeper than most give them credit for. He joked in the press conference about a comment North Dakota coach Dean Blais had made about the Sioux being a one-line team with a bunch of muckers.
"C'mon, Dean, we'd take [second-line forward Kevin] Spiewak any day as a mucker," said York. "We know we can't key on one line.
"We're going to try to match our top line [of Gionta, Ben Eaves and Jeff Giuliano] against the Panzer line. We're not going to try to key on just Panzer because the rest of the line is too dangerous. We're going to try to come right at them. That's the type of hockey we play."
Said Gionta: "North Dakota will be a great team. They're pretty quick and obviously they have a real explosive first line. We'll have to be able to shut those guys down.
"They have great goaltending. It doesn't take much to get up for a national championship game, so they're going to be ready to go. They're real quick, so we'll need to jump all over them and bring the game to them. That's going to be our key to the whole game."
Another key may be the play of goaltender Scott Clemmensen. One of the overlooked goaltenders in college hockey, Clemmensen will have his fourth chance to prove that he is a big-game goaltender.
"Clemmensen is the glue to our team," said Allen. "Most of the success we've had this year is directly attributed to Clemm. He doesn't get a lot of the credit he deserves, but he gets credit from his teammates. He's been in all the battles and we call him Mr. March on our team. It would be nice for him to go out on top."
Speaking of seniors, though, one senior who will be questionable for Saturday's game is third-line right wing Mike Lephart. He tweaked his quadricep muscle in Thursday win over Michigan, and did not practice on Friday with the team.
"Mike would be a big loss for us," said York, who made it sound like the decision to play Lephart might not come until game time. "[If he's missing,] we'll probably have to juggle the lines a bit."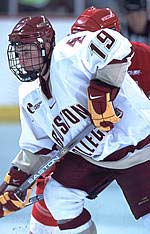 Though Saturday's game is a re-match of last year's final, you can't expect to see much of the same game. A year ago, North Dakota featured a team comprised more of physical players that had a strong commitment to defense, making scoring chances hard to find. Though the Sioux still have a strong defensive presence — noticed in shutting down Michigan State in the semifinals — their high-scoring offense rivals Boston College's, making one think there's a good chance to see mirror images.
"North Dakota's got an excellent hockey team," York said. "They're not quite as physical as they were last year. [Defenseman Mike] Commodore turned pro. [2000 tourney MOP Lee] Goren was a big kid. But they're just a quick and just as fast. They move pucks as well as any team we've played this year."
If Thursday night's win for BC is any example, look too for the freshman class to shine. All four goals against Michigan came off the sticks of freshmen, two by Eaves and two by Hockey East Rookie of the Year Chuck Kobasew.
Even though these freshmen have played in the championship game yet, thus not giving them the experience that so many coaches thrive on come crunch time, York isn't worried.
"One of the benefits of running a solid program like we have at BC is that the older players have had success and have been places," York said. "So as the younger player comes in, he can learn a lot through the course of the year. The freshmen get better at practice because they're playing against the top players we have here.
"Ben Eaves is a good example. At the beginning of the year, he was kind of treading water and now [he and the rest of the freshmen] have become pretty good players. I think they emulate and watch. There's so much great teaching that goes on in our locker room."
And so the season has wound down for BC. Sixty minutes separate the Eagles from destiny or monotonous repetition. York, though, feels his team is ready.
"In sports, you're going to get knocked down and you have to get back up again," York said. "Your alternative is that you don't try hard and you go off into the abyss.
"Providence last year was a tough loss for us, but we all understand what happens in sports. You don't deserve anything. You have to go out there and earn it. As we've accumulated some postseason success, and come to the Frozen Fours, our poise and discipline under pressure is better."
And if that better is best, the Eagles will skate around the Pepsi Center with a long-awaited championship on Saturday night, making the surrounding buzz into a very loud maroon and gold roar.