Outside the Pepsi Arena an elderly man wearing a maroon and gold Boston College tam-o'shanter spoke to a friend before the game.
"I gave up cigars for Lent this year," he said. "But if they win …"
He patted his breast pocket, grinned and looked to the sky.
"I think He'll understand."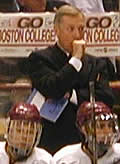 Perhaps so. There had been enough Close But No Cigar frustrations for BC fans in the NCAAs over the years that a stogie during Lent to celebrate a title might well be excused.
It had been a long time since legendary coach Snooks Kelley led the Eagles to their last national championship in 1949. That was only the second year of the NCAA tournament, and being 1-for-2 must have felt pretty good at the time. Unfortunately, the Eagles had gone 0-for-51 since with enough heartbreak for a lifetime of soap operas.
There were unsuccessful trips to the title game in 1965 and 1978. Then the most agonizing stretch of them all ran from the mid-eighties through 1991. Some of the collegiate sport's most dominating talent — All-Americans or future NHLers like Brian Leetch, Craig Janney, Tim Sweeney, Greg Brown, David Emma, Kevin Stevens, Doug Brown, Bill Guerin, Steve Heinze, Marty McInnis, Scott Harlow, David Littman and Ted Crowley — failed even to reach the championship game.
The latest era of frustration began when this year's seniors were freshmen. They lost to Michigan in the 1998 title game, to eventual champion Maine in a 1999 semifinal and to North Dakota in last year's championship game.
Close but no cigar.
The monkey on the Eagles' backs had grown into a gorilla and with each banana peel that Boston College slipped on, the weight grew heavier. Opposing fans, especially those of archrival Boston University, would torment BC with chants of "1949! 1949!" in the same fashion of the Boston Red Sox and 1918 or the New York Rangers and 1940 — that is, until they finally exorcised that demon with the 1994 Stanley Cup.
"We know the last time that BC's won a national championship," said Brian Gionta one day earlier. "But that's not our concern. For these guys, we know that's our last goal this season to accomplish."
Indeed, it was the only challenge left standing for this year's Eagles. They'd won the Beanpot, ending a Boston University stranglehold in the Battle for Boston, and then gone on to take both the Hockey East regular season crown and the conference tournament. They then advanced to a rematch with North Dakota in this NCAA title game. All that was left was just one more win.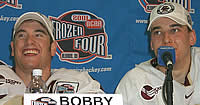 However, the Curse of the '49ers showed early signs of reappearing when the vastly undersung Mike Lephart limped around in street clothes during practice the day before the title game. With depth up front being one of the clear Eagle advantages, his doubtful status was an ominous portent of another potential Close But No Cigar finish.
Lephart not only suited up, however, he scored a potentially decisive second goal to give BC a 2-0 lead in the second period.
"I had trouble walking on it, but I had the feeling that it was one of those things where it would hurt to walk but would feel fine once the adrenaline started going and I started skating," said Lephart. "That's exactly what happened. I wasn't going to miss this game for anything."
Lephart's goal seemed to turn the omen into a mirage. The Curse became just a figment in imaginative sportswriters' minds.
A mirage and a figment, that is, until with five minutes left in the game and a 2-0 lead, BC was assessed a too many men on the ice penalty. Brian Gionta had lost his stick and as he raced to the bench motioned for another. Mistaking his gesture for one that he was leaving the ice, Tony Voce hopped over the boards and took off for the offensive zone along with Gionta.
North Dakota coach Dean Blais gambled 40 seconds into the power play by pulling goaltender Karl Goehring for a six-on-four advantage with the puck in the BC zone. Mindful that the Fighting Sioux had gone 55 minutes without scoring a goal, Blais rolled the dice.
It would give the shorthanded Eagles a free shot at the open net when they went to fire the puck out of the zone. All they would need would be one possession and a fortunate rink-long shot and the game would be history.
So close and yet so far. Close but no cigar, at least not yet.
North Dakota's Travis Roche fired from the point and Tim Skarperud deflected it into the net to make it a 2-1 game and trigger heart palpitations in BC loyalists everywhere.
Too many men on the ice? Of all the daggers to the heart since 1949, this would surely be the unkindest cut of all.
Long-time Bostonians suffered flashbacks to the Bruins in 1979 when they were poised to finally end the jinx the Montreal Canadiens held on them, until a similar penalty allowed Guy Lafleur to tie the game on the resulting power play and win the series and eventually the Stanley Cup in overtime.
Having pulled within one, North Dakota pressured until Blais again rolled the dice and again came up a winner. He pulled Goehring again with 1:23 left — early by many coaches' standards — and survived one wide shot on the open net.
Another faceoff developed in the Boston College zone. Initially, 38.2 seconds showed on the clock, but the officials ruled that the Sioux were owed a few more seconds. Intending to bump the time up to 41 seconds, the timekeeper mistakenly posted 41 minutes.
Which is exactly how it felt from an Eagle perspective.
So close and yet so far. Close but no cigar, at least not yet.
Just 4.6 seconds later, Wes Dorey deflected an Aaron Schneekloth shot in to tie the score and bring BC's boogeyman all the way out of the closet.
Without a doubt, this would be the unkindest cut of all. Too many men on the ice … Shutting out a team except for two extra-skater goals … Four straight times to the Frozen Four and four times coming up empty.
This had gone past Close But No Cigar status. There was a cigar, all right, but it was an exploding one.
"Our first reaction was, 'I can't believe this happened again!'" said Lephart.
Added BC coach Jerry York, "We were rightfully down walking into the locker room after the goal that tied it."
However, York harkened back to a talk Boston Bruins coach Mike Keenan gave the Eagles in January. Keenan had coached the New York Rangers in their quest to end their own Curse of 1940 and had faced a similar fate when the New Jersey Devils tied the Rangers with five seconds left in a seventh game that would send the winner to the Stanley Cup finals.
Keenan talked to the Eagles about mental toughness and that seventh game, saying, "All I said in the locker room at that time was, 'No matter how bad you felt about what just happened, think about how good you're going to feel if you score the OT goal.'"
The striking similarities helped the Eagles regroup and at 4:43 of overtime Krys Kolanos banished chants of "1949!" and discussions of any Curse to the trash bucket. He broke in off the left wing and scored off his "bread and butter" move that utilizes his wide wingspan to maximum advantage.
When a writer asked Kolanos if he'd known he was going to use that move, goaltender Scott Clemmensen broke into laughter.
"He knew he was going to use it," he said. "He does that move on me all the time in practice and I can't stand it."
Presumably, Clemmensen can stand the Kolanos move just fine now. As can the Boston College fans whose hearts had been in their throats since the too many men agony.
Near Kolanos, a BC fan held up a sign that read, "Now We Can Die In Peace," a carbon copy of the sign a Rangers fan held in 1994.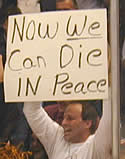 At 10:26 Eastern Daylight Time, the public address announcer uttered words that were music to so many ears: "And now the NCAA Division I champions … Boston College."
Symbolic of the tight-knit nature of the Eagle squad was injured Ales Dolinar also on the ice celebrating, propped up by Tony Voce on one side and Marty Hughes on the other.
"[Our] team chemistry is the greatest amount of team chemistry I've ever seen in all my years of sports," said assistant captain Bobby Allen. "I've played all kinds of sports and played a lot of hockey. There's a tremendous bond between a lot of the guys on our club. Whether we won or lost, we were still going to have a bond.
"But this solidifies it forever. We can come back in 10 years and have reunions and say, 'Hey, we were national champions in 2001. Nobody can ever take that away from us.' I just feel privileged that I had a chance to play with [these] guys because they're a real special group.
"Perseverance pays off. We've had a tough four years getting there and not finishing it off. It finally feels good to finally be the top team in college hockey."
Clemmensen extended that to Eagle players of the past three years that had to settle for Close But No Cigar.
"We'd be remiss if we didn't comment on some of the players who have been with us in the past," he said. "The only regret I have here at BC is that some of those past players that I played with starting in my freshman year like Jamie O'Leary and Brendan Buckley and last year's class with [Mike] Mottau, [Jeff] Farkas and [Blake] Bellefeuille built this BC program up and put so much mystique around it.
"My only regret is that they didn't get to hold that trophy above their heads because they played a big part in where the BC program has come. They own a piece of it as well."
Chemistry, talent and mental toughness all played a part. After three Close But No Cigar finishes, Boston College is finally the national champion.
And somewhere outside the Pepsi Arena, an elderly gentleman in a BC tam-o'shanter puffed with great satisfaction on a cigar, hoping that up above the offense — when taken in context — would be forgiven.