Not much got past Ryan Miller this season, including the Hobey Baker Memorial Award. The sophomore from East Lansing, Mich., became just the second goaltender in the 21-year history of the award to capture the Hobey Baker, announced Friday at the Frozen Four.
"It's a great honor," said Miller. "Being mentioned as a finalist would have been good enough for me."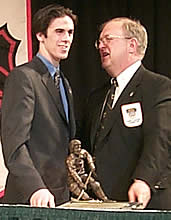 The award caps a brilliant season for Miller, who set the NCAA record for career shutouts with 18, including 10 this season. He leads the nation in goals against average (1.32) and save percentage (.950), both by large margins over his nearest competitors.
His ability to keep the puck out of the net sparked the Spartans to a 33-5-4 record and a berth the Frozen Four.
"Ryan kept us in games, and in the initial stages he was the reason we were winning," said Michigan State head coach Ron Mason. "Anyone who has watched a lot of our games will know that we give up far more quality scoring chances against us than we generate at the other end.
"The team has worked off of what he has given us — he has been simply outstanding."
After Thursday's 2-0 loss to North Dakota in the semifinals, Michigan State returned home, with Miller and Mason staying for the ceremony in front of a packed house at the Empire State Convention Center.
"I dedicate this award to my teammates," said Miller, who also thanked the rest of the MSU coaching and training staffs. "Unfortunately, they couldn't be with me today."
"Half the reason I'm standing here is because they made it such a positive environment to play in," he said.
Miller also thanked his family, which has been a part of Michigan State hockey for three generations. His grandfather Butch Miller was the first to don the green and white, followed by sons Dean and Lyle Miller. Dean is Ryan's dad, and uncle Lyle contributed sons Kelly, Kevin and Kip. All three rank in the top 30 all-time scorers at Michigan State. Throw in two more cousins, Taylor and Curtis Gemmel, and you have a family tree of Spartan hockey.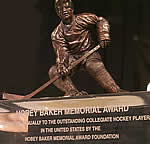 "The unique thing about this is that Kip Miller was the best offensive player in college hockey with 101 points [in 1989-90]," said Mason. "And Ryan is the best defensive hockey play this season with the record that he put together. The Miller family has pretty well covered it from front to back in terms of what college hockey can provide."
Cousin Kip won the Hobey in 1990.
"I watched Kip receive this when I was 10 years old," Miller said. "I thought he was the greatest player in the world. It's amazing that I'm here today."
His family has also been there to offer support and advice for Miller's future. The unanimous recommendation to the Buffalo Sabres draft choice: stay in school.
"Their advice for me is to get an education and stay in school," Miller said. "Both Kip and Kelly are successful in business and I want to be able to do that when hockey is over."
Miller is a business management major, and carries a 3.07 GPA.
"I want to be a student, to be a kid for a few more years," he said. "I want to get better and stronger and Michigan State has provided a great environment for that."
The award closes out a bittersweet season for Miller and the Spartans, who came into the Frozen Four as the top seed, but failed to advance to the title game. MSU has now been shut out in eight straight appearances in the nationals.
"All year long we've had a good season, and in the end it all came crumbling down," said Mason. "Something like this can be a bright light."
Thanks to Todd D. Milewski for his contributions to this story.