They started the year with conflicting expectations.
North Dakota's players and coaching staff knew this could be a rough year. They saw a handful of players with vast experience, talent and, perhaps most importantly, size and strength walk out the door.
Their worst fears started to come true when they started the season winless in three games. At the same time, they started with three ties — something that made the early part of the season more tolerable for the team.
A defending champion has to have a certain swagger, but at North Dakota, there was a profound fear that this team might not have what it takes to get to college hockey's final game again.
The North Dakota faithful, though, wanted it. In fact, they expected it. That's what happens when you build a program with a track record as good as North Dakota's in the last few years.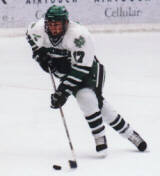 In the four years leading into this one, the Sioux fought its way into the Frozen Four twice. In the years they didn't, it came as a shock to many, considering those were probably their best teams in the stretch.
This year, then, the Sioux were at a bit of a crossroads. Have an average season, and they could be viewed as an example of the on again-off again nature of success in college hockey.
Fulfilling the fans' expectations, though, would put them ever closer to the D-word so seldom used in college hockey.
The fans were right.
That word is dynasty, and that's what this North Dakota era can approach with a victory over Boston College in Saturday's national championship game.
A win would give them their second national title in a row, and third in five years. That kind of success in the national tournament hasn't been seen since Lake Superior State won three titles in seven years in the late '80s and early '90s and Minnesota won three in six years under Herb Brooks in the '70s.
Success like that isn't often seen in college hockey. And it certainly doesn't come around often with a team that, by the admission of its coach, doesn't have the talent of some others.
"The first couple years I was here we probably had a more skilled team here than in the last couple years. It's funny how that works," senior forward Jeff Panzer said. "If you get the right guys together and have everything working together, good things can be accomplished."
Talent, though, may be no match for high expectations. Blais attributed much of his team's success to the hopes of the community, one strongly centered by the school and in particular its hockey program.
Losses by the Sioux are not handled well.
"You lose a hockey game, the players hear about it all over campus. They hear about it from their families," Blais said. "Even ties. My goodness, we tied Michigan, New Hampshire and Maine [at the start of the season], and we're undefeated in my eyes, and a lot of the people [say], 'When are you going to win?'
"I was thinking we have a new team, the kids are playing pretty well, and everyone says, 'Well, geez, what's wrong with North Dakota this year?'"
— Head coach Dean Blais, on the response to UND's string of high-profile ties early in the year.
"I was thinking we have a new team, the kids are playing pretty well, and everyone says, 'Well, geez, what's wrong with North Dakota this year?' The expectations are real high. We set that standard, and it's tough to live up to every year, but I think it's healthy."
Those standards have helped the school build a new hockey arena, set to open in October and seat 12,000 fans.
Blais, though, doesn't feign believing that's just a coincidence. Grand Forks, N.D., is a small town, but not small enough that the fans will show up for just any team.
"That goes along with winning," he said. "If we were losing, we probably couldn't get 6,000 in the [new] building."
For the Sioux, winning has come from a combination of skill and character. Blais has never been shy to say this team does not have the talent his other North Dakota teams have.
In last year's Frozen Four championship game against BC, the Eagles were probably the more talented team. The same could be said for Saturday's matchup.
Blais, though, will put his team up against any other on the basis of character alone.
"This was a very grinding year because we didn't have the size," Blais said. "What we have out on the ice right now is maybe not a lot of size but a lot of heart, a lot of character and a lot of team chemistry.
"[Boston College coach] Jerry York called this the best team he's ever had. I might call this the best team I've ever had, but the least talented. They play like a team. They come up the ice together, they come back together and they care about each other."
The players have held to that all season long, slow start and all.
Playing for a national championship may have appeared to be just a dream to them at the start of the season, but after six long months, it's here.
"We stuck together all year, and anything can happen when you've got 20 guys on the ice that like playing with each other and love playing the game," Sioux defenseman Travis Roche said. "And that's how every guy in our dressing room feels. Every practice, every game, every time we're together it's like a family. And when a family is together, anything's possible."