Michigan State goaltender Ryan Miller, who backstopped the Spartans into the Frozen Four as the number-one team in the nation, was named the winner of the Hobey Baker Memorial Award Friday.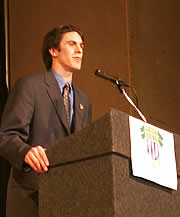 Miller shattered the NCAA record for career shutouts in just his second year of college hockey, with 18 overall. The sophomore's selection makes him just the second goaltender ever to win the Hobey Baker, given annually to college hockey's most outstanding player. Minnesota netminder Robb Stauber was the first, in 1988.
To win the award, Miller edged forwards Brian Gionta of Boston College and Jeff Panzer of North Dakota, who tied for second place in the balloting.
The native of East Lansing, Mich., posted 31 wins with a .950 save percentage and a 1.32 goals against average, leading the nation in all three categories. His 31-5-4 record in 2000-2001 included 10 shutouts to also lead the nation in that statistic.
Miller, the CCHA Defensive Player of the Week five times during the season, was previously named a First-Team All-American and CCHA Player of the Year, as well as being a member of the all-conference first team. He holds four league and seven school netminding records.
MSU head coach Ron Mason said, "Anyone who has watched a lot of our games will know that we give up far more quality scoring chances against us than we generate at the other end. Ryan Miller is a major reason why we [have had] such a great season. He has been simply outstanding."
A homegrown 20-year-old, Miller's grandfather, father, uncle and five cousins all played hockey for the Spartans. His cousin, Kip Miller, won the Hobey Baker in 1990.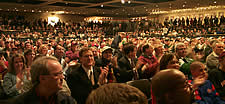 A fifth-round draft pick of the NHL's Buffalo Sabres, Ryan is a general business management major with a 3.07 grade point average. Off-ice activities for the All-Academic goalie includes volunteering with the D.A.R.E. drug-resistance program, reading to elementary-school children and giving tours of the dressing room — sometimes during games.
Finalists for the Hobey Baker Memorial Award are determined by an initial round of balloting by all 60 Division I college coaches; those 10 names are then advanced to the award's selection committee, a geographically balanced group of 24 members composed of media, NHL scouts, college hockey coaches and supervisors of officials. Additionally, a fan vote hosted by USCHO.com and conducted online at www.hobeybaker.com allows college hockey fans a one-percent vote in each round of balloting.
Miller will be honored at a banquet on Friday, April 20 at the Radisson Riverfront Ballroom in St. Paul, Minn.