Northeastern assistant coach Edward Arrington died early Tuesday morning at his Danvers, Mass., home of carbon-monoxide poisoning. According to officials, Arrington, who was 48, accidentally left his car running in the garage of his three-story condominium and died in his sleep.

Arrington joined the Northeastern coaching staff as goaltending coach in 1996 when Bruce Crowder arrived at the school.
In 1977, at the age of 25, Arrington played for Northeastern as a rookie goaltender. A walk-on, he was one of the oldest rookies to ever play Division I hockey. That season, Arrington was named ECAC Rookie of the Year and won the Eberly Award for goaltending in the 1978 Beanpot.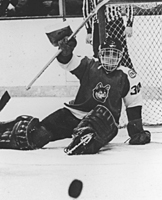 He played for one more year and then returned to Northeastern as a goaltending coach from 1980 to 1982. He held similar positions at New Hampshire and Salem State College before once again returning to Northeastern to serve as assistant/goaltending coach from 1996 until his passing.
Arrington is survived by two daughters, Brittany and Christie. The wake will be held at Peterson-O'Donnell Funeral Home, 167 Maple Street in Danvers, Mass., on Thursday April 12 from 2-4 p.m. and from 7-9 p.m. The funeral will take place on Friday, April 13 at 10 a.m. at the Maple Street Congregational Church in Danvers.
Northeastern lost another member of its hockey family earlier this year, when long-time public address announcer Joel Perlmutter passed away. Three years ago, Brian Fishman, an SID for the U.S. National Team and former SID at Michigan, died from carbon monoxide poisoning.