The Wolverines have lost another player to the NHL.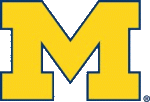 Two months after top defenseman Jeff Jillson bolted for San Jose, Andy Hilbert told Michigan coach Red Berenson Monday that he will not return for his junior season at Michigan. The 37th overall draft pick by the Bruins in 2000 will play for the NHL Boston Bruins next season.
"They told him that they've already penciled him in on their team next year," Berenson said.
Hilbert had no comment. He will address the media Tuesday.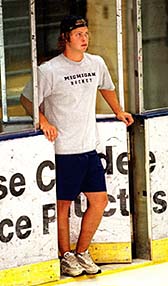 At the core of Hilbert's decision was the chance for an open spot on the Bruins, not the money.
"The money would have been there next year," Berenson said. "If he thought he would end up in the minors, he wouldn't have made this decision. They can't guarantee that this spot will be open next year."
The Bruins, who are rebuilding, could use some help at center, and Hilbert can fit in their plans for next season.
Hilbert is the fourth member of the Wolverines to leave the team for the pros in the past three years. Jillson said he would leave for the Sharks in May. In 1999 and 2000, the Wolverines lost stars Mike Van Ryn (St. Louis) and Mike Comrie (Edmonton) to major juniors, when both players tried to become NHL free agents.
"I told him another year would have been good for him," Berenson said. "My concern was consistency. On some nights he would not be out of place in the NHL."
Hilbert tallied 26 goals and 38 assists in 42 games and was a Hobey Baker finalist for the Wolverines this past season.
"He has an NHL-shot and the kid is as focused as any player I have had," Berenson said. "I won't be surprised if he's playing next season."
Despite the sudden flood of early-pro entries, the Wolverines have found a way to continually secure deep recruiting classes. He has one of the best this fall, including six forwards and four defensemen. And he has top goal-scoring center Mike Cammalleri to fill in for Hilbert.
"You can't prepare for it," Berenson said of the losses. "We've tried to have enough depth to handle the losses."
The stock of college hockey players has risen dramatically over the last 10 years, as more and more top prospects choose to go to school instead of junior leagues.
"It used to be a big jump for a player to go from college to the pros," Berenson said. Berenson doesn't take his players leaving as an insult. "It's a compliment to our program when you look at the kids we've brought in," he said.