A series of memorial services will be held in honor of Mark Bavis, the former Boston University forward killed when the plane he was on was hijacked and crashed into the World Trade Center last Tuesday.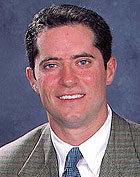 On Tuesday, Sept. 18, there will be a gathering of family and friends from 4-9 p.m. at Catholic Memorial High School, where he attended and played hockey with numberous other familiar names in the mid-'80s. Catholic Memorial is on 235 Baker Street, West Roxbury, Mass. More information can be found at the Catholic Memorial web site.
The following day, Wednesday, Sept. 19, there will be a memorial mass at 10 a.m. at Sacred Heart Parish, which is on 169 Cummins Highway in Bavis' hometown of Roslindale, Mass. The phone number for details is (617) 325-3322.
Immediately following, there will be a gathering at George Sherman Union on the campus of Boston University, 775 Commonwealth Ave. The phone number there is (617) 353-2921.
In lieu of flowers, the family has requested donations be sent to:
The Mark Bavis Scholarship Foundation
c/o Catholic Memorial High School
235 Baker St.
West Roxbury, MA 02132
Meanwhile, a similar request has been made by the family of Garnet "Ace" Bailey. Bailey, the director of pro scouting for the Los Angeles Kings, was on the plane with Bavis, as the pair was making their way back to L.A. for the start of Kings training camp.
The Bailey family is asking that donations be made to the Cam Neely Foundation at:
The Neely Foundation
30 Winter Street – 2nd Floor
Boston, MA 02108
The Cam Neely Foundation provides comfort and support to cancer patients and their families through The Neely House and The Neely Cancer Fund at New England Medical Center.
The Los Angeles Kings are also taking messages of condolence to the Bavis and Bailey family. If you wish to send a message, write to: [email protected]. All email messages will be printed and given to the Bailey Family.
"Obviously, the shock is still there," said Northeastern assistant coach Jamie Rice, who, along with wife Stephanie, called Bavis their best friend. "But it's an amazing sign of the strength of Mark's love how many people have rallied around his family to give their emotional support in this very trying time."
Rice had just been with Bavis the previous weekend, scouting at a junior tournament in Michigan. They had dined together, along with numerous other close hockey friends, like Yale's Tim Taylor, St. Lawrence's Joe Marsh and BU assistant Brian Durocher.
"It's unbelievable how many people his family has heard from," Rice said. "It's makes you appreciate the close-knit hockey community and the impact Mark had on so many people. He touched so many people, in his time coaching in the North American League, at Harvard, Brown, in Southern California, Boston, at Cushing …
"It's sad that it takes an event like this to realize how many people love you."
Bavis is survived by: his mother Mary; his twin brother Mike; two brothers Pat and Johnny; and three sisters, Kelly, Mary Ellen, and Kathy.