The Friars broke through last season to finish higher than ever before in Hockey East, a tie for second. The expected rebuilding year instead turned into what might become a steppingstone to PC's first-ever regular season title. That's what the Hockey East preseason coaches' poll predicted… sort of… in its first-place-but-no-first-place result.
"In the past we've been picked to finish fourth or fifth," says coach Paul Pooley. "The expectations have never been there before. Now they're here. How do you handle that? How do you handle adversity when you're supposed to be good? That's going to be a challenge for us, but it's a nice challenge to have. We're excited about it, but we're very humble and we just want to go about our business and not get caught up with, 'Hey, we're going to be pretty good!'
"It will focus us more as a team to understand the day-to-day operations that the BUs, BCs, UNHs and Maines had to figure out six, seven, eight, or nine years ago. We're not playing for other people and their expectations. We're playing for ourselves and our team and that's the only focus that we need to have."
One big reason for those high expectations is All-American goaltender Nolan Schaefer, who followed an injury-plagued freshman season with a breakout year of major proportions in 2000-2001. He finished with a 15-8-2 record, a 2.47 GAA and a .915 save percentage.
However, questions still linger, at least in this writer's mind. Halfway through last season, he might have been the league MVP, but his dominating play faltered down the stretch and became rather ordinary. In his first 12 games, he allowed only 20 goals and posted a stunning .943 save percentage. In only three of those 12 games did he allow three or more goals.
Schaefer's last 13 games offer a sharp contrast. He surrendered three or more goals all but once for a total of 43. His save percentage was only .888. While the second-half schedule — most notably, four games against Boston College to none in the first half — can account for some of the difference, the impression remains that Schaefer was simply not as sharp.
Clearly, the talent is there, but if he's to be a repeat All-American and if Providence is going to win Hockey East, the junior netminder will have to maintain his stellar play over the entire season, not just part of it. He'll likely get even more playing time than his 25 games last year since freshman David Cacciola (NE Prep all-star) replaces graduated senior Boyd Ballard in the PC tandem.
"Nolan is an All-American and he's worked very hard over the summer," says Pooley. "He wants to be in the net so it's going to pretty hard to keep him out of there.
"David Cacciola is a fine goalie, but he needs to adjust to the college game. If David goes in and plays well, he'll get another opportunity. With young goalies you have to bring them along and give them confidence. You can certainly ruin them [if you don't].
"How David comes along and what he's ready for will help decide how many games I'm going to play Nolan."
The other major reason for high expectations is the return of the top five scoring forwards from a squad that ranked second only to Boston College in team offense. Devin Rask had an enormous breakout year, going from 21 points to 51 and a berth on the All-America squad. Peter Fregoe wasn't far behind and Drew Omicioli averaged almost a point a game in 29 contests. Marc Suderman and Jon DiSalvatore also finished with 25 or more points.
DiSalvatore, in particular, could be primed for much bigger things. Following a 15-goal freshman season, he opened last year with a reasonable first half before leaving for a very productive stint at the World Junior tournament. When he returned, however, he had suddenly became snakebit, going 14 games without a single goal and only three assists.
DiSalvatore isn't the only forward who is likely to take it up a notch. With seniors Adam Lee, J.J. Picinic and Cole Gendreau gone from the lineup, there will be increased opportunities for underclassmen Doug Wright, Michael Lucci and Cody Loughlean as well as freshmen Derek Allan (SJHL All-Star) and Chris Chaput (EJHL, US under-18 team).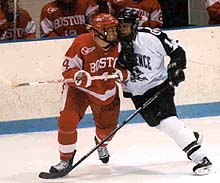 If the right pieces fall into place, Providence could have almost as dominant an offense in the coming year as Boston College did last season.
"Obviously, Rask and Fregoe are the guys up front that you feel very confident in," says Pooley. "But I think we have a lot of kids that didn't show an awful lot last year. We have a lot of good hockey players that are hungry that want to be in the lineup, that want to play and show what they can do. That's the biggest thing I like about our team."
The only major concern is on the blue line, where seniors Matt Libby (Second Team All-Hockey East) and Jay Leach were immense last year, holding together an otherwise very young group. The two logged a lot of minutes and leave two huge voids behind.
Regan Kelly enjoyed an excellent freshman season, earning a berth on the league's all-rookie team. None of his fellow sophomores this year — Stephen Wood, Dominic Torretti and Jason Platt — are as skilled offensively, but they are a solid group, especially Wood, and will form the defensive core along with junior Shawn Weiman.
"Jay and Matt played an awful lot of hockey for us last year," says Pooley. "They kind of led the way. So guys have to step up this year. We have no choice. Either they do or they don't.
"I think we have a good group of defensemen. It's going to be a situation where we have to grow as the year goes along. The development of our young defensemen and our team defense will be very important to us. Our game is predicated on playing pretty well defensively, so that will be a key for us."
Freshmen Eric Lundberg and Jeff Mason, both from the EJHL's Coyotes, should both contribute. Lundberg (Coyotes' Defenseman of the Year) is the more physical one at 6-3, 200 pounds. Mason (EJHL All-Star and MVP Defenseman) is smaller, 5-10, 175 pounds, but more skilled offensively.
"Lundberg is a man in terms of his physical presence out there," says Pooley. "Jeff Mason is a little smaller but just tremendously quick. Those kids are going to compete to play."