Saving His Best For Last
Last year he posted a 1.96 goals against average and a .924 save percentage, but was still able to force his way into only one out of every four games. Such was life for Maine's Mike Morrison as the backup to Matt Yeats.
Not so this year. Morrison has not only wrestled the top spot away from Yeats, but earned Hockey East's ITECH Goaltender of the Month Award for his 1.93 GAA and .947 save percentage in October.
In Maine's lone game last weekend, Morrison backstopped a win over previously undefeated UMass-Lowell. This week, the Black Bears host Boston University on Friday night and Sacred Heart on Sunday. With the coaching staff committed to giving each goaltender a start, look for Morrison to take on the Terriers as an increasingly entrenched number one goalie.
The senior's success has been the result of perseverance through limited playing time the last two seasons.
"Even though I didn't get the nod every weekend, that didn't knock me down and make me give up and say it wasn't worth it," he says. "Last year I realized that, hey, I had nothing to lose here after I kind of lost my job in my sophomore year. I realized that Matt was playing more and I just had to work hard in practice, better myself, and just work on my progress.
"Who knows? Anything can happen. I just need to be on my game when [an opportunity] comes. That's what I'm doing this year."
That opportunity arose when Yeats got off to a slow start while Morrison stopped 46-of-47 shots in a win at North Dakota and 33-of-35 in a tie at Western Michigan. His performances have helped Maine stay afloat during a very difficult early schedule.
"[His success hasn't been surprising] because I've seen how hard he works," says interim head coach Tim Whitehead. "Not knowing him before, I may have been surprised, but now that I'm here and I see how he trains and how he focuses and how he carries his practice habits into games, [I can see that] it's not an accident that he's doing well. He's prepared himself.
"It's his senior year and he wants to elevate his game and continue playing hockey. I think he has an excellent opportunity to do that. He's just got to keep working hard and good things will happen for him."
For Morrison, his senior year has given him a different perspective on his potential role on the Black Bears.
"Being a senior, it's a whole lot different for me and my [outlook] towards the team," he says. "I finally realize what the seniors used to talk about when they'd say, 'You'll see when you're a senior.'
"I'm realizing that I'm responsible for these guys. I want to set a good example and show them that this means a lot to me and that I'm going to give it my all, however they need me."
Earning the Goaltender of the Month Award was a proud moment for Morrison, but he's keeping it in perspective.
"It felt pretty good," he says. "It was definitely a nice compliment. I grew up watching Hockey East. I think a lot of us who play forget that when you were a kid — especially kids from New England who know Hockey East — you'd watch Hockey East and those players were just legends [to you]. They were unbelievable. You have to remember that now we're that caliber of player.
"To see me get an award like that was a proud thing, but I'd only started in two of the games and came in during two of the others. There were other goalies who played more games. I just had a couple good starts and things went my way."
With a laugh he adds, "Who knows, maybe [Hockey East Commissioner Joe] Bertagna wanted me to finally get one of these because I work for him in the summer."
Morrison isn't about to rest on his laurels now.
"[The award] was definitely a compliment and I'm appreciative," he says, "but give me one of those in February or April and I'll be happy because that will mean that I'm doing my job down the stretch. That's what matters."
A Real Two-Way Player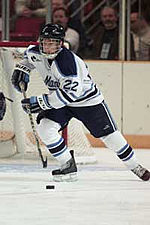 Maine's Tom Reimann, this week's KOHO Hockey East Player of the Week, has now registered hat tricks this year both at forward and defense. He accomplished the feat up front this past weekend in a 6-3 win over UMass-Lowell; he got his other trick in his first game on defense, an exhibition contest against Moncton.
The Black Bears entered the season thin on the blue line after losing four veterans from last year's squad. Redshirt freshman Prestin Ryan had to sit the first three games until he began eligible and just as he did, Francis Nault was lost to injury. Nault may return this weekend, but the blueline corps has been thin all year.
As a result, Reimann was asked to move back until recently.
"After a few games he was anxious to get back to forward," says Whitehead with a laugh, "but he was a team guy. His natural position is forward, but he handles it well back there.
"He's really become a complete hockey player. I think playing defense has helped his game because he's more defensively aware. He's a very good defensive forward in addition to always having been a good offensive forward. Any forwards who have a chance to play defense, it really helps them round out their game.
"He's a versatile player obviously and he's a smart hockey player. He's got great hockey sense. He has the poise to make the right pass at the right time and he can shoot the puck."
College Hockey Drive Time
Yours truly is hosting a new radio show with UMass-Lowell coach Blaise MacDonald on WJUL-FM (91.5) on Tuesday nights from 5:30 to 6:00. "College Hockey Drive Time" focuses on the River Hawks, but will strive to be of interest to all aficionados of the sport.
For a school radio station, WJUL has a very strong signal so tune in if you're in the Greater Lowell area.
Southern Maine residents can hear my commentary various weekday mornings on WJAB (1440/95.5). Send an email if you'd like advance notice of the times.
Take My Ref… Please!
When Hockey East and the WCHA announced plans to swap referees on a very limited basis, it opened the door for many predictable smart aleck remarks.
"Hey, we'll send you (fill in the blank) for a bag of pucks. Whaddya say? No deal? No problem. You can keep the pucks…"
Even so, it's an interesting idea. Hockey East's Jeff Bunyon officiated two games at Minnesota on Oct. 26-27; WCHA official Mike Schmitt will fly East for games on Thanksgiving Day weekend, a time when interconference matchups stretch thin this league's officiating lineup.
"It's a pilot program," says Hockey East Supervisor of Officials Brendan Sheehy. "The league can't afford to pay airfares [on a consistent basis]. It's not a big deal for the WCHA because they fly people anyway, but we can't afford to start flying people around. It would become too expensive.
"But for this particular weekend, we did it. We'll probably do another [weekend] in the second half and maybe next year do three [weekends]. It just nationalizes the refereeing a little bit. It's good for the guys and it's good for the teams."
Given the natural tensions that can develop over a long season between coaches and officials, a visiting referee can help avoid familiarity breeding contempt. A two-time swap results in four games being covered by a new face.
"It's not good that by the time the playoffs are over, someone might see, [for example], John Gravellese nine times," says Sheehy. "That's not good for anyone."
Hitting From Behind
Although there has been what seems like an increase this year in hitting from behind major penalties with the accompanying game misconduct, there has been no more special emphasis placed on the call this year than the last two.
"It's been in the rulebook as a point of emphasis," says Sheehy, "[but] this is now the third year. The [NCAA] Rules Committee wants to eliminate it from the game. They emphasize four or five things [in the rulebook] every year and this is the third year it's been a point of emphasis. It's a pretty touchy thing."
That holds true whether the hit from behind appears to be vicious or not.
"It's not [whether it's] an attempt to injure that's the key," says Sheehy. "It's a hit from behind directly into the end boards, side boards or net. We tell our referees that if there is any doubt, they should lean towards calling it rather than not calling it because it's very dangerous and you're defenseless to protect yourself."
New Hampshire's Ed Caron was called for the infraction in his first collegiate shift. UMass-Lowell's Baptiste Amar and Laurent Meunier were banished from games against Boston College and Providence, respectively. BC's Dave Spina got the gate in a contest at Northeastern.
It's hardly a coincidence that all but Meunier are freshmen.
"You probably see it more earlier in the season than later in the season because freshmen don't realize that they're gone for the game with a game misconduct," says Sheehy. "In high school they could maybe get away with it, but [in college hockey] there's no tolerance for the hit from behind."
"It's absolutely something that we need out of the game."
— UML coach Blaise MacDonald, on hitting from behind.
UMass-Lowell has already had to kill off two of the major penalties while losing Amar and Meunier, two top players, but coach Blaise MacDonald isn't looking for leniency.
"It's absolutely something that we need out of the game," he says. "It puts the official in a tough spot because you see some of those where it certainly is embellished. That's quite a penalty to pay, being down five minutes and [the player is] kicked out of the game so it's a tough call for the ref. We just need to stay away from it and [not] make it close.
"We had a wonderful teaching moment [against Providence] that I accentuated on the bench and in the locker room at the end of the second period where Yorick Treille was coming up sideways to somebody, but rather than make it close and hit him and allow him to potentially embellish the hit, he made careful effort to turn him sideways so he was facing him and hit him.
"I made that point as a teaching point and then we went out and got a hit from behind…
"We were wrong. It was a hit from behind. Don't make it close."
Coaches stand behind the tight calling of the penalty because they can recognize that even if they lose a top player for a game misconduct, strict enforcement may also help avoid losing such a player for many games or even a career because of a serious injury.
"If the player did it, it's not the referee's fault," says Sheehy. "I mean, Bobby Allen got a [hitting from behind] game misconduct in the NCAA regional quarterfinal in Albany a couple years ago. If the call is there, we want it called with no reflection on whether he's a good player or not a good player. If we let it go and it was just a two-minute minor, maybe more people would get hurt.
"To be frank, I haven't had a single [complaint] from a coach for a guy getting thrown for a hit from behind," says Sheehy, who adds with a rueful laugh, "and I've had a lot of [complaints] from coaches."
The Minutemen Surprise
One of the positive surprises so far this season has been the play of UMass-Amherst. The Minutemen stand at .500 with a 2-1 record in league play including a 4-2 win over Northeastern on Saturday.
Even in their 3-2 weekend loss at Providence they impressed. They fielded a lineup with 10 freshmen, including goaltender Tim Warner, but played the Friars even both territorially and on the scoreboard for most of the game.
"I liked our competitive spirit," said coach Don Cahoon, "but I didn't think we played very organized. We showed our inexperience at certain times. A couple young mistakes cost us big.
"[We need to improve most] in the defensive zone. The team in general and especially the young kids have to understand the consequences of a bad turnover or not being thorough with the puck. We had a couple plays like that that ended up in the goal."
Cahoon rejected any thought of moral victories despite his team's youth.
"You either win or you lose," he said. "You get the job done or you don't. There are certain things we'll take from it as a coaching staff and try to impart on the team, but it's a very shallow feeling."
Warner, the former star with the Central Mass Outlaws and Avon Old Farms, allowed some unnecessary rebounds, but also showed a lot of promise.
"Timmy did a good job competing," said Cahoon. "He stopped some pucks. He made some brilliant saves. [Rebounds are] an area that obviously he'll work on. Some days are better than others with him in that regard.
"He's a good young goaltender who in time and with hard work will be a good goalie in this league."
UMass' top freshman, however, appears to be forward Greg Mauldin, who played on a line with Tim Turner.
"He's going to be a good player," said Cahoon. "He can skate and handle the puck. He competes. We're pleased with him.
"We're pleased with all the freshmen."
One freshman, Sean Regan, had a legion of supporters in the stands. His former prep school, Pomfret, brought the entire hockey team as a show of support for its former star.
If Cahoon continues to select kids almost exclusively from the local prep schools, UMass could begin to see such groups on a regular basis.
"We're the only school in this league that can go on the road and have a partisan crowd if we do this right," he said. "We're going to go into Boston regularly and we can fill half the rinks if we can develop that fan base with people that are just going to cheer for Massachusetts. I'd like to think that some day we can do that…"
A Bend in the Road
While it wasn't a sharp U-turn from losses into immediate domination, Providence posted two wins last weekend to begin a gradual turnaround after a disastrous start. The Friars edged both UMass-Amherst and Merrimack, 3-2, giving PC a 3-4-0 record.
"I think this is going to be the biggest win of the regular season for us," said Jon DiSalvatore after Friday night's win over UMass. "Starting off with a little bit of a slump the way we did and coming through with a big win makes it more of an emotional [lift].
"It's a much-needed win as far as the standings are concerned, but it's very early in the season. I'd say it's going to be a determining factor in how we take off in the season."
Coach Paul Pooley saw plenty of things that needed fixing, but when you get off to a rocky start, a win is still a win.
"On paper we were picked to finish first, but we aren't ready to be a first-place hockey club yet," he said. "I hope we will be by the end of the year…
"We're not making good decisions at times and it almost cost us…. We seem to be our own worst enemies starting out this year. We're playing defensively at times, but we're learning and growing."
One problem has been that the Friars have invariably found themselves playing catch-up. Prior to Saturday night's matchup with Merrimack, they had surrendered the first goal in every game. Even on Saturday when the Friars finally broke that unenviable streak, they still found themselves outshot in the first period, 15-5.
"Last year we got one [goal] then two then three a lot of times," said Pooley. "This year we're getting down, 1-0, and having to fight back. You can only get the air pump out on the bench so many times — gotta pump 'em back up again.
"We've got to start quicker. It's breakdowns. Every time we break down, it seems to go in the net."
An even more shocking problem has been the power play. The Friars were expected to be the league's offensive bellwether, but have mustered only four power-play goals in 41 chances and that's after going 1-for-5 against Merrimack. Their 9.8 percent conversion rate ranks dead last in the league.
"Puck possession doesn't mean much on the power play," said Pooley. "You're only measured by your results. We've got too much talent to not have a good power play. We're going to have to stay with it or change the components because it's obviously a situation we have to improve upon. Our power play is anemic."
Mixed Emotions
You know the old line about your mother-in-law driving off the cliff in your new car…
Well, Maine interim coach Tim Whitehead's emotions weren't quite that mixed when his Black Bears hosted UMass-Lowell, but his five years as an assistant coach and another five as head coach of the River Hawks certainly made for a unique evening.
"There were definitely a couple times during that game when I was watching Lowell," he says with a laugh. "It was weird after 10 years. Having recruited all those guys and with so many of them as juniors and seniors now, I just know them so well.
"I love those guys and I love the way they play. It was a weird night, but at the same time when the puck dropped, I was focused and ready to go.
"I'm looking forward to going down there in January [when Maine plays Lowell on the 25th and 26th] and seeing some old friends and playing some more hockey."
BU Seat Dedication
In case you missed this news brief, here's a special story from Babcock Street:
Boston University made history Sunday night dedicating the first seat ever in the 30 year history of Walter Brown Arena in memory of 12-year-old Stephen Glidden. Glidden was killed tragically this past summer when a bus he and his schoolmates were traveling on crashed in Nova Scotia, Canada.
Though he was only 12 years old, Glidden was an extremely faithful Boston University hockey fan, a season-ticket holder that rarely missed a game.
Rather than offering a moment of silence in Stephen's memory, his family asked for a moment of cheering, as that was how Stephen spent so much of his time at Walter Brown Arena.
Boston University will place a plaque on seat nine, in section 13, row F in Stephen's memory.
Trivia Contest
Last week's question asked which team already had six defensemen who had scored at least one goal.
The correct answer was the UMass-Lowell River Hawks: Jerramie Domish, Baptiste Amar, Darryl Green, Chris Gustafson, Josh Allison and Josh Reed.
The first reader to correctly get the team and all six defenseman was Nick Raimondi (a.k.a. Wildfan). His cheer is:
"Fear The Fish!"
This week's question is one of the most sadistically difficult trivia questions this writer has ever heard. It stumped most of the USCHO staff for a while. Here it is: in a regular season contest between two teams, what is the maximum number of players (skaters and goalies) for the two teams that can officially be credited with dressing in the one game? Give your rationale.
Hint: It isn't 42 (18 skaters and three goaltenders for each team). It's a number much higher than that. Think creatively and don't worry about practical concerns such as how many players might actually be on a team's roster or fit on the team bus.
Mail your responses to Dave Hendrickson.