The career statistics chart on senior goaltender Dean Weasler would make any hockey fan scratch their head in wonder.
As a rookie netminder for St. Cloud State in 1998-99, Weasler was the Huskies' main man with over 1700 minutes played between the pipes, a 2.97 goals against average, a .909 save percentage and a 13-11-4 record. Not too shabby for a freshman in the always-rugged WCHA.
"I think seeing action in those three games really helped me get ready for the start of this season."
— Dean Weasler
"As a freshman, I didn't really expect to play," Weasler said. "I thought I would sit and wait, so my it was really a bonus to get that much ice time my first year here. With the chance to play as a freshman, I learned to be more calm and confident … and play under control, which is something our [goalie coach] Bill Frantti really taught to me."
Certainly, one would have expected Weasler to be a prime player for the Huskies over the next two seasons, but a look at those career stats show a much different story. Due to injuries and the emergence of record-setting Scott Meyer as the Huskies' top goalie in 1999-00, Weasler moved into a reserve role throughout his sophomore and junior years. In fact, Weasler looked to take a redshirt season in 2000-01 and continue in order to rehab from his sophomore-year injuries.
"In the first half of the season, I thought I would end up red-shirting during 2000-01," Weasler said. "I was helping the coaches on the bench … giving them my perspective on the games. I was also able to learn a lot by watching those games."
As SCSU enjoyed its best season in team history, Weasler completed the rehab process from his sophomore season injuries. Still, he wasn't planning on giving up his redshirt status until a concussion sidelined Meyer during a key showdown against Colorado College on Feb. 2. Always one to put the team first, Weasler did not hesitate when coach Craig Dahl asked him to fill in for Meyer during the remainder of the game, which also meant that Weasler would be sacrificing his junior year of eligibility.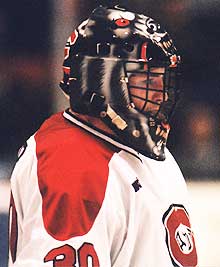 "I talked with Coach earlier in the year, and I told him that I would be ready if they needed me," Weasler said. "I just happened to be on the bench that night. Coach Dahl kept asking me up until the time I went into play, if I wanted to go in. More than anything, I just wanted to see our team be successful."
Weasler went on to save the game for SCSU against the Tigers, and then went out and posted two wins at Alaska-Anchorage the following weekend. For which, he gained WCHA Defensive Player of the Week honors. Weasler's heroics and sacrifice were just part of the late-season spark that helped SCSU win the WCHA Final Five and gain a second consecutive NCAA bid.
For Weasler, the UAA series marked the end of his ice time, as Meyer returned from his injuries and played the rest of the stretch through March.
"I think seeing action in those three games really helped me get ready for the start of this season," Weasler said.
This winter, Weasler and junior Jake Moreland have shared starting duties on a Friday/Saturday basis. Through nine games, Weasler holds a 1.80 goals against average and .944 save rate. He is a perfect 5-0.
The starting system seems to be working well for the No. 1-ranked Huskies, as Weasler noted.
"There is a healthy competition between the goalies [which also includes newcomer Jason Montgomery]," Weasler said. "The nice thing about not playing two consecutive nights is that it gives some of my body parts a rest."
A marketing major at SCSU, Weasler hails from Rosemount, Minn. and played prep hockey at Rosemount High School. He went on to play junior hockey at North Iowa before ending his junior career with Rochester of the USHL. He was attracted to the SCSU program by the potential he saw in Dahl's rising program.
The proximity to home was another key selling point. Weasler has been with the program through the best four years in team history. He has been part of a Final Five title team and two NCAA playoff squads.
"We have gotten much better on defense," said Weasler, of the program's rise. "The defensive system has been changed and that has really helped us. We also have brought in some very talented players that have helped elevate the level of the program."
Weasler plans to graduate next year and has expressed an interest in coaching.
"If given the chance, I would take a shot at the pros, but I have certainly met my goals by playing college hockey. I have gotten a lot out of hockey and it's allowed me to meet some great people."