Things are heating up in Fairbanks — and we're not just talking about global warming.
Sure, the average daily temperature in central Alaska this time of year is a brisk 10 below zero, and dawn breaks around 8:30 a.m. But the University of Alaska-Fairbanks Nanooks hockey team is enjoying one of the warmest climates for college hockey, thanks to getting off to a hot start and enjoying their status as a top husky dog in a small sports market.
Forced to accept mostly second-division status since becoming a full member of the Central Collegiate Hockey Association in 1995-1996, the Nanooks are approaching the last third of their schedule with a national ranking and a good chance of enjoying home ice in the first round of the CCHA playoffs.

After leading the team to just six victories in his first season behind the bench, and nine wins the second time around, third-year coach Guy Gadowsky can relish the fact that the team's commitment to improve is bearing fruit in the form of a 13-8-1 record as of Jan. 17, one that includes wins against perennial powerhouses Michigan and Michigan State.
This is pretty heady territory for a team that regularly plays five freshmen and eight sophomores, including the team's top two scorers — second-year forwards Cam Keith and Ryan Campbell.
But Gadowsky is the first to emphasize that recruiting has not been the number-one reason for the team's success.
"I think it's a number of things that have made a difference," Gadowsky says. "One thing that's really overlooked is when I got here — even though [we had just] the six wins — there were a lot of guys who were seniors then who are very important to what's happening now.
"I think the players who aren't here anymore deserve a lot of credit for what's going on right now," Gadowsky says. "The Darren Tiemstras and the Dwayne Zingers and the Ryan Reinhellers and the Chad Hamiltons and the Nathan Rocheleaus."
These high-character players were invaluable role models for this year's seniors. Although their class is a mere triumvirate, Gadowsky won't let you forget how critical they are to the program's deceptively sudden success.
"Now we've got seniors like Bobby Andrews, Aaron Grosul, and Daniel Carriere who are excellent hockey players with that work ethic," Gadowsky says. "There's a newfound commitment to the program by the players who are here.
"A lot of that has to do with the coaching staff, but more importantly I think it's what the players themselves in the dressing room are going to accept," Gadowsky notes. "And that started two years ago — that takes a little bit to change."
But when the seniors themselves are asked about the team's reversal of fortune, they are quick to point to the man behind the bench.
"Before Coach was here, it was a good program that gave guys an opportunity to play in a great league," Nanook captain Andrews says. "When Coach Gadowsky came, he brought along standards and goals that he wanted to reach.
"When Coach Gadowsky came, he brought along standards and goals that he wanted to reach. … We're starting to see the results that he wanted when he first came."
— Nanook captain Bobby Andrews
"Now after two years of a lot of work and bringing in players that he wants and the continued work ethic, we're starting to see the results that he wanted when he first came."
According to defenseman Grosul, Gadowsky and his staff also have used recruiting as a tool to implement change.
"I noticed that they're bringing in a lot of quick, skilled forwards — not so much the big guys," Grosul says. "When I came in as a freshman, I was one of the smaller guys at 180 pounds, six-foot. This last class came in was all small, skilled players."
The program has been able to attract a healthy mix of speed, smarts, and grit to go along with some of the big players they've traditionally brought in. Next year's recruits already feature Doug Auchenberg, a 5-8, 190-pound forward known for both a scoring touch and for a harder-hitting style than his size might indicate.
Without question, one of the biggest attractions for recruits has to be the celebrity status that the players enjoy in the small sports market of Fairbanks.
"They're front-page news," Gadowsky says. "They're the number-one story in sports and on TV. Anywhere they go, people know who they are. It's really nice now that we're getting wins; the community is even more excited."
"It's great; the community here is awesome," Andrews says. "They really cherish the team — it's amazing getting to know all the people. Everyone wants to be a part of the Nanooks."
"Last weekend we had 20 people, boosters, come down to Michigan," Andrews adds. "It's just nice to see them on the road. They really do care about how we're doing and as people too."
"I know whenever we come home from a road trip, there'll be a large group of people waiting for us as soon as we get off the plane," says Grosul, who said that about 20 or 30 regularly come out to greet the team at the airport.
Speaking of which, this team easily logs the most miles in college hockey. Playing in a conference dominated by teams from Michigan and Ohio, their closest conference foe is in Omaha, Nebraska. The distance between Fairbanks and Omaha is far greater than that between any two teams in Hockey East or the ECAC.
Yet travel is perceived as a benefit of Nanook life — especially given their high visibility as local heroes.
"With the travel, we've actually turned it into a positive," Gadowsky asserts. "These guys can't really go into dinner or a movie without people knowing who they are, and there are a lot of demands on their time.
"A lot of people want them to come to their son's hockey practices and a lot of things like that," Gadowsky says. "On the road, there are no distractions — There's no hockey rinks or gyms, so they have a lot of time to catch up on sleep and studies."
"I actually enjoy it," Grosul says, noting that the team flies to all of its games. "It makes you feel real high class, real professional."
Bobby Andrews proves to be the master of understatement on the subject.
"We do travel a little bit, but it doesn't bother me at all," Andrews says. "It didn't bother me when I was choosing to come here. I thought it was kind of cool — you get to fly everywhere. It was kind of first class as far as I was concerned."
There have been no signs of jet lag this season. Statistically, the team's success is intriguing — the Nanooks are the epitome of a balanced team on the scoresheet. Going into their series with Western Michigan, no Nanook had more than eight goals, but 10 players had scored at least five times.
In fact, no individual player ranks in the top 15 in any significant offensive category. Even in terms of team stats, the Nanooks are conspicuously absent on all but one category — tied for 15th in shorthanded goals.
Yet these odd phenomena also point to a reason for their success — what or who do you key on when playing a team like this?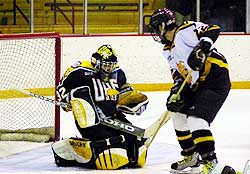 "All four lines are scoring," Gadowsky says. "We don't have one or two guys who are way out front of everybody else. We have a pretty balanced team, so if you ask how opponents go after us, I think it would be difficult to say, 'We have to shut down this guy or this line.'"
"Compared to the last three years I've played here, we've never had four solid lines," Grosul says. "This year we don't really lose much from line to line."
Perhaps the most encouraging aspect of the team's success is the offensive firepower of the younger players, though Gadowsky shrugs it off as inevitable given the abundance of underclassmen.
"If we're going to be successful, we have to get that production out of the younger players and so far it's been excellent," says Gadowsky, a former player at Colorado College. "It is exciting for the future, but I can't stress enough our seniors and the attitude they bring — that's extremely important."
Freshman Aaron Voros has been an excellent new ingredient to this year's mix. In addition to leading the team with eight goals, he is second only to Grosul — a defensive defenseman who concedes that he's "no offensive threat" — with a plus-minus rating of +12.
"He's a gritty forward," Grosul says of Voros, a 6-4 forward who packs just 190 pounds. "He likes messing things up in the corners and crashing the net like no one I've ever played with. When he gets the puck around the net, he usually can bury it pretty easily.
"He's a big guy, and he's young still — he has a great future in front of him."
The program is also thankful for both the present play and future worth of their two goaltenders — two contrasting personalities who share one similarity: excellent save percentages. Sophomore Preston McKay has enjoyed the lion's share of the play while reeling off a .910 percentage, but junior Lance Mayes picked up a huge win at Michigan last Saturday and now is creeping up on his teammate with a .904 mark.
"Preston McKay — he's a calm and relaxed goalie," Grosul says. "He's very calm. When he's in net, he knows he's in position and he's relaxed. He's not trying to make any extra movements.
"Mayes is real intense and real focused. Before a game with Lance, you know to kind of leave him alone — he likes to get ready and needs to zero in."
"It's awesome having two goaltenders challenging each other for the starting position," Andrews says.
In just another chapter to this storybook season in Fairbanks, Gadowsky actually missed the team's games at Michigan to be present for the birth of his first son.
MacDonald Orson Gadowsky joined the hockey community on Thursday, January 10, while the team prepped for its two-game series in Ann Arbor, Mich. So dad and coach had to tune in to KSUA 91.5 FM in Fairbanks, like many other Nanook fans in the Great White North.
"We've got a radio guy: Bruce Cech is unbelievable," Gadowsky says. "I tell you what: I couldn't hold the baby while listening to him. I tell you, I'm more stressed listening to him than I am on the bench, so I'm looking forward to getting back on the bench."
Gadowsky will have ample opportunity to do so while making the adjustment to parenthood: the Nanooks will play eight of their last ten games at home, giving them an excellent shot at their first-ever home ice for a CCHA playoff game.
The conference is tight this year, and Alaska-Fairbanks could conceivably finish as high as third or as low as 10th. However, they already have finished their games against the two top teams in the conference, the Wolverines and the Spartans.
They were ninth in the standings their first year as a full member, then went on to finish eighth, tenth, 11th, 12th, and tenth over the next five seasons. Success has been a long time coming for the Nanooks and their fans, so it's a plus for college hockey to see this program finally start to enjoy its day in the sun.
In Fairbanks, Alaska, there are many short days of sun. But if you hang in there through the dark times, you're sure to savor long periods of bright light, perhaps before you know it.
Just ask the Nanooks and their hardcore fans.