There's one question that had better not turn up on any final exam at Cornell University, given that three of the Big Red's best players, and even coach Mike Schafer (Cornell '86), were stumped by it.
"Can you recall one especially great save by a Cornell goaltender this season?"
Big Red captain Stephen Bâby couldn't think of one. Schafer — who is seldom at a loss for words — mulled it over but drew a blank. Even the netminders themselves — senior Matt Underhill and freshman David LeNeveu — could not recall any great moments in Cornell goaltending, at Lynah Rink or anywhere else, this season.
At first glance, this seems at odds with some flashy statistics. Coming into the weekend of Feb. 8, LeNeveu was 7-2-0, second in the nation in goals against average (1.45) and tied for third in save percentage (.937). He had allowed more than two goals only once in nine games this season.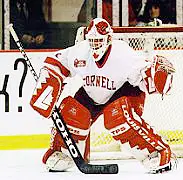 Meanwhile, Underhill boasted an 8-3-1 record, a 1.83 GAA (fifth in the nation), and a .923 save percentage (12th).
All parties agree that Cornell's goaltending has been outstanding and a primary reason for their No. 8 ranking in the nation. Sure, the team has a nicely-balanced scoring attack — no player had more than nine goals — but 11 players had at least three coming into this homestand. Likewise, the Big Red's performance on special teams reflects positively on the coaching and the players' discipline; they had the fifth-best power play in the nation and the third-best penalty kill.
But the exemplary work ethic and performance of these twin towers of goaltending is hard to refute as perhaps the most important ingredient for Cornell's success to date this season.
"They're obviously one of the main reasons we're successful," Bâby says. "You ask anyone who's ever played hockey — you're not going to be successful without good goaltending. Matt and Dave have played great all year.
"There's been times when we've come out and maybe struggled offensively, but they've kept us in games."
But if so, why is it that no one can recall a noteworthy save — or even an especially stellar game?
It turns out that there is a good reason. Both goalies anticipate with positioning instead of reacting with a dramatic flourish of arms and legs.
"Physically, in goal, we're pretty similar," Underhill says. "Just trying to use our size — we're both tall — being in position, trying to take away second shots and hopefully making the hard saves look easy: not being too flashy, just being in good position and playing our angles."
Underhill shuns the more frenetic and flailing approach displayed by some college goaltenders, and even some pros.
"If you try to play that way, that's where you're going to get yourself in trouble," Underhill figures. "Making the acrobatic saves, that's kind of the last resort."
Says Bâby, "Obviously, Matt's the bigger goalie [6-2, 195 pounds] and uses his size real well, whereas Dave's a little smaller [6-1 and a lanky 170 pounds] and has to be a little quicker.
"But at the same time they're both positionally unbelievable," adds the Big Red captain. "We'll be in practice or a game and you'll see a guy make a great pass from one side of the zone to the other — before you can even blink an eye, either of them will slide across the crease and is in great position to make the save."
"What makes them so special is that they make some real tough saves look really so nonchalant," Schafer says. "So going back and watching films on certain games, you're like, 'Man, was he there quick, and was he in position.' It looked like a non-scoring chance, and it was a great scoring chance.
"Someone else might have had to make a real dramatic or real acrobatic save, but they do it in kind of a methodical and robotic style."
Neither goalie has aspirations of making highlight-reel sprawling saves like a Dominik Hasek.
"In terms of positioning, I like watching guys like Belfour, Patrick Roy, Olaf Kolzig: butterfly goalies like them — the puck just seems to hit 'em," Underhill says. "They just seem to be in the right position. They don't look so fancy."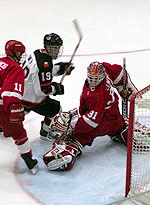 "I definitely admire Patrick Roy because he's such a great technical and positional goalie," LeNeveu concurs. "That's who I try to model myself after — not trying to be too flashy, just trying to make all the saves seem simple."
The freshman from Fernie, British Columbia, has certainly made it look simple this year in notching 30-save road wins at BU and Colgate while really only having one poor showing. Though highly regarded as a recruit, he has exceeded expectations by a wide margin.
Given that Underhill had a terrific junior season, including a 13-8-3 record with a .928 save percentage and a 1.88 goals against average, no one would have been surprised to see LeNeveu ride the pine much of this season.
"I wasn't sure what to expect, coming in my freshman year — especially with Matt being such a highly-touted goaltender," LeNeveu says. "I was told that I would get a chance to prove myself and that I would get a couple games early in the season and that it would be my playing on the ice that would determine the rest of the way.
"Thankfully, on the ice I capitalized on my opportunities. I've just flowed ever since, and I've got a game just about every weekend."
Says Bâby, "Coming in we heard tons of good things about him, but there's always a little question mark with a freshman when it comes down to how he's going to adjust and make the transition to the college level. But he's stepped in like he's been here a couple of years."
All of which has given Schafer a very pleasant dilemma when it comes to determining who plays in a given game.
"We knew when we brought him in here that he was going to get some games as a freshman — he couldn't sit on the bench all year," says Schafer of LeNeveu. "We knew he had to play hockey — one, to keep Matt fresh, and two, to give him experience for the following year, so he's not walking in totally untested. That would be unfair to him.
"But he's played so well that he's deserved the ice time that he's received."
Both goalies have earned their roles, and not just because of their style — each is a driven competitor with an exceptional work ethic.
According to LeNeveu, his senior counterpart's approach to the game has rubbed off on him nicely.
"He helps me both on and off the ice," LeNeveu says. "He's a very hard worker — the hardest worker on the team. He's always in the gym — just looking at him you can tell he's a very big guy and a very dedicated individual."
"They both have a great work ethic as far as their preparation and the things they do before and after and during practice," Schafer says. "They're both extremely competitive, and they both hate to be scored on."
But if their success may have opponents feeling like they're seeing double, they do have some differences in approach.
"I think I'm a little more relaxed as far as game preparation," Underhill states. "David's very focused."
"I go through a specific routine to prepare for each game — just mentally visualizing," LeNeveu says. "I assume that I'm going to start every game until I hear otherwise.
"I'm just mentally going over in my mind all the situations that I might encounter on the ice — picturing myself making the save, picturing the sound of the shot — just mentally focusing, basically."
Whoever is in net, the results have been impressive. As of Feb. 1, Cornell was second in the nation in team defense, and was allowing just 1.84 goals per game.
So is this a case of great goaltending or just a defensively-oriented game plan?
"I think it's both — it's kind of a chicken and the egg thing," Underhill says. "I think David and I and the defenses complement each other. We trust each other — it's a good combination.
"I'll be the first to say, though, that the defense has a ton to do with our numbers. Our guys keep the shots on the outside and keep the second shots down."
That was especially true in Underhill's 1-0 shutout in a tough road game at Clarkson two weeks ago. The casual observer could look at the box score and figure that the senior stole one for the Big Red — after all, they were outshot 29-19. But when you talk to Underhill about it, you can understand why Schafer cautions that "shots can be deceiving."
"They threw a lot at the net, but I think we outchanced them," Underhill says. "I thought we had the better of the play. They just threw everything at the net, and all I had to do was stop it."
Schafer tries to explain that phenomenon.
"I think what teams have been trying to do against Matt and David — seeing that we're doing a good job of defending — is that they're forcing the puck from everywhere," Schafer says. "Especially in that game against Clarkson, they took a lot of shots from the outside.
"It's a testament to the goaltending. They know they've got to force the puck to net, and Matt did a great job of controlling his rebounds. He never really gave them any second chances in that game."
"As long as our team is winning — as much of a cliche as that is — that's the important thing."
— Matt Underhill, on splitting time in goal
The way LeNeveu has been playing, Underhill probably figures he'd better not allow any second chances. The two netminders compete for playing time in a positive way. Both want to play and are pushing each other — but they're pulling for each other, too.
"My relationship with Matt is a great relationship," LeNeveu says. "We feed off each other in practices. It's a great competition we have with each other.
"Obviously we're competing for playing time; we'd both like to play as many games as possible. But we realize that the tandem we have going here — being able to show a team a different guy each night — is working very well for us and we're winning.
"Our relationship is great; we love to see each other succeed."
"Obviously as a goaltender you'd love to play every game, but the way things are going now, as long as we're winning hockey games it's tough to complain," Underhill concedes. "If both of us are playing well, we're both going to play. And we're both fine with that.
"As long as our team is winning — as much of a cliche as that is — that's the important thing."
Says Schafer, "The competition between the two of them has got them both real focused. Going into the weekend, they're both mentally and physically ready to go. They're not wearing down. So it's a nice luxury that we have."
What pleases Bâby the most is the team-first approach of the goaltending tandem.
"As you look at these two goalies who have played extremely well, it's important to understand that they're always the first to go out and congratulate the other one," Bâby says. "That's the atmosphere we have on this team."
This team currently has the inside track on an ECAC regular-season championship. But if you happen to check them out at Lynah Rink, don't expect the goalies to wow you with a flair for the dramatic.
"A fan in the stands — or even a true hockey fan — might not realize unless you get to see 'em game in and game out, and also day in and day out in practice, to see how fundamentally sound they are," Bâby says.
That doesn't trouble the Big Red goaltending tandem in the least.
"I'm sure that they're just as appreciative if we're stopping the puck," LeNeveu says. "We'll let our offense excite them."
"It's better if it looks easy," Underhill agrees.