It was never a question of if, but rather when, Clarkson head coach Mark Morris would reach the 300-win plateau.
Of course, few expected there to be so many wrinkles along the way this season for Morris and the Golden Knights. After defeating Union 1-0 at home on Jan. 12, Morris sat just two wins away from 300. However, The Clarkson faithful had to wait a painful three weeks to see it finally happen on the road at Princeton.
"I wasn't sure if it was ever going to happen, the way that the month of January had been going," said the 14-year coach. "The month of January wasn't too kind to us. We had some great efforts, but we didn't have too much consistency. I'm relieved to have it behind us. I'm more interested in having a real strong stretch in the next couple of weeks to have a legitimate shot at winning the ECAC."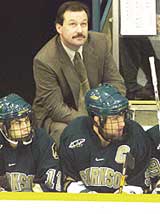 A native of nearby Massena, Morris grew up around Clarkson hockey. As a youth, Morris honed his skills under the tutelage of former Clarkson players Stan Moore, Tom Hurley, and Duane LaShomb. His dream was to wear the Golden Knight sweater, but Morris was turned away from Clarkson as a player.
He went on to spend his college years at another ECAC school, Colgate. The 1981 graduate signed with the Los Angeles Kings, and after skating with the Dallas Blackhawks (CHL) and the New Haven Nighthawks (AHL), Morris retired from the professional circuit in 1984 and took his first coaching job as an assistant under the late Charlie Morrison at then-Division II Union.
After spending a year helping guide the Dutchmen to the ECAC Division II West championship and a third-place showing in the NCAA tournament, Morris joined up with Joe Marsh and St. Lawrence for three years as an assistant. While with the Saints, Morris was part of the 1988 squad that went all the way to the NCAA championship game and lost a heartbreaking contest to Lake Superior State.
"Mark is very passionate about the sport," said Marsh. "He brings a lot to the table for what it takes to be a top-level player."
Morris tried three times after graduating from Colgate to land a coaching job at Clarkson, and his persistence paid off when he was given the chance to lead the Golden Knights at the start of the 1988-89 season after Cap Raeder departed to coach with Rob Ftorek for the NHL's Los Angeles Kings.
In his first game behind the bench at Clarkson, Morris squared off against Elmira, coached then by Glenn Thomaris, a former Golden Knight player and assistant who had also been gunning for the top spot at Clarkson.
"I remember having a team that didn't know where I was coming from," said Morris. "I tried to inject some of my youthful exuberance into the team. I was real emotional on the bench, and one of my players told me to relax. My response was, 'Relax? We're losing to a Division III team!' It was a great learning experience, and a humbling experience at the same time."
Elmira beat Clarkson that night, but Morris picked up his first win against St. Cloud State in November of 1989. Picked to finish eighth overall in the ECAC, Morris and the Knights scratched out a 16-13-3 overall record and a fourth-place showing. Many considered finishing over .500 as a first-year head coach an accomplishment. Many more would find what Morris did over the next decade unbelievable.
The next year behind the bench, Morris recorded his first 20-win season, the first of 10 in a row. His third season was good for 29 victories, a single-season school record. Along with that came the ECAC regular-season championship and then the ECAC tournament championship. To top it all off, Morris and his Golden Knights found themselves at the NCAA Frozen Four.
"The '90-91 season is one of the highlights for me," said Morris. "Winning the ECAC for the first time in 25 years … watching Billy O'Flaherty weep with joy as we hoisted the trophy.
"I think the emotion and the exuberance was overwhelming at the time for all the people that had experienced the jinx of the Boston Garden. Not only did we knock off Harvard, but we also knocked off Wisconsin in our own building. We finished our last season at Walker Arena undefeated at 18-0-1, and then followed that up by beating the number-one team in the nation in Lake Superior State in their building.
"That was quite a season by a team that had more talent than we realized at the time. It was by far the deepest and most competitive team that I've ever had the pleasure of coaching. My two assistants, George Roll and Greg Drechsel, they helped me assemble that team."
During the '90s, Clarkson never finished lower than third in the ECAC. Morris' teams went to the ECAC tournament every year and won three titles, including 1993, the first time the championship was held in Lake Placid. Twice the Golden Knights brought home the regular-season and tourney championships (1991, 1999), and Clarkson found itself at the top of the regular-season standings in 1995 and 1997 as well. Simultaneously, Morris' bunch made it to the NCAA tournament a total of nine times.
Marsh, who also attained 300 wins recently, reflected on the benchmark: "I think what goes through your mind when you get to that point is you think about the people that were a big part of that. I know I went back and thought about the guys that got me there, and I'm sure he did as well. You look back and you know you had good players that accomplished something while they were there."
"It's a little overwhelming to think that I've been here that long. I'm just proud of the fact that we've consistently performed well at a high level."
— Mark Morris, on his 14-year Clarkson coaching career
For Morris, some of those were Craig Conroy, Jarmo Kekalainen, Marko Tuomainen, Mike Casselman, Steve Dubinsky, Scott Thomas, Todd Marchant, Adam Wiesel, Todd White, Chris Clark, Willie Mitchell and Erik Cole, all of whom have seen action in the NHL.
In 1999, Morris was inducted into the Athletics Hall of Fame — not at Clarkson, but at rival St. Lawrence, along with all the members of the 1988 Saints who made it to the NCAA championship game.
Another milestone for Morris came early on in the 1999-2000 season, as he surpassed Len Ceglarski when the Golden Knights beat UMass-Lowell 6-4 at home. Ceglarski had accumulated 254 wins through 14 seasons. Morris made it to 255 at the beginning of his 12th.
Although the 1999-2000 season was only the second time Morris' team didn't win 20, the following season saw the Golden Knights bounce back with the ECAC regular-season championship, the fifth of Morris's career. This season, Clarkson recorded its 100th victory over a single opponent for the first time ever, when it beat St. Lawrence 7-6 in a thrilling overtime contest back in November.
"It's a little overwhelming to think that I've been here that long. I'm just proud of the fact that we've consistently performed well at a high level," Morris said. "We've had a number of great players and a great supporting cast. It's important we have the university behind us, knowing what it takes to succeed consistently."
"You look at their record — it's very tough to succeed on a regular basis," said Marsh. "He is one of the top coaches in winning percentage, and that's impressive. There is such a strong tradition there, and Mark has carried it on. We always talk about 20 wins as being a high-water mark, and they've averaged over 20 wins. It's really an amazing accomplishment, and he's done a tremendous job."
Through 13 seasons with Clarkson, Morris has put up a .663 win percentage, tops in the ECAC. Morris has won a total of 32 ECAC playoff games, the most of any active coach. And with all the success that the 43-year-old Morris has had on the ice, he has made time for his family both in and out of the Clarkson program. His father, Dick, can be seen around his office every day, while his mother, Ruth, along with his wife, Cecily, and four children are regular attendees at practices and games.
"My uncle once told me, 'What you give away in life you keep, and what you hang onto you lose.' I think it's very profound, and it's something I tell my guys. My message is: Give all you can give, and the rewards benefit your teammates and the program as a whole. What's more rewarding than giving your best to those you care deeply about?
"That's the ultimate gift."
Morris continues to gift his players with that wisdom. And Clarkson fans continually have something to cheer about.