A season-ending injury just minutes into the 1999-2000 campaign had doctors fearing that it might be career-ending for RIT defenseman Jerry Galway.

Just a few weeks earlier, the junior had been named co-captain of the Tigers by first-year head coach Wayne Wilson. In a rebuilding year, Wilson was counting on the two-time All-American's skill and leadership.
But early in the first period of the opening exhibition game against Seneca, Galway delivered a check along the boards in the RIT zone and crumpled to the ice.
Surgeons at Strong Memorial Hospital were aghast at what X-rays showed: the ball end of Galway's humerus bone had shattered his right shoulder socket into four pieces. At first, the doctors were unsure whether he'd be able to risk sustaining a hit if he played hockey again.
"The doctors had never seen anything like that before, especially as a sports injury, so they really weren't sure what they were going to do," recalled Galway. "As a player, you just hate to think of that one injury that can end your career."
Hours in the operating room, followed by ten days in the hospital, were just the beginning of nearly a year of rehabilitation. The fear that Galway might never play college hockey again was soon replaced by the determination and confidence that he would.
---
Before he made the decision to attend RIT, Galway had been leaning toward a Division I college career at St. Cloud State.
"I never planned on coming here in the beginning. I was always wanted to go farther away [from Missisauga, Ont.] than Rochester," said Galway.
Former RIT coach Eric Hoffberg had been scouting Galway while he played juniors for the Aurora Tigers. A recruiting trip to campus for the biggest game of the year sealed the deal.
"I came to see the Elmira game. When I came here the first time, I thought, 'This is unreal. This is the kind of atmosphere I want to play in.'" Galway added, "Ultimately, I thought that RIT would be the better fit for me as a person, as a player, and for my family."
At RIT, Galway joined a veteran defensive squad, but quickly showed his offensive prowess, leading the Tigers in scoring by defensemen in his rookie season, tallying nine goals and 16 assists. He also led the team's blueliners in both scoring, with 11 goals and 21 assists, and plus/minus — a whopping plus-45 — during his sophomore season, and was named a first-team All-American.
After a pair of embarrassingly lopsided losses in the 1999 Division III Frozen Four, the departure of Hoffberg after ten seasons, and with eight rookies and three new goalies on a young squad, Galway's experience was to have been crucial for Wilson in his rookie season as a head coach.
But the Tigers would have to face the year without their co-captain and top defenseman, and Galway prepared to face a year off the ice.
---
After a few weeks with his shoulder immobilized, Galway was able to begin physical therapy.
"For six months, I went to a sports medicine clinic once or twice a week for checkups. I did my rehab on my own and with the training staff at RIT," said Galway.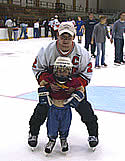 For the first four months, he wasn't allowed on the ice. "After that [the doctor] cleared me to skate, to pretty much just skate around to get in shape. No shooting pucks, obviously."
After the six months were up, doctors were amazed at how well Galway had healed, and assured him that he wouldn't have any problems taking hits.
"I came back with high hopes and aspirations, so I was pretty excited about the year ahead after that."
While acknowledging it must have been difficult for him to be around the team and the arena, Wilson appreciated the support Galway showed his teammates during that redshirt season.
"He would say things to guys, and they would listen. When you're not in the lineup, not a lot of people really want to pay attention to you," said Wilson. "But he just kinda had that aura about him that commanded respect and exemplified leadership."
With Galway out of the lineup, the Tigers kept their NCAA string alive, but were blown out by Norwich in the quarterfinals.
The year of rehabilitation paid off, and Galway was ready again to wear the "C" for the Tigers. Wayne Wilson joked that "I'll look like the smartest coach in Division III — I've recruited an All-American."
Galway was stronger than ever and put together another All-American year, scoring 13 goals and adding 48 assists while leading the Tigers to an undefeated regular season. He was the top-scoring defenseman in Division III, with an average of 1.93 points per game.
The Tigers earned the top seed in the east and hosted the 2001 D-III frozen four. After losing in the quarterfinals in his first season, and dropping the semifinal game the following year, RIT lost in the finals to Plattsburgh on home ice. The Tigers' story-book season had an unhappy ending, but it left Galway hungrier than ever for a national championship.
"I was thinking about that the other day as I was going through my career, kind of reflecting personally," said Galway. "So right now, I've been through every stage, now the final step is to win the whole thing. It's something I've dreamed of for four or five years being here. It's something I really can't explain right now; I can probably only tell you about it if it happens."
RIT will count on Galway both on and off the ice in that quest. Soft-spoken and unfailingly polite, Galway is a quiet leader, said his coach.
"It just seems like he'll say two or three sentences that people listen to. There's other guys that talk, talk, talk, all day and no one listens to," said Wilson, with a bit of a grin.
"Jerry's respectful of his opponents; he's respectful of his teammates. He demands a lot from his teammates in a very positive manner. It's not a personal attack when someone's not pulling their weight. He just seems to know how to tell them the right thing."
Last Saturday, the Tigers demonstrated that Galway is a man they listen to. With their hopes for a seventh-consecutive NCAA berth hanging in the balance, RIT trailed Elmira 3-1 after two. Galway rallied the troops with a locker room speech that lit a fire under the Tigers in front of a standing-room crowd. Teammate Sam Hill scored with just two seconds left for a stunning come-from-behind, 4-3 win.
For Galway, that gut-check win was the biggest victory so far in another All-American caliber campaign. In 22 games this season, he has 13 goals and 31 assists. That two-point-per-game clip tied Galway for second in the NCAA, behind teammate Mike Bournazakis, who has averaged 2.5 points per game. Quarterbacking the potent RIT power-play unit, which is clicking at 42 percent, Galway has seven goals on the man advantage.
Galway has also shattered the career scoring record by a defenseman at RIT, eclipsing the mark set by John Hawkins, a teammate of Niagara coach Dave Burkholder and UMass Lowell coach Blaise McDonald. Galway's 164 career points places him 15th all-time at RIT.
That mark passed with little fanfare. "It came as kind of surprise to me," said Galway. "It's great to leave those footprints on a program, but it would never have happened without the great teams that I played on."
Despite his scoring touch, Galway has played most of his hockey career as a defenseman. Over the years, coaches would try to move him to forward because of his size and ability to score. At a generous 5-9, 185, Galway is a bit small, but deceptively strong, as a defenseman.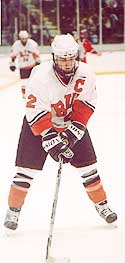 "Things just always worked out that I would move back on defense," said Galway. "I wanted to do something that would help me stand out from a normal defenseman because I was so small, so that people would notice me doing something different, so that's where the offense came into play. Once you get a couple of goals, you get that itch."
Even so, Galway is also solid back on defense.
"How you want to play the game is how he plays it," said Wilson. "If you're an offensive defenseman, you want to watch him defensively. If you're a defensive defenseman, you want to see what Jerry does offensively."
Wilson, himself a defenseman and captain of Bowling Green's 1984 championship team, says Galway is by far "the best player I've seen" in three years as a Division III coach.
While you'd expect Galway's coach to sing his praises, he hasn't gone unnoticed by others.
Tim Ceglarski, first-year head coach at Elmira, saw Galway's previous seasons while an assistant coach. Before Saturday's game, he told the Elmira Star-Gazette, "Galway is the best player at Division III."
Manhattanville coach Keith Levinthal has seen Galway play against the Valiants five times in the last two seasons. After a 4-2 loss at RIT in January in which Galway blasted a power-play goal — the eventual game-winner — from up high, Levinthal told USCHO.com, "Anyone who doesn't vote Jerry Galway player of the year is [an] idiot."
Galway takes comments supporting him for that recognition in stride.
"I would be honored to have that happen to me, but ultimately it's the team goals I have in mind right now."
Wilson noted that for coaches to recognize a player as an All-American, or to consider a player as the leading candidate for player of the year after seeing a player perhaps once, is a testament to Galway's consistency.
"I see him every game, so I know what he can do," said Wilson. "To get votes for All-American, you've got to make an impact right off the get-go because there are players in coaches' leagues that they may like more because they see them more.
"If you're voted All-American, that's pretty special. You've got to perform on a very consistent basis on a very high level. And Jerry has."
Looking back, Galway is emphatic that his choice to play for RIT was the right one.
"It's been everything I thought it would be. You couldn't ask for better fans. They're real people. They care a lot about the program. They care a lot about the players. They're always behind you — the adults and the kids. They're always there to talk to you. Their enthusiasm alone — you can't take away from this place."
Galway also takes with him an education; he'll graduate from RIT this year with a degree in hotel management.
"In ten years, I can look back with pride at what I did here, and that I'm an RIT alum," said Galway.
But Galway isn't looking too far ahead yet.
With no more than six games left in his college career — and as few as one — he has just a single objective: winning RIT's first NCAA hockey championship since 1985.
"I've had a great ride here," said Galway, "but I'm not ready to end it now."