One year ago, Minnesota-Duluth forward Judd Medak was not in a very enviable position.
A shoulder injury forced him to sit out most of the last quarter of the 2000-01 season, a season which saw his team finish with a 7-28-4 overall record and in the basement of the Western Collegiate Hockey Association.
Yet Medak returned for the end of the season, skating in a 3-2 upset victory over North Dakota in the first game of a WCHA playoff series the Fighting Sioux would eventually win, two games to one. He also shared UMD's Most Inspirational Player Award.
More honors can be expected to be presented to the senior this season. Through 36 games, Medak leads his team in scoring with 48 points (15 goals, 33 assists). That total is also good enough to be put him in a tie as the fifth-leading point producer in the nation. On top of that, his assist numbers rank third in the country.
He's been our best player from the beginning of the year. … [He's] our most consistent guy, he gets a ton of ice time; he plays against everybody's top line, he relishes in that.
— UMD head coach Scott Sandelin, on Judd Medak
It's by far the best offensive season the Bulldog captain has enjoyed in his collegiate career. In fact, its more points than Medak compiled in his three previous seasons combined.
To expect Medak to flirt with notching 50 points in his final season would have been equal to expecting seagulls to nest in Duluth in February.
Well, the seagulls haven't flown north yet, but the winter has been much warmer than usual. And Medak does have two regular-season games left to hit the 50-point mark.
And most importantly, it's led to improved results for his team. Minnesota-Duluth already has six more wins than last season (13-20-3), and three more in the WCHA (6-17-3) — good enough to ensure that it won't finish in the conference basement.
Bulldog head coach Scott Sandelin says Medak can be given a lot of credit for the team's turnaround.
"He's been our best player from the beginning of the year," said Sandelin. "[He's] our most consistent guy, he gets a ton of ice time; he plays against everybody's top line, he relishes in that."
What does it take to double one's offensive production in one season? Medak says part of it can be attributed to his determination to set an example as the team's captain.
Sandelin says he told Medak to just go out and play, and the Vancouver, B.C., native has done that and much more.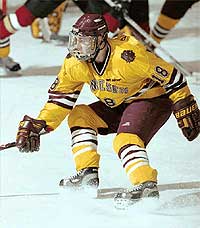 "As a captain, you have to go out and perform and lead by example," said Medak.
"It was kind of a goal of mine to be in that position. It drives me and it motivates me because that's the type of person I am. I know from when I was a young guy, you always look up to the older guys and the guy with the letter on his jersey. That definitely does motivate me, and it makes me want to be a better player and just lead by example for the younger guys."
Combine that motivation with a good offseason workout program (which helped him to win a share of the team's preseason Ironman competition), and added maturity, and you begin to get the picture.
You could even add that shoulder injury to the list of reasons for the improvement.
"That was kind of the first major injury I've had in my career, [and] it kind of opened my eyes," said Medak.
"I guess I just had a lot of work to do over the summer getting back being close to 100 percent. It drives you and it motivates you. It wasn't fun 'cause it was the first time I sat in the stands and watched."
His coach also sees the injury adding to Medak's drive.
"He was just starting to play, I think he was kind of just starting to come into his own. I think for him, he came back with a strong motivation to have a successful year, individually and more importantly team-wise, and certainly he's gone out there and done that."
Sandelin says there's also been a sharpening of key offensive skills.
"He's not a guy that's going to go out there and maybe wow you with his speed," said Sandelin, a former North Dakota captain. "But he's improved in so many little areas: Puck skills, I think he's gotten quicker, very good puck protection along the wall and making plays.
"Part of that comes from experience and confidence, and certainly his offseason strength, and part of it is just that will, that motivation to be that guy that has to set an example."
At the same time, Medak has not altered a defensive style that he established during his first three years. The education major has continued to take opposing players to school with his on-ice physicality.
Take for example January 26, when Medak placed his body in front of Alaska-Anchorage speedster Steve Cygan in the last minute of a game UMD was leading 3-2. Cygan scooted the puck up the left-wing boards until he ran into Medak and was leveled like a freight train hitting a brick wall. That check helped ensure a Bulldog victory and the team's first home WCHA sweep in four years.
"I try to take care of my own zone first. I try to play physical and I try to do all those little things first," said Medak. "Then the points and the goals and all the other stuff just take care of themselves."
On offense, Medak has been a model of consistency. He scored UMD's first goal of the season in an upset win over Nebraska-Omaha and finished October with 12 points. He followed that with nine points in November, seven in December, eight in January and eight in February going into the March 2-3 series with North Dakota.
And its not like he limits himself to one part of the ice to score goals. Medak has stretched the twine by jumping on rebounds in front of the net, deflecting point shots, shooting from the point and on breakaways. Add to that his game-winning goal February 1 against Minnesota, when he pounced on a rebound and his momentum sent him crashing into the net behind the puck.
Sandelin says Medak's play is symbolic of how he wants everyone on his team to perform, and he sees much of it duplicated in his primary linemates, senior Tom Nelson and sophomore Junior Lessard.
Lessard has also seen a dramatic jump in his point totals. After registering just 12 points during his freshman campaign, Lessard is the Bulldogs' leading goal-scorer with 16, and will be counted on, among others, to lead UMD once Medak and the rest of the senior class move on.
Lessard says he's constantly trying to apply some of Medak's strengths into his own style.
"His strongest side is probably to work out in the corner and get out of the corner with the puck, and that's what I have to work on," said Lessard, who's also Medak's roommate this season.
While this is Medak's final season wearing the Bulldog maroon and gold, he hopes to see his senior year, the year he wore the "C," as instrumental in leading UMD back to respectability.
"I kind of wanted to have a part in turning this program back in the right direction," said Medak. "It's nice, obviously, to win games and have a smile on your face, but I feel fortunate that I'm in that position for the younger guys that they can start a tradition of their own here."