Fans at the New Hampshire-Maine semifinal today helped set an NCAA record.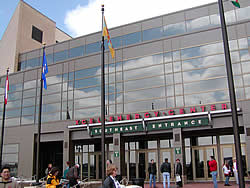 The 19,214 in attendance were part of the largest single-game Frozen Four and NCAA tournament crowd ever, the largest for a hockey game in Minnesota, and the largest for any event in the Xcel Energy Center.
The record should last, say, until about 6:30 local time, when the Gophers and Michigan take the ice in the day's other semifinal.
The Xcel Energy Center, built for the NHL Minnesota Wild, seats 18,600, and is the most luxurious venue ever for the Frozen Four. The arena is dominated by a video scoreboard, which provides fans even in the sharply-inclined nosebleed seats an up-close view of the action.
College hockey fans are impressed with the amenities and atmosphere in St. Paul.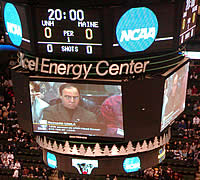 "In Anaheim, there was nothing to do," said North Dakota alumnus Glenn Leier of Portland, Ore., taking in his fourth Frozen Four. "Providence had more things going on. In Albany, we just hung out in a bar. This one has the most stuff to do."
Leier was impressed with the view from his seats in the arena's upper level. "Good sight lines — but it's steep."
Even though the venues change from year to year, Leier says it's the off-ice activities and the community that make each year unique.
"Everyone's here every year for the game — it's the stuff between games that's different."
Scott Goodew, who lives about an hour away in Owatonna, Minn, is attending his second Frozen Four. His last was the last in St. Paul, in 1994.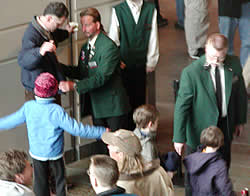 "I love it; it's great," said Goodew, who, like Leier, was among many fans taking part in the games and interactive displays at the NCAA Frozen Fest, held in the adjacent Touchstone Energy Place.
Goodew, a die-hard Gophers fan, is proud of the new arena.
"It means so much — the newness. It's cool."
Fans aren't the only ones wowed by the facilities. Michigan coach Red Berenson, said the Xcel "is a headspinner for the coach, let alone the players. I told some of our kids, I was here when the Met Center was built and when it was demolished, and that some of them will probably have the same experience."
For the next couple of days, though, the only things to be demolished are attendance records. And maybe one or two on the ice.