At the beginning of last season, when Minnesota head coach Don Lucia considered bringing in the first non-Minnesotan since 1986, he knew what he was looking for.
"We didn't want the first non-Minnesotan to have character flaws," Lucia said.
Instead, Lucia and his staff were looking for a "character kid" that would bring a strong work element and physical presence up front.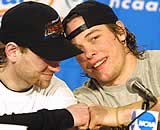 North Dakota native Grant Potulny fit the bill, and delivered for his adopted state its first NCAA championship in 23 years. His power-play goal at 16:58 of overtime to defeat Maine 4-3 gave Minnesota its first title since 1979 and erased memories of the overtime loss to Harvard in the title game in St. Paul in 1989.
"I think he was brought in more for his character than anything else," said Lucia "We thought he was the perfect guy for the type of person that he was."
Realizing the pressure that this player would be under, he had to be special, as well as one that wouldn't have huge expectations placed on him. "He was the player that we needed, not a mister superstar with a reputation," Lucia said.
"He's a quality kid, extremely hard working. We thought it would be a perfect fit. We are always on our forwards to finish checks and muck and grind a little bit, and he's that type of player and that's why he scores the kind of goals he scores."
Most of Potulny's goals aren't pretty, but come in critical situations. He scored a pair of goals yesterday in Minnesota's 3-2 semifinal win over Michigan, and tallied the game winner Saturday, all with lunchpail in hand.
For his three-goal performance, including both game winners this weekend, Potulny was an easy choice for Most Outstanding Player of the tournament.
"Most of the goals I score are the same," he said. "Tips, goals scored from in-close or on rebounds."
The national championship winner was no different.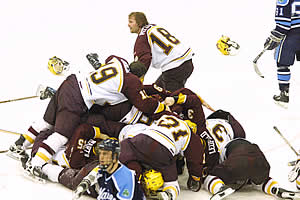 On the power play, Jordan Leopold's shot from the point deflected off of Johnny Pohl, and landed on Potulny's stick as he jostled for position in front of the Maine net.
"I don't even know how the puck got to where it did," he said. " I just saw the puck in front of me and I just swatted at it. I went between [Matt Yeats'] legs."
It was an ironic ending that went a long way in ending a controversy that had existed for several years at Minnesota: the first "foreign" player in 16 years delivers the biggest goal in the past 23.
"After he scored a couple of goals last night, I don't think many people cared that he's not from Minnesota, " said Lucia. "And I don't there's too many people that care that he's not from Minnesota today."
For Potulny, it was an easy decision to come to Minnesota.
"When I came on my visit here, coach Hill told me about how the Final Four was in St. Paul, and how he thought that this team, the guys they had and they guys that were coming in had a chance to go back there," he said.
And things obviously worked out for the best. Minnesota has a new adopted son.
"From day one here I've been a Gopher," Potulny said. "I've got an 'M' tattooed on my chest and I'll be a Gopher for the rest of my life."