If you have a grandson who is very dear to you and he's an athlete, there are few thrills greater than watching him compete for a national championship.
So when Chris Heisten's grandfather settled into his seat at the Xcel Energy Center to watch Maine take on top-seeded New Hampshire on Thursday, it was with a great sense of anticipation. He'd traveled from Seattle, Washington, for this opportunity, joining the rest of the family that had made the trek from Anchorage, Alaska.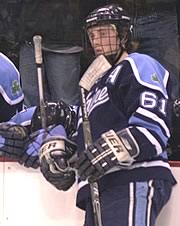 In a flash, however, it became clear that something was wrong. Very wrong. Other relatives of Maine players saw that he was suddenly as white as the proverbial ghost. Soon he was being led out of the building and rushed to the hospital.
Instead of watching his grandson fight for a national championship, the grandfather was fighting for his life. He'd suffered an aneurysm in a major vessel near his heart. With it leaking blood, he passed out. He underwent immediate, life-threatening surgery.
The dream week at the Frozen Four had turned into a nightmare.
"He's [like] my father," said Chris Heisten. "It was devastating. We weren't really able to celebrate our win over UNH. They told me after the game, so I rushed right to the hospital."
Fortunately, the surgery was successful. Even so, it didn't take away the sting of missing Maine's win over UNH.
The first question the grandfather asked when he awoke from the surgery was, "Who won?"
The initial answer was that Minnesota had defeated Michigan, missing the point that he didn't know who'd won the Maine-UNH clash. After the intended question was answered, he had one more.
"Can I make it to the Saturday game?" he asked.
The answer was an unequivocal no.
Chris Heisten awoke the next morning early, unable to sleep, and went back to his grandfather's side.
The elder Heisten rebounded quickly, moving from intensive care into the general patient population. However, attendance at the championship game was still out of the question.
Now it was left for the younger Heisten to complete a storybook ending by winning the title. He almost pulled it off.
With 58.3 seconds remaining in regulation, the Black Bears led, 3-2. Minnesota, however, had gained a faceoff in the Black Bear end and pulled goaltender Adam Hauser for an extra skater. Within five seconds, the Golden Gophers tied the game, sending it into overtime where they would eventually win on a power-play goal.
Chris Heisten's quest had fallen 53 seconds short.
"He's everything to me, so this is tough," said the crestfallen Black Bear. "I really wanted to pull this one through for him."
Interim head coach Tim Whitehead tried to put the bitter defeat in perspective.
"Obviously, this was a very tough loss for us," he said. "We were 55 seconds away from winning it, but as we've learned very well this year, life doesn't end up in the storybook ending all the time that you'd like it to."