There are plenty of unwritten rules in sports.
You don't bunt in baseball to break up a no-hitter. You don't walk across a player's putting line in golf. You don't hoist a three-pointer in basketball with a 20-point lead in the final minutes. Football teams know that there's no need for a Hail Mary instead of taking a knee in the closing seconds.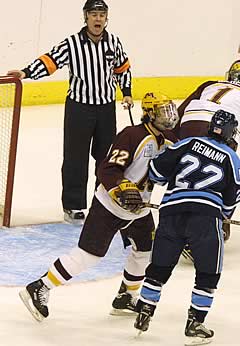 And in hockey, you don't call a penalty in overtime unless said infraction takes away a clear scoring chance.
In Saturday's NCAA championship game between Minnesota and Maine, referee Steve Piotrowski violated that rule, whistling Maine's Michael Schutte for tripping on a center-ice play and setting up a Golden Gopher power play that netted the game-winning goal.
As Minnesota's Matt Koalska skated the puck through the neutral zone, he locked legs with Schutte, leading Piotrowski to raise his arm, and the Black Bear bench and Maine's faithful to rise in disgust.
"You don't blame the game on the ref," said Maine captain Peter Metcalf, "but he gave all the chances in the world for them to win."
Now let's get one thing straight — without any doubt, what Schutte did was a penalty. Schutte clearly stuck out his leg to slow down Koalska.
But about eight minutes earlier, Minnesota goaltender Adam Hauser tripped up Maine's Robert Liscak as he skated past the Gopher goal after a loose puck. That play was in the offensive zone and not called, which led most of the 19,324 fans in attendance, along with the players and coaches, to believe that Piotrowski's whistle was in his pocket.
"It was borderline," said Metcalf. "On [Liscak] it was the same kind of play. The call at center ice was definitely borderline."
Needless to say, Maine-iacs all over will not be happy with Piotrowski. But then, one recalls that many in Maine already disliked him.

Rewind the tape to the last game of last season. Boston College defeated Maine, 3-1, on March 24, 2001, in the East Regional final. The Eagles took a 3-1 lead after Maine was assessed back-to-back penalties late in the third period.
When the five-on-three power-play goal went in the net, Black Bear head coach Shawn Walsh jumped up on the dasher and screamed bloody murder at the ref — none other than Piotrowski. Walsh was then assessed a bench minor. If you thought he had gone crazy at that point, well, he really lost it.
The rarest of rares followed. Walsh was ejected from the game. The most legendary coach in Maine history finished his career and his hockey life in a locker room.
Time might have healed that wound for many of the Black Bear faithful. Saturday night, at least for some, reopened it.
"The guy has it out for us," said Metcalf. "Isn't that the guy who threw coach Walsh out last season? I think someone should have taken note of that and not put him on this game. It was a bad play by the NCAA. Someone just didn't do their homework."
Metcalf's words were strong, and saying that any ref could "have it out" for a team is likely stepping over a line. Saturday night, though, one might be able to understand why Maine could have thought so.
Early in the game, Maine was assessed the first three penalties, and had sent four men to the box in the first 17 minutes. One of those calls was borderline enough that when Piotrowski put his arm up, Maine goaltender Matt Yeats mistakenly headed to the bench, along with Minnesota's Hauser.
All in all, the Minnesota faithful have plenty to celebrate, but the hearts in Maine may take a little while to heal — especially for players like Metcalf who don't have another game with which to salve the wound.