In a span of two days, New Hampshire captain Darren Haydar went from leading the number-one team in the nation and being praised as a Hobey Baker favorite to watching college hockey from the sideline while Jordan Leopold of Minnesota took home the statue of the Princeton legend.
By any standard that would make for a tough weekend, but don't tell Haydar that.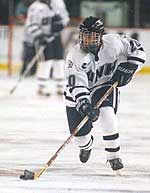 "I'm not disappointed at all about losing the Hobey," Haydar said. "Jordan deserved it. As for Maine, we knew that in a one-game series anything could happen. We didn't get the bounces and Maine played well."
Haydar stood at the Hobey Baker presentation on Friday, shaven of his playoff beard and with a smile on his face, a man graceful in defeat and confident of a bright future in professional hockey with the Nashville Predators.
Though he maintained a cool composure, his manner still belied a player whose career went a little unfulfilled. New Hampshire has never won the national championshipm and in Haydar's freshman year, Maine defeated the Wildcats, 3-2 in overtime in the NCAA final.
After UNH advanced to the Frozen Four this year, Haydar clearly hadn't forgotten that loss.
"I'm going to make sure every person on the team understands what happened to us in 1999," he said after the Wildcats beat Cornell, 4-3 in the Eastern Regional. "And I'm going to make sure everyone works hard so that it doesn't happen again."
There was no repeat of 1999 on Thursday in St. Paul. As UNH coach Dick Umile said, "This was much worse." The Black Bears rattled off four third-period goals to rout the favorite, 7-2.
Haydar, the nation's leading scorer, did not have a point in the game and the Wildcats still didn't have their first title.
"I certainly didn't like losing to Maine twice," he said. "You have to give credit to Maine and what type of team they have. But that doesn't take away anything that we have accomplished this year, or anything I accomplished over my career. I don't regret anything."

Certainly, the accomplishments of Haydar are prodigious. He scored 31 goals and added 45 assists to lead the country with 76 points. He was named Hockey East Player of the Year, a First-Team All-American, finished his career 17th all-time on the Hockey East scoring charts and had 219 points overall.
"I've been fortunate to coach him for four years," Umile said. "He started making a name for himself playing with guys like Jason Krog. He's made a lot of players better over his career. He's been an ambassador for this hockey program."
While UNH must find a new diplomat next year, Haydar has to decide what is next. He brought several of his closest friends and family to St. Paul to witness a crowning moment for his collegiate career. Those moments never came. And while Maine gets to play for what could have been his national title, he is left pondering his future.
"I regret making them spend all that money in plane fare and hotel costs," he quipped.
Haydar is certain of a few things. First, he will finish the semester and graduate. A business administration major with a marketing focus, he will walk with his class and get his degree. Since he was drafted by the Predators, there is no pressure from above to leave school; Nashville will not qualify for the playoffs.
"I am going to finish my degree and take the summer off to rest and get in better shape from all the little injuries that accumulated through the year," he said.
After that, there is no doubt that Haydar will make a run at the NHL. He has spent previous summers at the Predator rookie camps to better acclimate himself to the professional environment. In order to round himself out as a hockey player, he also crossed the big pond to Europe to add to his repertoire and learn from the different style of hockey played there.
He does face questions as to his long-term prospects. At just 5-9 and 170 pounds, he is a little on the small side to thrive in the NHL. Haydar expects his work ethic to surpass any physical obstacles.
"I've always been a guy that comes out every night to play," he said. "I have tried to be a leader on and off the ice and be a role model for the kids on the team."
Despite coming up short in the NCAAs again, if the state of New Hampshire hockey is any reflection on Haydar's ability as a player and a leader, than he should have no trouble making the big adjustment. He knows his limitations and he knows what it takes to be effective. And he is just as positive on the Wildcats' prospects for next year as he is his own.
"We have a great team and there are 20 guys in that room that can step up for me," he said. "We have a hardworking group, a solid goalie and a solid defensive corps. The list goes on; we'll be fine."
He may not have left St. Paul with any of the cherished hardware, but Haydar will be fine as well.