New Hampshire senior defenseman and assistant captain Garrett Stafford has been ruled academically ineligible to play during the fall semester of the 2002-03 season by the school.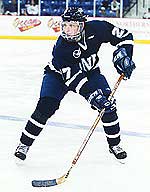 Stafford is considered one of the top returning defensemen in Division I and was named to the All-Hockey East Second Team last year, scoring five goals and adding 22 assists for 27 points in 36 games. He helped the Wildcats to the Hockey East regular season and tournament championships and a berth in the NCAA Frozen Four.
Stafford told Foster's Daily Democrat that over the summer, he took a communications course at UCLA near his home of Los Angeles, but did not get a high enough grade in order for the credits to be accepted by UNH.
"I basically had to pass a class this summer and I didn't pass it," Stafford told the paper. "That's really all there is to it, there's not much more to say. It's really disappointing. It's kind of unexpected. I didn't really know it was going to happen. Technically I did pass it, but I needed to get a 'C' to have the credits transferred. Obviously it's a huge letdown for me. I'll just have to take it like a man and move on."
The first game in which Stafford would be eligible to play would be in the Denver Cup just after Christmas. The Wildcats will play 15 regular season games and two exhibitions without the defenseman during the fall semester.
In 111 career games at UNH, Stafford has recorded 13 goals and 65 points.