Michigan, the reigning regular-season and conference tournament champions, received top billing from both the coaches and media, it was announced at the 2002-03 CCHA Media Day. The Wolverines collected 39 first-place votes in the media poll and eight in the coaches poll. Michigan State was picked second in balloting, joining Northern Michigan, Ohio State and Nebraska-Omaha among schools to receive first-place votes by the league's media members.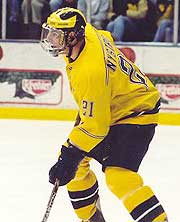 Michigan was picked first despite losing a pair of big-name underclassmen to the NHL this summer — forward Cammalleri and 2002 CCHA Best Defensive Defenseman Mike Komisarek. But the voting reflects the how many top players were lost to most of the nation's top teams — through either graduation or signings — this summer.
"This league as much as we all talk about the polls early in the year, I know I changed four times as to who I picked for first place and I decided finally to put the pressure on Rick Comley," said Michigan coach Red Berenson.
Michigan also lost good players last summer, but brought in a big freshman class that blossomed late in the season as the Wolverines reached the Frozen Four. This year, another strong class comes in. In addition, 18 players return, including sophomore forward and 2002 Calgary first-round NHL draft pick Eric Nystrom, All-CCHA second-team honoree John Shouneyia and fellow senior forward Jed Ortmeyer.
"We'll have a freshman goalie," said Berenson, needing a replacement for graduated Josh Blackburn. "Alvaro Montoya should be our starting goalie and he's a 17-year old."
Michigan State lost one of the top goalies in college hockey history, when Ryan Miller decided to forego his senior season to sign with the Buffalo Sabres. Miller won the 2001 Hobey Baker Award and hold the NCAA career record for shutouts. They also saw long-time head coach Ron Mason retire to become the school's athletic director, only to see former Nothern Michigan coach Rick Comley take over.
MSU's defense will remain a strong suit under the leadership of senior defensemen John-Michael Liles, 2002 CCHA Best Offensive Defenseman, and Brad Fast.
Northern Michigan was picked for third place, and received a first-place vote from their old coach, Comley. Walt Kyle, an NUM alum, assistant coach on the 1991 NCAA championship team, and former New York Rangers assistant, takes over the head coaching spot. The Wildcats return 19 letterwinners.
"Over the years, both as a player and coach, I have learned from Rick [Comley] and I can tell you that I don't plan on changing very much of what Rick did," said Kyle. "A lot of the things that I believe in are things that he taught me. I feel real fortunate to be able take over the program that he has left."
Ohio State, which accumulated three first-place votes by the media, returns a pair of first-round NHL draft picks in junior forwards R.J. Umberger and Dave Steckel.

Nebraska-Omaha will rely on the experience and leadership of senior forward David Brisson and All-CCHA second-team honorees senior defenseman Greg Zanon and junior goalie Dan Ellis.
"It's been an interesting summer for us in Omaha," said Mavericks head coach Mike Kemp. "We started off the summer with seven surgeries — four knees, three shoulders. We added two new assistant coaches to our staff, had two late summer medical diagnoses that took a couple of depth players out of our roster at least for the foreseeable future for up to three months and two days before school one of our returning defenseman came in and said that he was going to go to NHL camp and forego his final three years of eligibility. It's been kind of an up-and-down summer for us emotionally. I think we're all kind of anxious."
Alaska-Fairbanks, which made a strong run to the NCAAs last season only to fall tantalizingly short, was right behing in sixth in both polls.
"I can tell you that Fairbanks as a community is very excited," said UAF coach Guy Gadowsky. "I think that the success that we had last year and the fact that the CCHA is thought of so highly not only nationally but in Fairbanks, the CCHA is pretty much god. For the success that we had last year, the excitement is great and everybody is looking forward to a great season."
Another new coach takes over at Bowling Green, selected 11th in both polls. BGSU alum and former Boston College assistant Scott Paluch takes over for Buddy Powers.
"I'm really excited to be back in the CCHA. I feel as a player and now back as a coach, this conference night-in, and night-out is without a doubt is one of the tops in college hockey," Paluch said.
"We're getting a chance to know each other. The staff, the coaches and players are having a good month getting to understand what type of work ethic we demand on an everyday basis. We definitely need to make a statement here."
Lake Superior is in its second season under Frank Anzalone, who is in his second stint as Lakers head coach. They were picked last in both polls.
"We deserve to be there at the moment," said Anzalone. "What we are trying to do right now is slowly rebuild our program with young student-athletes that want to be a part of the process and who are not concerned with adversity, they are more concerned with what you have to say more than the way you have to say it."