There's a little more reason for hockey excitement at the University of Rhode Island's Kingston campus this fall. After over 30 years of men's club hockey — and two seasons of women's club hockey — the clubs will have the opportunity to play on campus this season for the first time in university history.
A 2,500-seat arena with NHL-size ice opened its doors this semester for the first time.
"It's really nice," URI Director of Athletics Ron Petro said. "We tried to make it an attractive building because it sits right out on [route] 138.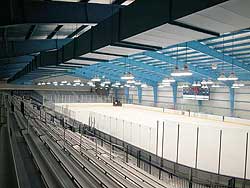 "It'll be named the Bradford Boss Building — he's a former ice hockey player, and he was president and CEO of Cross Pen. He's been a long-time good supporter, and his dream was to get the rink up."
Understandably, college hockey fans in Rhode Island have begun to ponder whether the Rams might move from club to varsity status in the foreseeable future. For now, though, Division I hockey falls into the category of "wait and see."
"During [the last academic] year, the president [of URI] asked for a survey, so I talked to people from Hockey East, the ECAC and the MAAC as to URI — if we were able to fund it — getting into a league," Petro said. "I made a recommendation to the president in April, but we've been hit with budget cuts as most people have been, so we've delayed any decision on that until we can get a better hold on how to finance a Division I hockey program for men and women, which we know would be way over a million dollars."
Prior to the budget cuts, Petro had recommended that URI attempt to gain Division I status.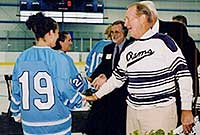 "We are the only state university in New England that doesn't support a team," acknowledged Petro. "That would be a goal of mine in the future, but it all comes down to funding."
Petro didn't want to comment on which league might be the best fit for the Rams. However, the MAAC would appear to be a reasonable target based on the smaller number of scholarships required as well as on the geographic proximity of potential competition and arena capacity.
"The interest is there; there's great excitement in the community and on campus, but the finances need to be determined before we can do anything else," said Petro.
Petro acknowledged that competing with other hockey teams in the area another cause for financial concern for a URI Division I bid. In addition to Providence College and Brown being nearby — and neither drawing incredibly well — the AHL's Providence Bruins are another alternative for hockey lovers in the Ocean State.
Over the summer, there also had been some speculation regarding whether the Naval Academy — a current club opponent for URI — might opt for Division I status as well. However, athletic director Chet Gladchuk — the former AD at Boston College — failed to return several calls on the topic over the summer. The Naval Academy would have no obvious geographical fit in terms of a Division I league — with the possible exception of the geographically scattered College Hockey America league — though the MAAC, because of Army's presence, has been mentioned as a possibility.