The Union Skating Dutchmen were in great shape as February started. They were sitting pretty for home ice for the ECAC playoffs and on — sort of — a roll. Five weekends later, the Dutchmen had broken hearts, one point shy of making the playoffs at all.
Part of the irony is that in the closeness that is the ECAC, the Dutchmen were still just four points from home ice. Hockey can be cruel.
"If you dwell on the negatives it can be very frustrating," said head coach Kevin Sneddon. "But we'll take the positives. We clearly closed the talent gap with a lot of the teams in our league and you saw an improvement last year.
"To close that gap (to home ice) is not going to be easy, but the guys realize how close they were to having some real nice success. It was disappointing and when we were done we probably didn't want to play hockey for awhile and we didn't want to coach for awhile, but when you take a step back sometimes, to gain a look at the big picture, we've taken a step for the program over the last couple of years."
The Dutchmen do return five of their top six scorers and have 20 sophomores and freshmen this year. With 10 sophomores who got a lot of playing time last season, the Dutchmen think they can parlay that experience into success.
"It's big that our sophomores are not just sophomores, but sophomores that have experience and contributed a lot last year," said Sneddon. "Any time that you have a group that excels as freshmen, there's no room for complacency. I'm going to demand a lot from them. I want them to take ownership of wherever we go this year."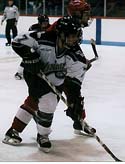 The Dutchmen are going to try to put more scoring on the board, led up front by the return of Kris Goodjohn, Nathan Gillies, Jordan Webb, Joel Beal and Marc Neron. Add in freshmen Jonathan Poirier, Brian Kominar, A.J. Palkovich and Scott Seney and the scoring could go up.
"I think we've got some guys in our senior class and sophomore class that will be counted on to contribute offensively," said Sneddon. "On paper we have some freshmen that did some great things on their previous teams, but I've never been a big fan of putting numerical pressure on freshmen. If it happens, it does. My biggest concern is to make them the best two-way hockey players possible."
The Dutchmen return eight defensemen and only lose one. Sneddon is counting on his veterans.
"Guys like Brent Booth, who is a rock back there, and guys like (Jason) Kean and (Randy) Dagenais who are so emotional and inspire the players around them. We'll count on them in particular," he said. "(Chris) DiStefano and (Matt) Vagvolgyi who gained valuable experience and I think they'll have big years as well."
Perhaps the most glaring loss for the Dutchmen is in goal. Four-year starter Brandon Snee has graduated; that leaves two freshmen, Tim Roth and Kris Mayotte, and a senior who sat out last season with an injury in Marc Wise.
"A lot of times when you have a successful goalie for many years people tend to dwell on it and ask, 'What are you going to do without him?'," said Sneddon. "But we're real confident with the three guys we have right now. We have a lot of enthusiasm with our two freshmen and Marc Wise is rehabbing his shoulder. He's hungry to get back in there. It's the first year we feel we really have heavy competition at the goaltending position."
Taking the next step for a young program is always tough, but the Dutchmen have the tools. If they do, they will finish higher than the coaches and the media have prognosticated.
"It's important for a young team to show up every day and commit to getting better," said Sneddon. "We really do feel that we can make some noise this year in the ECAC."