Many have waited with bated breath for the Big Green's big breakthrough.
Over the past four years, talk has been of the program's turnaround and head coach Bob Gaudet's recruiting prowess. But after finishing last season just over the .500 mark in league play and then losing to Rensselaer in the play-in game in Lake Placid, questions started to surface.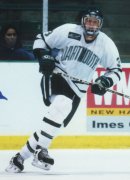 As the final buzzer sounded on the Big Green's 2001-02 season, some wondered about the immediate future of this team. A loaded senior class which included Mike Maturo and Jamie Herrington accounted for 51 of the team's 81 goals and a total of 134 points. After the Big Green lost seven forwards, one has to wonder who will find the back of the net this season.
"People may be picking us low because we graduated a good group of people, but we'll be able to defend, and if we can find a way to get after it, we'll be good," professed Gaudet, who will begin his fifth year behind the bench for the Big Green. "There are guys that might not have gotten the ice time, but they are ready to step up.
"They will become confident players. There are guys that are waiting in the wings."
Gaudet is talking about senior Kent Gillings, who has continually showed signs of potential with two straight 29-point seasons, and seniors Mike Murray and Chris Hontvet. Murray netted five goals and 13 assists last year on the Gillings line, while Hontvet collected four assists as a role player. Six newcomers will be expected to step into impact roles as they attempt to fill the deep holes left by graduation.
Less stress is sparked looking at the returning defensive corps. Arguably one of the best blueliners in the league, Trevor Byrne will be back for his senior campaign to anchor the Big Green defense. He will be joined on the ice by mainstay partner Pete Summerfelt. The two averaged nearly 30 minutes of ice time per game last season and were the top two defensive scorers on the team. While Byrne stole the spotlight by grabbing second-team All-ECAC accolades, Summerfelt clearly got the job done as well, posting 22 points, including seven goals.
To further help matters, Dartmouth returns its second- and third-line defensemen and also welcomes three new faces for depth.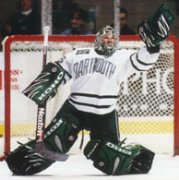 Who these defensemen will be protecting is another question. The future of once-heralded, always-unpredictable Nick Boucher is unclear. With 78 career games under his belt and a total of 2,037 saves, the senior has the most experience of any returning netminder. However, it is hard to overlook the struggles that hit Boucher last year and led to the emergence of junior Darren Gastrock.
"Boucher is closing in on a team record for wins. Gastrock and [sophomore Dan Yacey] are great goalies too, and we've got really good defensemen," said Gaudet. "Trevor Byrne is a legitimate All-American, Hobey Baker candidate and to have him back is awesome for us. St. Louis made a pitch, but he decided to come back and he's a real leader. Summerfelt is as good an all-around player as I've ever had."
For the first time in quite a while, the Big Green is fighting against predictions. No longer is Dartmouth expected to finish atop the league, so the coaching staff is hoping that the change in positioning will be the motivating factor that has been missing over the past few years.
"These guys have had success. They want the next step and they won't settle for anything less," said Gaudet. "There are no excuses; we expect this squad to make a run for it. We may be quite a bit quicker than we were last year and I know we can do better than (ninth)."