Judging from preseason media releases, the Catamounts are focusing on the future. There is no rehash of the past two seasons, nor an analysis of why the former ECAC regular-season champions won only three games last year. Instead, there is talk of a strong nonconference schedule, a solid returning crew and a promising group of freshmen ready to take this program to new levels.
The folks in Burlington have been stunned by the recent struggles of their beloved hockey team, hoping that Mike Gilligan's 19th year at the helm will prove to be one of unparalleled rebound.
"We haven't talked too much about last year," said Gilligan. "Things like that can happen. We haven't made a real point about that. We have so many new faces that there is no reason to remind the freshmen about that year. Having them around is like injecting new blood into our program."
In case you can't tell, the freshman class is a subject that gets Gilligan excited, and it's hard not be enthusiastic about a group of youngsters who arrive on campus with a unique energy. First-year players such as Baron Becker, Jeff Corey and Jamie Sifers will be looked upon to add some depth to the Catamount lineup. Even freshman goaltenders Travis Russell and Matt Hanson are expected to challenge senior Shawn Conschafter in net.
One thing is for sure, the coaching staff is looking for this year to be different … no matter how that gets done.
"It's tough coming off that type of year," explains Gilligan. "It was the longest year of my life, and it's about time we put it together. We are on verge of becoming a very good team."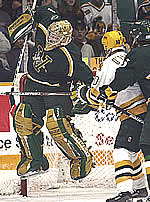 Conschafter, who finished his junior campaign with a 3.89 goals against average and a .892 save percentage, is the man to beat in net as the top guy most of last season. He will be anchored by a defensive crew that includes seven returning players. Newcomers Sifers and Cushing Academy standout Phil Youngclaus will play pivotal roles from the start.
On the offensive side of the ice, Vermont returns eight of its top 10 scorers. The leading point getter from last season — Jeff Miles — collected five goals and 18 assists, so Gilligan is looking for offensive production to come from others, perhaps even from his freshman class.
"Those kids will play," said Gilligan. "Jeff Corey is a Philadelphia boy who played in the U.S. junior league and who will be a strong player for us. Barren Becker played out in Cleveland in the North American league and is another guy who has great potential."
The road back to the top will be an arduous one for the Catamounts, no doubt. Whether this crew will right the ship in one year's time remains to be seen, but the Catamounts aren't shying away from the challenge as they will begin at home on October 5 against Northeastern.
"It's the earliest we have ever started," said Gilligan. "We made a deal with Northeastern to start this early. It will be homecoming for us and it's a short time to prepare, but we are a much different team — we're hoping that we are. We have a lot of energy. We have upgraded in all of our positions and we have more depth than we have had in years."