It was a tale of two seasons for the Rensselaer Engineers in 2001-2002. Towards the end of January, the Engineers were in last place in the ECAC, sparking questions about the state of the program. But at the end of the season, the Engineers had reached 20 wins, finished third in the ECAC tournament, and were overjoyed.
But now the Engineers have lost two All-Americans in Matt Murley and Marc Cavosie, who was also the ECAC Player of the Year. But Dan Fridgen and his squad can't be too concerned as to how to replace 47 goals and 96 points of the Engineers' 120 goals and 316 points last season.
"I think we really have to rely on each other," Fridgen said. "We have a good nucleus of players coming back. Some of those guys need to continue performing like they did in the past and some others need to step up, bring more to the table and challenge themselves to be better players.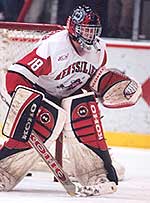 "[We've] got an influx of good freshmen that will bring a little bit of everything to the table. It's going to be real important as a team to gel and come together to make those freshmen feel comfortable so that they're able to contribute early. It's going to be a total team effort."
That begins with experience in the net, as Nathan Marsters and Kevin Kurk are back for their junior seasons.
"I think we're real solid in the nets, and that's probably a given," said Fridgen. "Anytime you build a team you start from the goal on out; at certain times at the cycle you have more experience in certain positions. Right now we've got a lot of experience in net and … that's a big plus for this team. Not to say that we're relying on them alone, but success is based on how well the guys play in the pipes for you."
The Engineers will have four returnees on defense in Danny Eberly, Scott Basiuk, Matt McNeely and Blake Pickett. Joining them on the backline will be Brad Farynuk, Keith McWilliams, Scott Romfo and Alexander Valentin.
"We're 50% back there — we have four incoming defensemen and four with experience, so there's a real good mix," said Fridgen.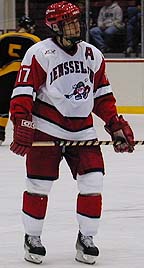 As for the offense, Fridgen again points to a combined effort. Leading the team up front will be Carson Butterwick (13-13-26), Nolan Graham (7-14-21) and Conrad Barnes (4-13-17). After that Ryan Shields, Ben Barr, Eric Cavosie, Nick Economakos, C.J. Hanafin, Vic Pereira and Mikael Hammarstrom will return. Competing for spots will be Greg Kemp, Kevin Croxton, Chris Hussey, Kirk McDonald and Mark Yurkewecz.
"I think that when you have good players come in, it's one thing to see them in juniors; then bringing them into the program, there's going to be some time to take to evaluate their weaknesses from a team perspective," said Fridgen. "We don't have players out there thinking that they should be doing one thing when they should be doing something else.
"Players come and go — that's part of the process — and with this team I'm looking forward to the season. I'm sure they'll find their niche.
"That's what you strive to do, to work on the skills and systems through practice that will help you guide the team."
The Engineers will not have the Murleys or Cavosies to go to this season, so how they play as a team will guide where they wind up.