The Golden Knights of Clarkson are where they usually are at the beginning of the season — among the league's best in the polls. This season the Knights are ranked third by both the coaches and the media. With 19 lettermen returning to a team that finished second last season, at full health and strength, the Knights will once again contend.
"Expectations for Clarkson hockey are always high," said head coach Mark Morris. "Two of the last three years, we have run into some unforeseen obstacles that have been extremely challenging for the program. We felt last year was not one of our best, mainly due to injuries and lack of discipline."
Clarkson lost 45 man-games to injuries last season and led the league with 663 penalty minutes. But this Clarkson team knows what not to do, and it starts at the top.
"We feel as though we've got great leadership and that's a tremendous start to our season," said Morris. "Our captains (Kevin O'Flaherty and Dave Reid) have done an outstanding job in getting our guys headed in the right direction. They have great communication skills and I think they're very focused."
The focus will begin in goal, where Mike Walsh returns after a season with a 2.39 GAA and a .911 save percentage.
He'll be fronted by a defense that returns five, but loses Kerry Ellis-Toddington and Ian Manzano. Reid and assistant captain Chris Bahen return, along with Mike Nagai, Ken Scuderi, and ECAC All-Rookie pick Randy Jones. They will be joined by newcomers Chris Brekelmans and Dale Good, and perhaps a defenseman returning to the ranks.
"Mike Walsh, he's the top candidate in goal," said Morris. "Two years ago he was stellar and last year he was great. I think his experience will be a big key, and he's got some competition behind him. On defense, we've got a few guys that have some creativity that can help our forwards score and jump into the rush a little more.
"We've added a couple of guys on defense; it's nice to have the ability to move Joe Carosa back to defense. He's played some forward for us last year because of good depth on the defensive corps. His energy, tenacity and versatility gave him a chance to play forward for us and do some key penalty killing. This year, until the young guys come around I suspect he'll see some time behind the blue line. There'll be at least three seniors back there, so that's a comforting thought."
The Knights return only two of their top five scorers, but once again, injuries played a role as Rob McFeeters only played 23 games all season and was not at full strength. The 2001 ECAC Rookie of the Year will be counted upon to add more offense.
"Last year was the lowest goals scored in the history of the program and we finished in second place, so I take that as that we're doing some good things on defense," said Morris. "We certainly are hoping that we can get some of our middle lines producing on a more regular basis.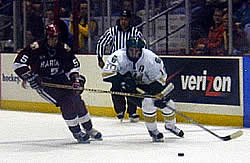 "Looking back, having some key injuries to guys like Rob McFeeters really curtailed a lot of our special teams play and cut down on our point production. But we can see the emergence of guys like Jay Latulippe and Randy Jones. Those guys have a great touch around the net and are very creative. We've also added a little bit of size to our lineup this year, so we're hopeful that when we play the Cornells and Harvards that we have the muscle and grit to compete against those top teams."
O'Flaherty, the leading scorer last season, and Latulippe will spearhead the group, along with McFeeters. Chris Blight led the freshmen in scoring last season, while Tristan Lush, Jean Desrochers and Trevor Edwards will also contribute. Jeff Genovy, Mark Schwamberger and Sean Ferguson will look to make an impact as freshmen.
The offense is important to the Knights, as it can lead to much more.
"It's more of a mentality that you have to establish, that sometimes if you're too structured defensively then it curtails your offensive production. Because we weren't able to produce a lot of goals we had to play things close to the vest," said Morris. "We've kind of incorporated and made some tactical changes to try to open up our offense without compromising our defense. Every year when you're faced with different personnel, you try to adjust to what your strengths are. With a little more size, hopefully that will free up some of our more skilled guys to be more creative and to put in a few more pucks.
"Up front we have pretty good depth. We may not have an outstanding one or two guys that will pull the load, but I think with good chemistry and communication and a real solid outlook it will serve us favorably in those close games, when we have that depth and experience that we do have on our team. Although we may not be at the top of the polls at this time, hopefully we can chip away and have that type of consistency needed to win a championship."
If the Knights finished second in a season when they were neither healthy nor disciplined, what is going to happen this season if they are?