It's time for the season premiere of the ECAC.
When we left you, Harvard had come through in overtime to fulfill the promise of Crimson teams of years past, capturing the ECAC championship over rival Cornell.
The Big Red had won the regular season and took New Hampshire down to the wire in the NCAA quarterfinals.
And once again, we had a down-to-the-wire race for playoff spots, positioning and home ice.
Three teams tied for third place, three for sixth and two for ninth. The 11th-place team was four points from home ice — which proved critical as all five home teams moved on to Lake Placid, where the excitement ended in overtime of the title game.
This season, expect some new and some old. The cast returns — the format a little different — and the excitement remains.
Cornell, Harvard and Clarkson are one-two-three on most everyone's lists, but in the new ECAC, everyone's in for the playoffs, the championship round is in a new location and once again, you're in for a ride.
Without further ado, the 2002-03 ECAC:
The New
The six non-Ivy schools have two extra games on their schedule, which should help the ECAC on the national stage.
There's a different playoff system. Seeds one to four now have a bye week, while five through 12 battle it out for the right to play the first four. And the four survivors no longer go to that magical place in the Adirondacks, but to the center of the ECAC — Albany, N.Y. and the Pepsi Arena. That's a change everyone seems to agree with.

"I think it will be nice to get back to four teams in the championship," said Cornell head coach Mike Schafer. "It will be better for our fans and for our league."

"I do like the format," said Colgate head coach Don Vaughan. "A lot of times people ask why you're playing the regular season if all the teams make the playoffs. Well, you play for the seeding and in the past you've seen how important that is. Home ice is such a huge advantage and you play the regular season for the seeding.

"When we start the playoffs, we'll be the only conference starting the playoffs [that week]. Everybody else will be finishing up the regular season, and the spotlight will be on the ECAC. It will create excitement for those teams that haven't been able to host a playoff series in recent years. I just think it's a great format for our league."

"I'm willing to try just about anything," said Clarkson head coach Mark Morris. "I've been around long enough to see all sorts of different ways to get there. Fortunately for us we've been in a lot of them. I'll try anything to make our league stronger and to see it grow.

"It was difficult for the North Country to part with the advantage to drive 70 miles to Lake Placid and our familiarity with that place is something that tugs at the heartstrings. But also, we look forward to the experience of possibly being [in Albany].

"It's a tight league, so there's no guarantees as to who is going to be here. The way the tournament is set up it gives an advantage to the top four teams, and that's a good thing. It gives hope to all the teams, and that one-week hiatus that it gives the top teams could be just the medicine to get healthy and to get together, because when you earn the right to be in the top four, you earn the right to get an advantage. You've worked all season long for it."

"I think you'll see this parity forever. You won't see much difference from top to bottom, nor will you ever. Our league has a positive in that in other leagues you have the haves and have-nots, whereas we have all haves."

— Brown coach Roger Grillo

"You're playing for seeding and positioning in the playoffs and I do like it," said Dartmouth head coach Bob Gaudet. "It gives everyone a chance. It was tough last year with a team like Union that had a solid year. They were a point out [of the playoffs], but they were a few points from home ice. This will be a format where the teams with the bye will make the best of it. Maybe some teams that don't normally get home playoff series will get some. That will be good.

"Playing here in Albany will be great, it's a regular-dimension ice surface, like we've been playing all year."

"I think that I like it because one of our thoughts when we put it together as a group was to create increased revenue for our league," said Harvard head coach Mark Mazzoleni. "The format both for the first round, second round and all the way through to the finals will accomplish that. Especially with the first round with everyone making it, you'll have four sites hosting that would have never had the opportunity and experience for their kids. It's also four new sites to create revenue from.

"When we go to Albany, our hope is that it will continue to out of the blocks and continue to grow. We had media day almost two weeks ago and we were sitting around talking as a group about how long everyone had to travel to get here, and everyone was only three hours away. It's also close to New York City which is a key location for ECAC alumni and also for the novice fan who before had to give up an entire weekend to see the Championship."

"Our league is just going to get stronger and coming to Albany is a right step," said Brown head coach Roger Grillo.

"I'm excited about it," said Union head coach Kevin Sneddon. "Take last year's finish and now implement the new structure. Teams were right down to the wire, so it will be the exact same this year and it won't be clearly defined until the last night of the season."

"I like the format," agreed Princeton head coach Len Quesnelle. "I think that there will be a lot of incentive to play hard until the end of the regular season. A lot of people are under the impression, 'Why play the regular season?', but … to get into the top four will be critical."

"Even though all 12 teams make the playoffs I don't think that will change the philosophies of the coaches," said Engineer head coach Dan Fridgen. "You obviously want to be one of those top four teams, but that whole playoff format will be a challenge because everyone has an opportunity, and when everybody's given an opportunity, you have to be on top of your game."
The Old
If you take a look at the coaches and media polls, they expect the top teams of last season to repeat themselves: Cornell and Harvard fighting it out for the championship.
But after that …
"I don't think you can overlook the fact that Cornell is the favorite with all of what they have returning. They're stingy defensively and in the end that's what wins games for you," said Vaughan. "Harvard, with the experience they gained last year, Clarkson is always in it and then a bunch of teams are pretty even, so it will be another exciting year in the ECAC."
"Not to downplay any team in this league, because you're going to see tremendous growth and development in many, many programs, but there's no question that Cornell and Harvard stick out like sore thumbs as teams that are hitting on all cylinders right now," said Morris. "But don't take for granted any team in this league. There are some things happening with other teams in this league that are pretty exciting."
"I see a lot of parity," said Gaudet. "If you look on paper, teams like Cornell and Harvard are returning so many players and are gearing up, but it should be tight again. There will be a lot of teams that you can just throw in the hat. There will be some favorites in the league, but you can throw that out the window when the puck drops."
"There's so much parity in our league," echoed Grillo. "An injury here or there, a bounce here or there, it could be the difference — like last year when we went into the final weekend and all we needed was a tie to finish third. It's especially tough for the Ivies, and with the new format it takes the pressure off those that don't get on the ice until later. It takes a little bit of pressure off the first half of the season to go right at it. If you lose a game in October, it won't haunt you later on as much as it has in the past.
"I think you'll see this parity forever. You won't see much difference from top to bottom, nor will you ever. Our league has a positive in that in other leagues you have the haves and have-nots, whereas we have all haves."
Agreed Fridgen, "Just doing the coaches poll, I found it very difficult because so many teams were so close. To say you're number 12 in the league, doesn't mean that you're a 12th-place team.
"There are a couple of teams right off the bat that are real strong, like Harvard and Cornell, and the others will be clawing and jockeying for those other positions. It will be interesting to see how it all shakes out."
"What you are seeing now is the quality of our league getting better," said Mazzoleni. "We had a lot of young teams last year and our league wasn't hit a great deal by graduation. So most teams are now a year older and wiser and more experience. I believe that it makes for more exciting league this year because the quality will be better."
"I think it's just going to be the same as last year," said Sneddon. "I have so much respect for the jobs the coaches have done in this league and how the teams at the bottom have come up to meet the teams at the top; yet everyone is still doing a great job, so it makes it great for everyone. This is what makes the ECAC exciting."
"I hope there's a big gap in the standings — that's because we'll have two or three teams that will have had a great year. That's what our league has to do to do well in the NCAAs," said Schafer.
Our Try
Well, you've seen the coaches and you've seen the media's choices. What do we think? We got it right last year in picking Cornell to win the regular season. Note: We're picking playoff seedings here, not standings.
1. Cornell Big Red
Experience and a dominating style and system make Cornell the pick here — and our pick to make it to Buffalo for the Frozen Four.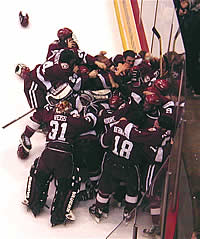 2. Harvard Crimson
The Crimson were supposed to be at least a year away. That year is here.
3. Clarkson Golden Knights
The Knights are always in it, and this is no exception.
Disclaimer — In true ECAC fashion, each of the below teams finishes tied for fourth. Tiebreakers determine their seeding.
4. Yale Bulldogs
A young team that will find an identity, led by Chris Higgins and the master Tim Taylor.
5. St. Lawrence Saints
You won't be able to keep the Saints down for too long.
6. Dartmouth Big Green
It will take a little bit, but the Big Green get their goalscoring back.
7. Rensselaer Engineers
The Engineers will play as a team. Goaltending and defense stand out.
8. Colgate Raiders
The Raiders are up-and-coming.
9. Brown Bears
If the Bears score some more goals, watch out.
10. Union Skating Dutchmen
It will take some time to gel a young squad and get the goaltending situation set.
11. Princeton Tigers
Scoring will be at a premium and Nate Nomeland gets his shot.
12. Vermont Catamounts
It can only go up for the Cats.